N.Y. state trooper competes on 'The Voice,' gets last-second chair turn
Tom Nitti auditioned for the show eight years ago and was accepted to be a contestant, but could not participate after being accepted to the police academy at the same time
---
By Geoff Herbert
syracuse.com
SYRACUSE, N.Y. — A New York State Trooper from the Mohawk Valley is headed to the next round on "The Voice."
Tom Nitti, a 31-year-old singer from New Hartford, N.Y., performed Stevie Wonder's "Signed, Sealed, Delivered (I'm Yours)" while wearing a cowboy hat and boots, adding a country flair to the Motown classic. Judges John Legend, Gwen Stefani, Niall Horan and Reba McEntire could all be seen bobbing their heads and looked impressed by his howling notes during Monday night's Blind Auditions.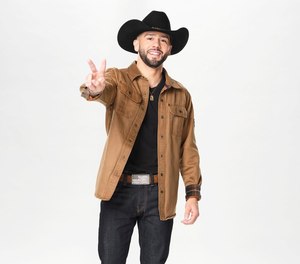 But none of the celebrity panelists turned their chairs —until the very last second when McEntire gave her stamp of approval as Nitti jumped up and down in excitement. McEntire was especially surprised to learn he was from Upstate New York, suggesting she expected him to be from the south by only listening to his voice.
The other judges didn't turn their chairs, but all agreed he deserved to go on to the next round. Stefani called him "different" (in a good way) and Horan, of One Direction fame, admitted he can't sing anything the way Nitti did.
"It was very soulful, but it had like a twang to it," Legend said. "I was like, 'Is he a country singer?' So I'm very excited for you to be on Team Reba."
McEntire said something in her "gut" told her she should turn her chair, and added that she's glad Nitti will be on her team. She also gave him a hug as he walked off stage.
According to a press release, Nitti grew up in an Italian/Puerto Rican family that listened to a wide range of musical genres. He was especially inspired by Motown artists like Wonder, Ray Charles and the Temptations and taught himself to play guitar at age 18.
Nitti entered the military after graduating high school and served in Afghanistan, where he sustained injuries and was awarded the Purple Heart. After his military service, Tom followed in his father's footsteps and joined law enforcement and became a New York State Trooper eight years ago. Nitti now trains new troopers at the New York State Police Academy and performs weekly, including the "National Anthem" at official events, while raising two children.
Nitti's grandfather, Dominick Nitti, told WKTV that Tom actually auditioned on "The Voice" eight years ago and was accepted, but had to decline continuing on the show because he was accepted to the Police Academy program for NYS Troopers at the same time.
"We are just so proud of him," Dominick told the Utica TV station. "We are proud of anything he's done. He served his country. He serves his community each day."
"The Voice" airs Mondays and Tuesdays at 8 p.m. ET on NBC. Episodes can be streamed on FuboTV (free trial), DirecTV Stream (free trial), and and Sling (half off the first month).
—
©2023 Advance Local Media LLC. Visit syracuse.com.
Distributed by Tribune Content Agency, LLC.
McClatchy-Tribune News Service