Utah man suspected of threatening President Joe Biden shot, killed as FBI served warrant
The suspect posted online that he was planning to dig out a camouflage suit and "clean the dust off the m24 sniper rifle," according to court documents
---
By Lindsay Whitehurst and Sam Metz
Associated Press
PROVO, Utah — An armed Utah man accused of making threats against President Joe Biden was shot and killed by FBI agents hours before the president was expected to land in the state Wednesday, authorities said.
Special agents were trying to serve a warrant on the home of Craig Deleeuw Robertson in Provo, south of Salt Lake City, when the shooting happened at 6:15 a.m., the FBI said in a statement.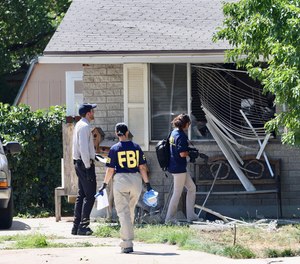 Robertson was armed at the time of the shooting, according to two law enforcement sources who spoke to The Associated Press on the condition of anonymity to discuss details of an ongoing investigation.
Robertson posted online Monday that he had heard Biden was coming to Utah and he was planning to dig out a camouflage suit and "clean the dust off the m24 sniper rifle," according to court documents.
In another post, Robertson refers to himself as a "MAGA Trumper," a reference to former President Donald Trump's "Make America Great Again" slogan.
The posts indicated he did appear to own a long-range sniper rifle and numerous other weapons, as well as camouflage gear known as a "ghillie suit," investigators said in court records. Robertson was charged under seal Tuesday with three felony counts, including making threats against the president, court documents show.
Robertson also referenced a "presidential assassination" and made a long list of other online threats, including against top law enforcement officials overseeing court cases against Trump: Manhattan District Attorney Alvin Bragg, U.S. Attorney General Merrick Garland and New York Attorney General Letitia James.
"The time is right for a presidential assassination or two. First Joe then Kamala!!!" authorities say Robertson wrote in a September 2022 Facebook post included in the filings. No attorney was immediately listed for Robertson in court documents.
No further details were immediately released about the shooting, which is under review by the FBI.
At the Provo house where the confrontation apparently took place and which is connected with Robertson through public records, law enforcement could be seen Wednesday going in and out and removing items.
A broken window could be seen next to the door and the blinds inside were askew.
The road leading to the house was blocked by police.
The house is just up the street from a meeting house of the Church of Jesus Christ of Latter-day Saints, with the Wasatch Mountains rising in the background.
Robertson had a custom woodworking business but did not renew his license after it expired last year, according to state records. On LinkedIn, Robertson said he worked for 45 years as a structural steel and welding inspector before retiring and starting his business, saying he specialized in "custom designs."
Biden is in the middle of a trip to the Western United States. He spent Wednesday in New Mexico, where he spoke at a factory that will produce wind towers, and is scheduled to fly to Utah later in the day.
On Thursday, he's expected to visit a Veterans Affairs hospital to talk about the PACT Act, which expanded veterans benefits, and hold a reelection fundraiser.
__
Whitehurst reported from Washington. Associated Press writer Chris Megerian contributed to this report.