DHS: US agents sustain eye injuries from lasers at protest, may be blinded
3 officers may not recover sight in eyes that were hit with lasers at Portland protests, said Deputy Director of Operations Richard Cline
---
By Suzie Ziegler 
PORTLAND — An official with the Department of Homeland Security's Federal Protective Service said several officers sustained serious eye injuries after protesters pointed lasers in their eyes. 
According to FOX 13, Deputy Director of Operations Richard Cline said officers were putting out fires set by protesters when they were accosted with lasers.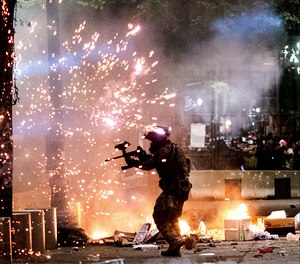 "When officers responded to put out these fires, glass bottles were thrown and lasers – which can cause permanent blindness – were shined in their eyes," Cline told FOX 13. "We have three officers who currently have eye injuries and they may not recover sight in those eyes from those laser attacks." 
The FPS has since purchased anti-laser glasses officers are now wearing, according to FOX 13. 
Cline did not elaborate on the officers' conditions or their likelihood of regaining full sight.