Gunman ambushed slain FBI agents with doorbell camera, police say
Authorities are investigating how the operation went so wrong, leaving 2 agents dead
---
By David J. Neal, Charles Rabin, Jay Weaver and David Ovalle
Miami Herald
SUNRISE, Fla. — In the bloodiest day for the FBI in decades, two veteran agents were shot to death and three others wounded Tuesday morning when a gunman opened fire from inside his home as they attempted to serve a search warrant at an apartment in Sunrise as part of a child pornography probe.
The gunman, not yet identified by the FBI, is believed to have monitored the approach of the agents with a doorbell camera and ambushed them through the unopened door with a hail of bullets from an assault-style rifle, law enforcement sources told the Miami Herald.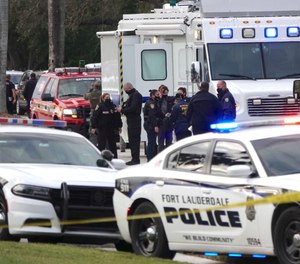 "There are several huge holes in the door going outward," one law enforcement official said.
The murders of agents Daniel Alfin and Laura Schwartzenberger left the FBI reeling, as investigators began piecing together what went wrong in the type of raid that usually unfolds with little attention but is also fraught with danger for law enforcement. Such raids are commonly conducted in conjunction with heavily armed tactical officers, although Tuesday's operation was not.
FBI Special Agent in Charge George Piro, in a statement read Tuesday evening at the FBI's Miramar field office, did not address why the FBI's tactical unit was not initially called in to assist before the raid.
"FBI Miami conducts search warrants almost daily," Piro said. "They are an essential and important part of what we do and we thoroughly research and meticulously plan for any threats or dangers. The vast majority of these warrants occur without incident."
Piro also said the gunman, believed to have taken his own life after barricading himself in the first-floor apartment, would not be identified publicly until his family is notified of his death.
Gunfire exploded just before 6 a.m. Eastern time on Tuesday at the Water Terrace apartment complex in Sunrise in a neighborhood about five miles northeast of the Sawgrass Mills mall.
The FBI had not provided details of the case against the gunman, other than to say he was suspected of possessing illegal graphic images of children. The case was being investigated by the FBI's Internet Crimes against Children task force, and supervised by prosecutors based in Fort Lauderdale.
The FBI obtained the internet protocol address for the suspect's computer from an internet service provider and then matched that with the suspect's physical address. Depending on the evidence found in the suspect's home, the FBI and federal prosecutors would have likely filed a criminal complaint charging him with some type of child pornography offense, sources said.
After shooting the agents, the suspect barricaded himself inside the apartment, while the FBI agents called for backup help from a heavily armed tactical SWAT unit. Coincidentally, there was a Broward sheriff's office SWAT unit in the area Tuesday morning assisting in the arrest of another child porn suspect — but one not targeted in the FBI operation. The unit rushed to the scene, sources said, and was able to extract at least one of the wounded agents.
Officers and agents, along with paramedics, swarmed the scene, as traffic was shut down on nearby Nob Hill Road in both directions.
One agent who was wounded was not hospitalized. Two others were "transported to the hospital and are in stable condition," the FBI said in a statement.
The victims were taken to the trauma unit at Broward Health Medical Center in Fort Lauderdale as dozens of police officers from area agencies gathered to pay their respects. President Joseph Biden was among many other leaders who paid tribute to the agents.
"My heart aches for the families," Biden said in a press briefing on Tuesday evening. "I have not had an opportunity, nor will I try today to contact them but they put their lives on the line, and it's a hell of a price to pay."
Television news footage showed the body of one agent arriving at the Broward medical examiner's office on a gurney, covered in an American flag, as a line of uniformed motorcycle and other officers stood at attention.
"Every day, FBI special agents put themselves in harm's way to keep the American people safe. Special Agent Alfin and Special Agent Schwartzenberger exemplified heroism today in defense of their country. The FBI will always honor their ultimate sacrifice and will be forever grateful for their bravery," FBI Director Christopher Wray wrote in a statement.
Tuesday's shootings of the FBI agents may rival the deadliest in the bureau's history — a bloody shootout between a group of agents and a pair of bank robbers in South Miami-Dade nearly 35 years ago.
Killed in that confrontation were special agents Ben Grogan and Jerry Dove. Grogan, 53, a two-decade veteran nicknamed The Doctor, was one year shy of retirement when he died. The "Miami Shootout" — which left five other agents wounded and the two suspects dead the morning of April 11, 1986 — was a defining moment in the FBI's history. It prompted the bureau to make sure all agents were better armed, replacing .38-caliber revolvers with 9mm semiautomatic handguns.
Tuesday morning's raid was also reminiscent of the 2011 fatal shootings of two Miami-Dade police detectives while serving a warrant at a home in Miami. A murder suspect named Johnny Simms fatally shot detectives Amanda Haworth and Roger Castillo, before he was shot dead by another officer.
In 2004, Broward Sheriff's Detective Todd Fatta was fatally shot when a task force of officers was attempting to serve a child porn search warrant at a home in Fort Lauderdale. His family later sued the police agency, saying Fatta would not have been shot had the department deployed the better-armed tactical SWAT unit.
Tuesday's shooting shocked law enforcement officials at the highest levels.
"Our thoughts are with their families and loved ones and with their three colleagues who were shot in today's devastating events," acting U.S. Attorney General Monty Wilkinson said in a statement. "On this dark day, we pay tribute to the brave men and women of the FBI who put their lives on the line every day in support of our mission. We will never forget the ultimate sacrifice made by these special agents."
Larry Cosme, the national president of the Federal Law Enforcement Officers Association, said in a statement: "This horrible attack was a reflection of the violent individuals law enforcement officers encounter every day. However, the coordinated response and outpouring of support the news has brought, is also a reflection of the strength of our law enforcement community."
(Miami Herald staff writers Michelle Marchante, Sarah Blaskey and Devoun Cetoute contributed to this story.)
McClatchy-Tribune News Service