Veterans give top reasons for not using VA loan
The research suggests that some of their views may be influenced by common misconceptions
---
This article is provided by Veterans First and does not necessarily reflect the opinions of Police1.
A recent survey conducted by Veterans First Mortgage® focused on the Department of Veterans Affairs home loan program. The top-ranked VA lender surveyed 302 people in a group of hopeful future homebuyers that included only service members, Veterans and spouses of Veterans. Of those surveyed, almost half said they had not yet used their benefits to purchase a home. 
When given a list of possible reasons why they hadn't taken advantage of the VA mortgage program and asked to check all those that applied, the responses were as follows.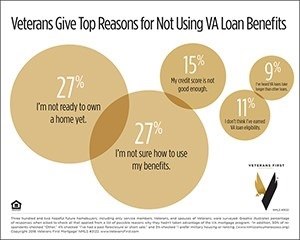 With thousands of military members getting ready to relocate to their next Permanent Change of Station and even more set to separate or retire, the option of homeownership may often be dismissed due to common misconceptions about the VA loan program. With that in mind, let's take a closer look at five reasons for not using VA loan benefits.
Reason #1: Not Ready
Often, people hesitate to buy a home because of the financial commitment involved. While the survey found some Veterans don't feel ready to own a home yet, 629,312 eligible borrowers did take advantage of their home loan benefits in 2013. And the VA backed a record $64 billion in purchase loans in 2014.
According to the Department of Veterans Affairs, the most common reason Veterans do choose this kind of loan is for its zero-down-payment option. VA loans require no down payment within loan limits and Veterans never pay monthly mortgage insurance. The funding fee – waived for many disabled veterans and surviving spouses –can be rolled into the loan. And the VA program allows sellers to pay up to 4% of closing costs and concessions.
Another reason eligible borrowers may not feel ready to buy may stem from the belief that owning a home costs more than renting. According to recent research, that's often not the case. Owning is, on average, 38 percent cheaper than renting nationally according to Trulia, a fact echoed by Forbes magazine. 
Perhaps you've heard of people steering away from the VA loan program because they've heard the mortgages carry higher interest rates? On the contrary, military home loans had lower average interest rates in 2014 compared with other kinds of loans in the market.  According to mortgage automation leader Ellie Mae, in 2014 the average rate for the VA loan program was 4.128%, while the average rate for the FHA loan program was 4.269% and conventional loan programs was 4.511%. Though, interest rates for each individual loan varied depending upon a variety of factors.    
Reason #2: Don't Know How
Learning to use VA loan benefits can seem daunting, but there is plenty of helpful information if one knows where to look for it. The VA website www.va.gov is a great place to read about home loan policies, guidelines and get a general overview of the program. Resources are available to help potential borrowers familiarize themselves with benefits using their infographics, videos or articles.
The VA urges eligible borrowers talk to several lenders to find one that fits their needs, knows the VA loan process and offers competitive rates and terms. It's good advice to look for a lender that specializes in serving Veterans and handles VA loans on a daily basis. Finally, use a reputable review site, like the Better Business Bureau, to gauge the company's credibility and history.
Reason #3: Think Credit Isn't Good Enough
In a list of its 2014 accomplishments, the Department of Veterans Affairs stated that it provides Veterans with more access to homeownership. Of all the VA loan applications received, 72 percent of VA loans closed.  Compare that to 68 percent for conventional loans and 60 percent for FHA. 
What factors helped the VA loan program edge out the others? It's likely the unique qualifying criteria set by the Department of Veterans Affairs:
No minimum credit score required by VA; instead lenders are required to make their lending decision based on the entire loan profile (which includes a min. credit score)
No maximum debt ratio; however lenders need to show compensating factors if total debt ratio is over 41%.
No maximum loan amount; however, the VA limits the amount of loan it will back without a down payment; for most of the country this limit is $417,000 but is more in high-cost areas.
VA residual income chart tells how much money borrowers should have left over after paying foreseeable living expenses in each region; tool helps lenders tell if borrowers can repay their loans.
While an eligible VA loan borrower still has to meet minimum credit requirements and meet certain ability to pay rules, the VA offers lenders some flexibility when evaluating a potential homeowner's financial situation for loan approval.
Reason #4: Think You're Not Eligible
VA eligibility is straightforward and verifiable by the U.S. Department of Veterans Affairs.  In fact, active duty military members can be eligible for VA loans after just 90 days of Title 10 service.
Generally, the VA describes the following people as eligible:
Veterans who meet length of service requirements
Servicemembers on active duty who have served a minimum period
Certain Reservists and National Guard members
Certain surviving spouses of deceased Veterans
Discharge or release has to be other than dishonorable. If you've served less than the minimum time, you could still be eligible if released due to a disability that is service related. 
Once eligible, you can use VA loan benefits again and again as long as you've got enough entitlement and qualify for a mortgage with a VA-approved lender.  You can restore entitlement after your loan is paid in full and home is sold. 
So, if you think you're not eligible, you may want to check it out with a VA approved lender or contact your Regional Loan Center for more information.
Reason #5: Heard VA Loans Take Longer
In reality, VA loans have closed faster than any other loan type in the industry.  According to the Department of Veterans Affairs, VA loans took 37 days to close, on average, in FY2014.  Compare that to 39 days for conventional loans with 20% down and 41 days for FHA loans.
And, maybe you've heard this myth: VA appraisals take longer. Fact: Timeliness of appraisal reviews has been reduced to 7.2 days in 2014, from 8.36 in 2013. The VA has deployed an automated Appraisal Management Service (AMS) to speed up the appraisal process. And VA has also added 2000 more certified appraisers since 2012.
Don't let common misconceptions about the VA loan program keep you from using your hard-earned benefits. Utilize available resources, like your VA Regional Loan Center or a trusted VA lender, to answer your questions and help you through the process.
NEXT STEP: For more information about eligibility or to start a VA loan application, contact Veterans First at Call 866-360-3759 or click here to connect online.