Veterans guide to specially adapted housing grants
This is not your grandparent's SAH grant. Bigger dollar amounts and automatic eligibility for some make the benefit more practical for today's disabled veterans
---
This article is provided by Veterans First and does not necessarily reflect the opinions of Police1.
John Swanson is a disabled veteran confined to a wheelchair. His 20-year quest for an adapted home of his own ended happily in June 2014. He received the maximum grant amount and applied the funds to the creation of a custom-built dream home in California.

Why did it take 20 years? Frankly, John didn't know how to go about accessing the benefits he'd earned. Sometimes it takes a village. With the combined efforts of his Veterans First Mortgage® loan officer, his real estate agent, and a national builder, John was finally able to obtain an SAH grant and say "good-bye" to apartment living.

What is a Specially Adapted Housing Grant?
Specially Adapted Housing (SAH) grants from the Department of Veterans Affairs can help veterans with certain permanent and total service-connected disabilities live more independently and barrier-free in their own homes.  Grants of up to $67,555 are awarded to eligible disabled veterans to help build or modify homes to best suit their needs. 
An SAH grant can be used to:
Build a specially adapted home on suitable land to be owned or already owned
Remodel an existing home to make it suitable for specially adapted housing
Apply the grant toward the unpaid mortgage balance of an adapted home already owned by a veteran who obtained or remodeled the home without VA grant assistance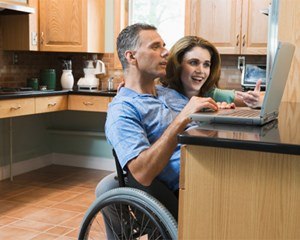 What Alterations does an SAH Grant Cover?
An SAH grant typically covers modifications of the following:
Bathrooms, kitchens and bedrooms
Covered porches, ramps and walkways
Garages, carports and passageways
Doors, windows and flooring
Security items
Concrete or asphalt walkways
Sliding doors, handrails and grab bars
Additional elements as per the VA
John and his fiancé intended to buy and adapt an existing home. But with the help of their Realtor®, they soon realized it would be easier to start from scratch. With SAH guidelines in hand, the builder's architect "gutted" a single-story floor plan and modified it to fit John's needs. The end result was a home fit for John with wheelchair accessible front and back entrances, a ramped garage, level walkways, wheelchair-friendly flooring, a customized kitchen, extra-wide halls and doorways, a master bedroom and bath en suite with roll-in shower. Even left-handed light switches were wired throughout to make it easier for John to use them.  

Who is Eligible for SAH Grants?
The VA determines eligibility for SAH Grants. If you have a permanent and total service-connected disability you may be eligible.  Here are some examples of conditions that qualify:
Loss of or loss of use of both arms and/or both legs
Blindness in both eyes or limited to light perception
Certain severe burn injuries
Certain severe respiratory injuries
ALS (Lou Gehrig's Disease)
According to a 2005 report by the ALS Association, military veterans are 60 percent more likely that the general public to get ALS, aka Lou Gehrig's disease. In December 2013, the VA published an Interim Final Rule regarding automatic SAH grant eligibility for all Veterans with Amyotrophic Lateral Sclerosis or ALS rated as service-connected. The likelihood of qualifying has no bearing on whether one served in war or peacetime.
Because ALS is so rapidly debilitating, automatic eligibility is meant to speed up the SAH grant process for certain veterans and service members. This helps them adapt their homes before their condition gets much worse.

Is it Possible to Get More Than One Grant?
The VA makes SAH grants for up to 50 percent of the total cost of the home, and to a maximum of $67,555 per fiscal year, whichever is less.  The VA recognizes that home values can change, and grant limits can increase. So the law allows for the SAH grant benefits to be used as many as three times by one eligible veteran.

Take Advantage of Your Benefit
John Swanson dreamed for over two decades about owning a home that would accommodate his disability. Today, he's living his dream, thanks to his VA benefits and a few dedicated individuals who helped him use what he had earned through his service.

NEXT STEP: For more information on SAH grants, contact the Department of Veterans Affairs. To learn about your VA loan benefits, check eligibility or start an application, click here or call 1-866-360-3759. To read about John Swanson's journey to homeownership, visit www.veteransfirst.com.