Wounded Chicago officer struggles physically, financially during recovery
Shot seven times, Officer Anthony Graffeo must face inoperable bullet fragments, exhausted medical leave and a no pay status
---
By Bill Carey 
Police1  
CHICAGO — The family of a Chicago police officer wounded over a year ago is asking the public for help as he struggles physically and financially through his recovery. 
On March 4, 2022, Officer Anthony Graffeo was one of two officers shot in an ambush outside of a hot dog stand in the early morning hours, WGN9 reported. The gunman was in front of an officer ordering food when a gun fell from his waistband. He picked it up and immediately began shooting at the officers.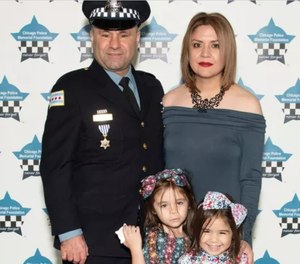 The officer standing near the suspect suffered a graze wound to the head. The officer in the car, Officer Graffeo, was shot seven times in the leg. Other officers nearby heard the shooting and responded, recovering the weapon and placing the gunman in custody. 
Graffeo was driven to Mt. Sinai Hospital and underwent surgery. He was later discharged after three days. While recovering at home, he contracted an infection and had to be re-admitted into the hospital. It was determined that six bullet fragments were lodged in his leg. After surgery for the removal of one fragment, the location of the remaining fragments prevented their removal.   
His surgeon advised that any attempt to remove the remaining fragments could cause further damage. The most severe of his injuries is caused by the bullet fragments near his sciatic nerve, resulting in Graffeo experiencing excruciating pain, tingling, and numbness in his foot and leg,  
Graffeo's nieces and family created a GoFundMe post calling attention to his struggle to recover, his exhausted allowed medical time and being placed in a no pay status. 
"The doctor has said the regeneration of the damaged nerve can take up to two years. Even then, it is not guaranteed to fully heal. However, he is hopeful that the medical intervention and the physical therapy he is undergoing will allow him to return as an active-duty police officer," the post stated. "While continuing his lengthy journey to recovery, he has exhausted all allowed medical time and has been placed into a NO PAY STATUS, awaiting his disability hearing. Unfortunately, the disability approval process can take 8-10 months." 
Graffeo is a husband and father of two daughters and is focused on his recovery. The GoFundMe has raised over $32,000 as of April 25th.