Thousands attend funeral for Ohio cop fatally shot on July 4
Officer Anthony Dia's family and colleagues spoke at the ceremony, honoring his life and work
---
By Suzie Ziegler 
TOLEDO, Ohio — Toledo officer Anthony Dia was shot and killed on Independence Day while responding to a disturbance call. His funeral, held at a local sports arena, drew thousands of people Tuesday, reported WNWO. 
Dia's colleagues and family spoke at the ceremony, all commending his work and positive attitude.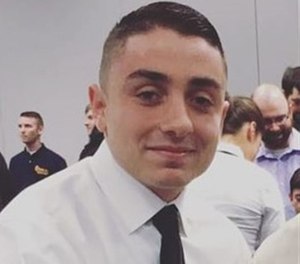 WNWO said Toledo Police Chief George Kral honored Dia with words from Dia's shift commander, Lt. Joe Trudeau: "He took every assignment given to him in stride and completed it with the upmost professionalism. He always took time to say hi to people on the street, particularly kids, as he would let them sit in the seat of the police car and turn on the siren and take pictures with anyone asking." 
Just hours before he was fatally shot, Dia took time to pose for a photo with two boys while showing off his cruiser. 
Toledo Mayor Wade Kapszukiewicz was also in attendance. 
"He was an officer just in the last two years. In other words, he chose to be a police officer knowing the environment that police officers face," the mayor said. 
Before Dia's body left the arena, his final call was played, said WNWO. 
"118, tell my family I love them." 
Organizers then played the postmortem call. 
"Attention all units: Officer Anthony Dia, ID 2755, has answered his last call. From the entire family at the Toledo Police Department, Officer Anthony Dia, you and your family will remain in our hearts, thoughts and prayers." 
"Tony Dia, rest in peace. We'll take it from here," Detective Andre Cowell said at the end of his speech. "Long live Unit 118." 
THANK YOU. There are no words that can express the gratitude that Officer Dia's family & Toledo Police felt as you lined the streets yesterday for his funeral procession. We are humbled by your support. A tribute video will made and shared using the images collected. pic.twitter.com/n8oliNn0s9

— Toledo Police (@ToledoPolice) July 8, 2020
It has been a long few days. I want to personally thank everyone who came out today to pay their respects for fallen officer Anthony Dia. Your support means more to the @ToledoPolice than you know. pic.twitter.com/jhAwbYElMM

— Chief George Kral (@gkraltoledo) July 7, 2020