How gangs are using drones to disrupt law enforcement
Gangs are using UAVs to collect information on LE activity, disrupt police operations and smuggle drugs
---
By Robert Brzenchek, alumnus, Intelligence Studies at American Military University
Gangs are continually adapting their skillsets to counter law enforcement efforts. For example, as outlined in my book, "The Gang Life Laugh Now Cry Later: Suppression and Prevention," gangs have sent their members into the military to gain tactical skillsets. In other cases, gangs have coordinated with terrorist organizations and are acting as "sub-contractors" to groups like ISIS and Al-Qaeda.
As gangs are finding new and better ways to disrupt community safety, they are getting alarmingly proficient at using unmanned aerial vehicles (UAVs) – also commonly referred to as drones – to support their criminal activity.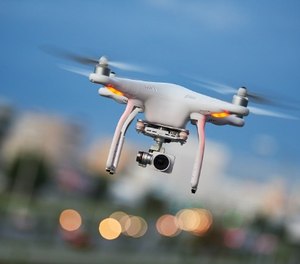 How Gangs are Using Drones
Gangs are now using UAVs to monitor and disrupt police. As reported by The Washington Times, FBI Special Agent Joe Mazel described how criminal gangs recently compromised officers who were part of a Hostage Rescue Team. "[Agents] heard the buzz of small drones – and then the tiny aircraft were all around them, swooping past in a series of high-speed low passes at the agents in the observation post to flush them," he said.
Gangs are also using UAVs to collect information about police activity. For example, they are using drones to watch law enforcement agencies to see who comes in and out of buildings. They are then using this information to intimidate witnesses who are cooperating with police investigations.
It has also been reported by Fox News numerous times that gangs and drug cartels are using large UAVs to smuggle drugs across the border. Even more dangerously, they have been placing explosives on the exterior of the UAVs so if law enforcement interdicts these devices, officers can potentially be harmed. Officers must be extremely cautious when responding to an incident involved a UAV since there could be multiple threats associated with the device.
How Gangs are Compromising Police Drones
In addition, gangs have reportedly found ways to hack certain brands of drones used by police. It was reported by CNBC that at least one UAV manufacturer, Dà-Jiāng Innovations (DJI), a Chinese technology company, is vulnerable to hacking. According to sUAS news, the DJI is an open-source system controlled by a cell phone and is vulnerable to hackers to collect data and assume control, too.
While the Department of Defense has blacklisted DJI drones, some police departments have purchased the devices either because they're unaware of the restriction or because of the low cost of the devices. According to The New York Times, a United States government office is alleging these devices pose a threat to national security because DJIs metadata may be sending sensitive information about American infrastructure back to China.
Hacking or taking control of unencrypted UAVs is something that gangs are interested in doing as well. In order to do so, gangs have recruited members who are IT specialists. These technology-savvy individuals have figured out, for example, how to geo-fence properties where criminal activities occur. If a police agency using an unencrypted UAV (i.e. DJI) is conducting surveillance and enters this area, the geo-fence disrupts communication to the drone entering that area. The drone is unable to send and receive information and the geo-fence takes over controls to and from operators on the ground, forcing the UAV to crash.
Hackers are able to collect data/control a law enforcement drone by utilizing a type of malware such as Maldrone. Another way hackers can gain access to a drone is through another drone (i.e., SkyJack) that mid-flight hacks into a law enforcement drone via internet connections. The gang can then retrieve the SD memory card from the DJI drone and potentially access all the intelligence collected from the device.
Updating Legislation to Address Criminal Use of Drones
Organized criminal elements will continue to find creative and effective ways to use UAV technology for illegal activity. They will continue doing so unless law enforcement works closer with policymakers to enact uniform laws, regulations, and policies beyond the FAA Part 107. Lawmakers must work harder to address issues related to drone operation and enact laws that help agencies address the challenges they face when it comes to drone enforcement and operation.
In addition, regulations need to be created to protect agencies and mandate they only purchase encrypted UAVs, so if the devices fall into the wrong hands, the information stored within them can't be collected and used for illicit purposes.
---
About the Author: Robert M. Brzenchek is the Chief Executive Officer of All Source International, LLC, a security consultancy company based in Philadelphia. He earned a master's degree in intelligence studies from American Military University and is currently a Ph.D. candidate at Capella University with a proposed dissertation focused on gangs. He was a police officer for six years, where he performed suppression and intervention techniques with various gangs ranging from MS-13, Bloods, Crips and Latin Kings. In the private sector since 2005, he has worked with DHS, DOD, large corporations, ports and public utilities on security matters, risk management, policy, and technologies. He is a nationally certified instructor with the International Association of Directors of Law Enforcement Standards and Training (IADLEST). To contact him, email IPSauthor@apus.edu. For more articles featuring insight from industry experts, subscribe to In Public Safety's bi-monthly newsletter.