On the menu for Swedish police: A smorgasbord of transnational gang-related crime
Rising gang violence has escalated in Sweden over the past decade, leading to an increase in shootings, grenade bombings and concerns about public safety
---
It is a critical moment for global policing. Around the world, law enforcement agencies are losing funding and public support. Elsewhere they are hamstrung by outdated laws. Record numbers of skilled, experienced officers are hanging up their holsters and taking early retirement, and the talent pool to replace them is shallow. Multiple jurisdictions lack officers for appropriate patrol, response, or investigation. Forces around the world carry multiple burdens, such as policing during times of war, regime change, or massive natural disasters.
Yet there's plenty of reason for hope. Advanced technology is being deployed to keep a step ahead of the bad guys. Colleagues around the globe are sharing best practices in recruitment, training, retention, community relations, and arrest procedures. In newly democratized countries, some law enforcement agencies are building much-needed trust from the citizenry. Public-private partnerships are taking root and flourishing. And the anti-cop sentiment that has been prevalent in recent years may be fading, or even reversing.
Remarkable things are happening in the policing world that are going unseen. Until now.
Welcome to Behind the Global Shield, a new column from Police1 that will put you in the boots of patrol officers and the wingtips of police executives in locations from Kyiv to Kinshasa, Brussels to Brisbane, and Dubai to Durban. You will get a glimpse of both unique challenges and familiar issues faced by your colleagues around the world − an opportunity to gain insights, ideas, practices, policies and contacts for your own forces. 
We invite you to join us on this journey as we bring you into the riveting lives of your colleagues. Join us as begin our series with the men and women of law enforcement facing unprecedented gang challenges in Sweden.
It's going to be a fascinating, enlightening and exciting ride.
By Michael Gips and Paul Goldenberg
Adriana, a 12-year-old girl, enjoyed spending time with her friends, gossiping and making plans for the future. On occasion, they would congregate late into the night in a parking lot shared by McDonald's and Pizza Hut. Early on a Sunday morning in August 2020, a white Audi approached the group. Its passengers fired shots, targeting rival gang members. Adriana was struck and killed, a scenario that repeats itself endlessly in the United States.
However, this event did not occur in the United States. The gang members were battling over turf in Botkyrka, a town about 12 miles southwest of Stockholm, Sweden. The incident sent shockwaves through the Nordic nation, globally recognized for its tranquility and order. Yet Swedish police weren't surprised by the attack. Over the past decade, gang violence has escalated, as evidenced by the increasing number of shootings and grenade bombings.
Swedish law enforcement grapples with challenges common to policing worldwide, in addition to unique circumstances influenced by its geography, demographics, culture, history and legal system. In our endeavor to understand the current state of crime and law enforcement in Sweden, we reviewed crime data, read policy briefs, and spoke to police and public officials. We also visited Stockholm to personally evaluate the situation and confer with authorities in public safety, government and the business community.
Local gangs evolve
No democratic nation is exempt from Transnational Organized Crime (TOC), but until roughly a decade ago, Swedish law enforcement had a clear understanding of the entities with which they were dealing. Local gangs – predominantly Swedish – controlled criminal activities and maintained a certain order, minimizing internal conflict. Today, a kaleidoscope of Transnational Criminal Organizations (TCOs) from Italy and the former Yugoslavia, in conjunction with local Swedish gangs, operate throughout the nation. Similar to how a kaleidoscope continuously forms and re-forms itself, alliances and conflicts among the groups change constantly. "Outlaw bikers, mafia-type groups, street gangs, human traffickers, drug cartels, and self-formed neighborhood groups sometimes collaborate and sometimes compete," says Professor Amir Rostami, a criminologist based in the University of Gavle.
That's not the type of smorgasbord Sweden wants to be known for.
Today's TCOs are broadening their operations. They traffic drugs and guns, manage prostitution and indentured servitude rings to promote human trafficking, execute various frauds (healthcare, tax, internet and elder fraud), extort individuals and businesses, and run illegal gambling enterprises.
These TOCs have allowed crime in Sweden to go global. "This growing local challenge has extended to regional criminal networks throughout countries like Finland, Norway, Denmark, England, Spain and France," says Jale Poljarevius, the Uppsala-based head of intelligence for Sweden's central region. These networks also operate side by side with fiercely nationalistic gangs who despise outsiders.
The result, says Rostami, is" fragmentation of transnational organized crime. No one has hegemony or a monopoly." 
Martin Lazar, who heads a regional community policing effort, explains that the new operating environment "creates three levels of violent conflict": gangs vs. authorities, gang vs. gang and within individual gangs. It becomes a battle royale for limited resources and influence, with everyone fighting for their piece of the pie. 
"Before, gangs were solving conflicts within each other privately," he says. "Now violence has moved to the public, with lots of innocent victims."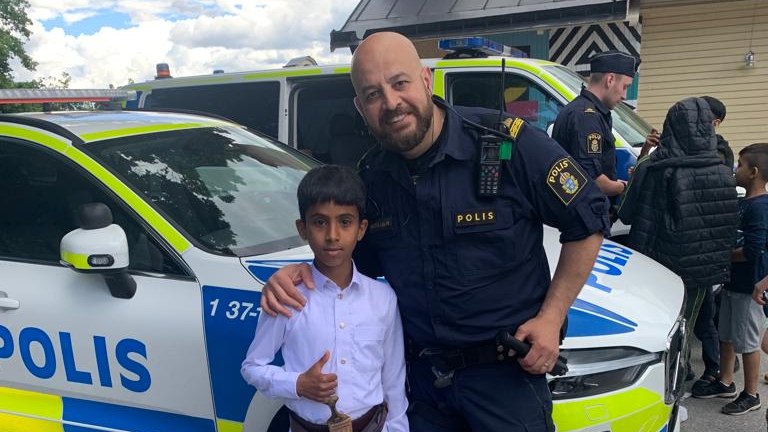 Data backs that up. The number of shootings has increased from 281 in 2017 to 388 in 2022. Deaths jumped from 36 to 62. Statistics from 2018 show that Sweden's rate of firearm violence among men 15 to 29 years old has surpassed that of Italy and Ireland, and was the highest among 13 European nations studied.
Alarmingly, war munitions are accessible on the streets. Hand grenades, remnants from the Balkan wars, have entered the country, and they have become the weapon of choice for targeting infrastructure if not rival gangs. In addition, Sveriges Radio has reported that the gangs are asking arm smugglers to divert weapons from war-torn Ukraine to Sweden.
The criminal justice system hasn't kept pace, Rostami says. Violent gang members often escape punishment. "The cost for being a criminal is quite low," he says. With gangs dishing out vigilante justice, and innocent people caught in the crossfire, the death of someone like 12-year-old Adriana was inevitable.
A significant portion of the violence "comes from marginalized communities that haven't assimilated into Swedish culture," says Lazar, who works with disaffected youth. As an immigrant himself, who escaped a war-torn country and faced difficulties integrating into Swedish society, Lazar says that much of the gang activity results from alienation, distrust of authority, poor education, crippling poverty and displacement from their places of birth. Many of the families of gang members are refugees from conflicts in their home countries, like the former Yugoslavia.
Social media fuels these tensions. Young gang members taunt and humiliate each other on platforms such as Instagram, a battlefield largely unseen by their parents. "It's a free zone for the new generation," observes Lazar. Disrespectful memes, photos, and comments ignite real-life violence – a textbook case of "flash to bang."
In recent years, transnational and organized gang activity has spread from cities such as Stockholm and Gothenburg to the suburbs, notes Poljarevius. Shootouts now happen in public places, such as on streets and in hospitals, and the perpetrators are increasingly younger. We're seeing drugs and guns" on industrial levels," Poljarevius notes. Similar to the United States, violent rap music videos also serve as a glorifying backdrop for the next generation of transnational and local gang members.
Guns frequently infiltrate Sweden from abroad – especially the Balkan countries – but resourceful criminals are now getting access to 3D-printed guns, and their quality is rapidly improving.
Extremism diversifies
Swedish police are struggling with challenges beyond the evolving gang activity. Extremist actions have unsettled the nation. For example, Sweden has seen a substantial influx of Muslim immigrants in recent decades, a trend opposed by some nationalists. In the past few months, Salwan Momika, a refugee from Iraq, has led public Koran burnings as a condemnation of Islam as a whole. Far-right activists have echoed this behavior. The Muslim community, naturally, perceives the desecration of its most sacred scriptures as an act of ultimate disrespect. Since Sweden has no laws against burning the Koran, police have found themselves caught between protecting those who are burning books while trying to build trust with the Muslim community.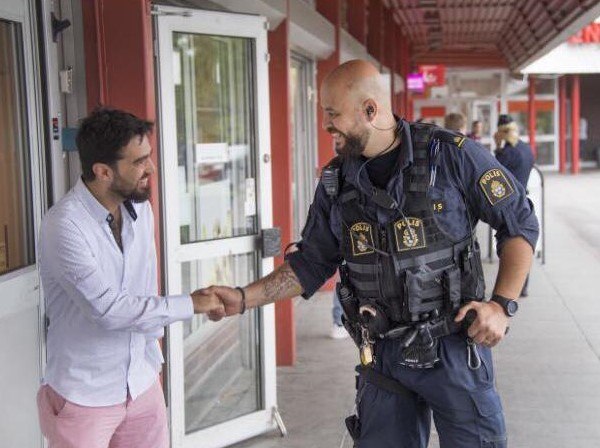 Right-wing extremism in Sweden is also evolving. According to a June 2023 study by the Directorate-General for Migration and Home Affairs, "Whereas 10 years ago [violent right-wing extremist] movements were easily recognizable, right-wing extremists nowadays create their own 'salad bar' ideology and/or radicalize mostly online, out of sight of institutions."
This activity has significant implications for the Swedish business community. It's not necessarily that gang-related violence is debilitating businesses or hindering their operations, but rather the perception of soaring crime and violence has driven away investment. "The image of Stockholm has gotten worse internationally," says Fredrik Erfelt, deputy head of economic policy at the Stockholm Chamber of Commerce. "We will definitely have a harder time attracting talent and investments if this continues."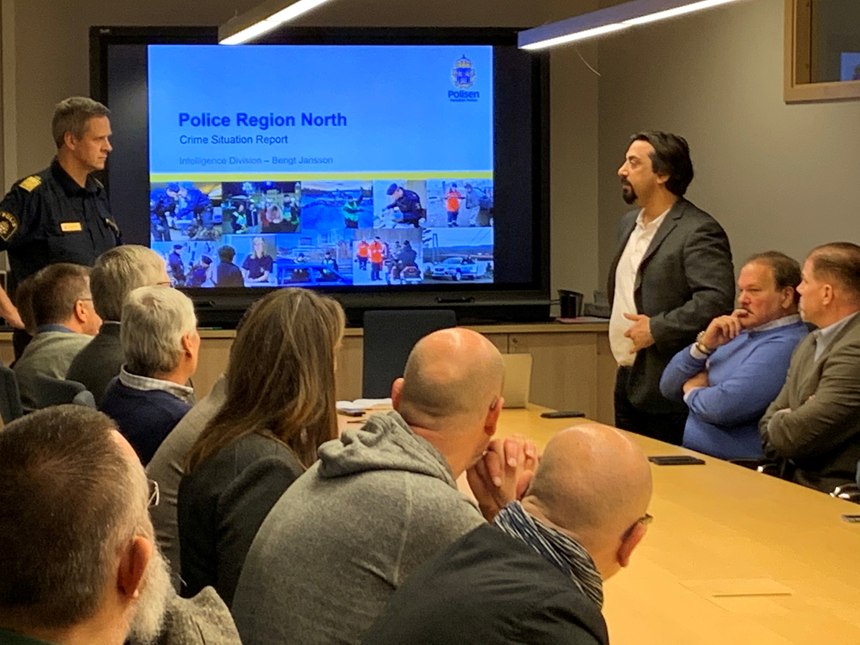 Author Paul Goldenberg, Dr. Amir Rostami and an international law enforcement delegation attend a crime briefing at Stockholm Police Headquarters. (Photo courtesy of Mark Genatempo)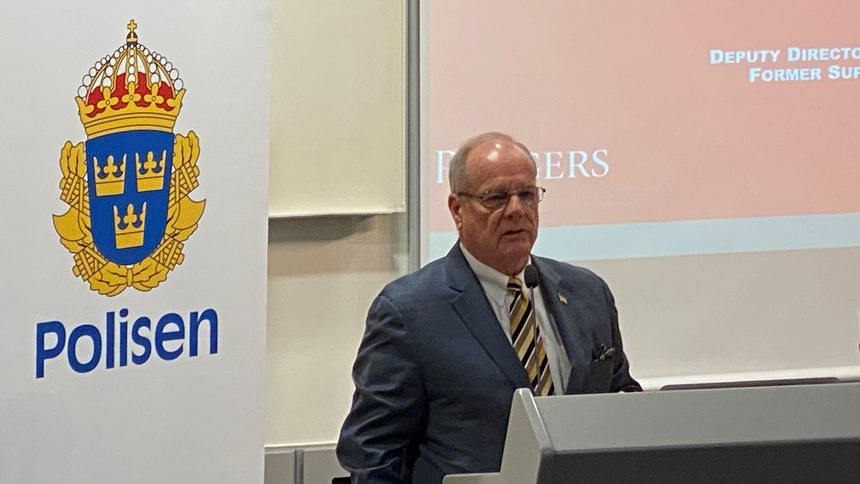 New Jersey State Police Col. Rick Fuentes (ret.) presenting to Swedish National Police in Stockholm on gang violence and gun crime practices. (Photo courtesy of Mark Genatempo)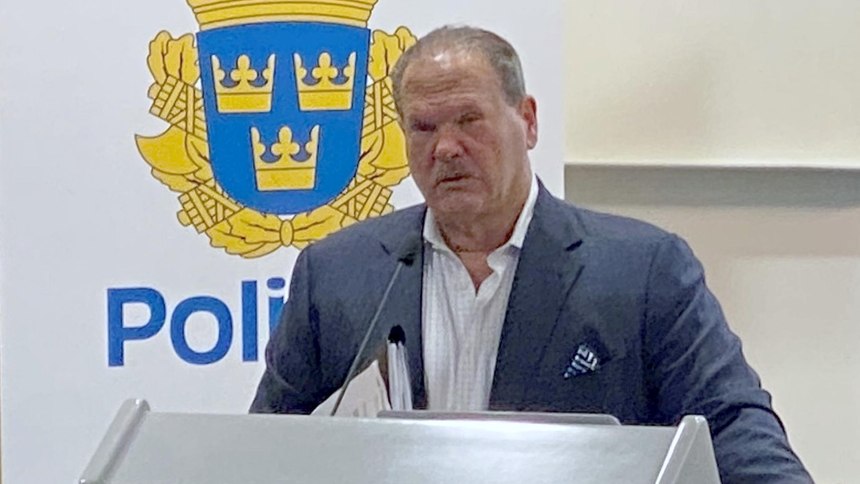 Author Paul Goldenberg presenting to the Swedish National Police in Stockholm about the benefits of building public-private partnerships between police and the business community. (Photo courtesy of Mark Genatempo)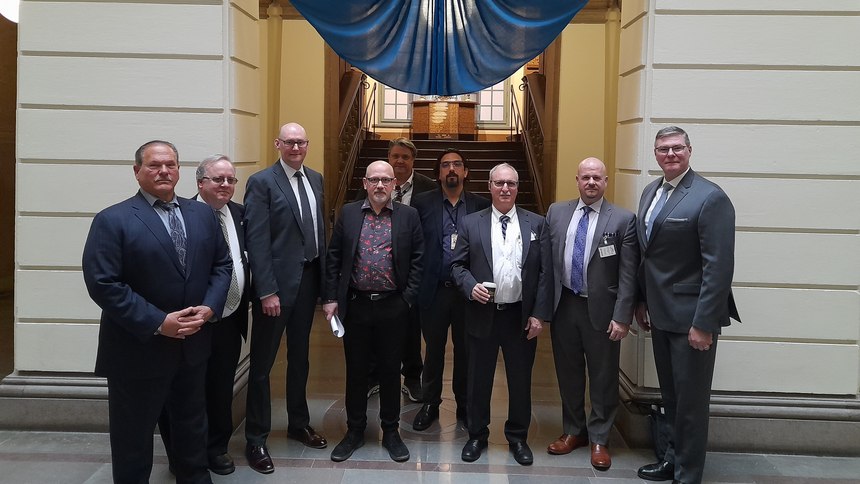 Author Paul Goldenberg, Robert Czepiel, Chief Supt. Matt Peggs (RCMP), Jacek Paszkowski (SNP), Hans Brun (SNP), Dr. Amir Rostami, Eric Seidel, Mark Genatempo (RU), NYPD Chief (ret.) Jack Donohue outside Stockholm Police headquarters during their last collaborative mission to address crime in Sweden. (Photo courtesy of Mark Genatempo)




Solutions
Despite the recent surge in crime, rates remain relatively low compared to places like the United States. The Swedish national police and the business community have demonstrated remarkable receptiveness to collaborating with foreign law enforcement professionals and subject matter experts. While many countries resist international assistance, Swedish authorities have displayed openness and forward-thinking.
Colonel (Ret.) Rick Fuentes of the New Jersey State Police and senior advisor at the Rutgers Miller Center on Policing is one of those external experts providing assistance. "Swedish police are sophisticated, recognize the problem, and are working towards more efficient solutions to remove serial shooters in gangs from the streets by shifting the focus to guns used in crimes," Fuentes says. "Every gun tells a story about the person who pulled the trigger," he continues. "Expediting gun forensics to connect crimes with suspects has worked well in the United States and shows great promise for Sweden."
Still, more needs to be done.
For Rostami and Erfelt, the answer is additional public-private cooperation and outreach to marginalized communities. "The gangs are collaborating and using each other's resources. We need to do the same," contends Rostami. "We need to bring the public and private together."
While some businesses and public authorities collaborate at the local level, Sweden lacks a national program. However, business leaders and national police have been engaging with the Miller Center on Policing and Community Resilience at Rutgers University to adopt best practices in capacity building (author Paul Goldenberg is a Chief Advisor for International Policing at the Miller Center and has been on the ground in Stockholm; he and a cadre of international law enforcement experts in gun violence, including New Jersey's Fuentes, and former 3-star chief of the NYPD Jack Donohue of the Network Contagion Research Institute, have been advising the Swedish National Police.
In fact, early next year, Erfelt will be part of a formal mission in which business and police leaders will visit proactive and progressive departments including the NYPD, New Jersey State Police and Washington, DC's Metropolitan Police Department. They will observe how industry and law enforcement cooperate in these locations. "The business sector desires and needs these types of initiatives to confront our challenges," affirms Erfelt.
Outreach to vulnerable communities is also a police priority. "In the long term we are trying to stop young people from being recruited as new members to criminal gangs," says Poljarevius. "We also try to convince gang members to defect and leave the gang and a criminal style of living."
However, that doesn't mean traditional police work has been sidelined. Poljarevius says authorities have been incarcerating a significant number of transnational gang leaders. "That has been possible thanks to partnering with Europol and the FBI," he says because those organizations have provided Swedish police with decrypted conversations among criminals from so-called "safe chats" such as Enchro, Sky ECC, and Anom. "From those chats, Swedish police got a lot of material that was enough to arrest and criminally prosecute hundreds of strategic leaders and high-value targets," Poljarevius says.
Swedish police are also targeting criminals' resources. Poljarevius anticipates the introduction of new laws that will aid authorities in tracking the movement of illicit proceeds and funds. "That will be the game changer," he predicts.
While promised developments are underway, more work is required, says Rostami. "For 2024, we need to improve policing and crime suppression efforts. We need to focus on effects – such as fewer homicides – not just results – such as more arrests," he argues. "We need to do our homework, and coordinate better."
Otherwise, the cycle continues. As Poljarevius puts it, the police eliminate one gang just for another to rise in its place.
Rostami encapsulates the crux of the issue: "We are not moving fast enough or focusing on the target. We think a lot and we talk a lot. We need more action."
An old Swedish saying goes, "Så kan det gå när inte haspen är på." It translates to, "That's how it goes if the latch isn't on," or, in other words, adverse outcomes occur if necessary precautions aren't taken. Swedish police hope that marginalized communities will assist them in securing that latch.
---
About the authors
Paul Goldenberg spent nearly three decades in law enforcement; from walking a beat in the urban streets of Irvington, New Jersey to serving 10 years as a senior advisor to the Secretary of Homeland Security. For the past two decades, he has worked globally with police agencies across Europe, Scandinavia, the UK and in the Middle East in his capacity as Chief Advisor of Police and International Policing with the Rutgers University Miller Center on Policing and Community Resilience. Prior to that, he worked with the OSCE – the Organization for Security and Cooperation in Europe, the largest regional government security org in the world – to develop their first international police training program in domestic terrorism, hate crime and human rights. He is also a Distinguished Visiting Fellow for the University Ottawa PDI for Transnational Security, a senior officer with the Global Consortium of Law Enforcement Training Executives, CEO of Cardinal Point Strategies, and a former senior member of the NJ Attorney's General Office.
Michael Gips, the former Chief Global Knowledge Officer and Chief Security Officer for ASIS International, is a renowned expert in global security. He has worked on the ground and presented in such locations as Madrid, Hong Kong, Sao Paulo, Kuala Lumpur, Sydney, London, Warsaw, Mexico City, Istanbul and Tel Aviv. He has won multiple awards for his security work and professional writings, and has published more than 1,000 articles. He is an officer of the Global Consortium of Law Enforcement Training Executives (GCLETE), an advisor at Cardinal Point Strategies, and a principal at Global Insights in Professional Security.