8 charged for burning police car at Utah protest
At least eight protesters surrounded the occupied car and flipped it on its roof and set it on fire
---
Lee Davidson
Salt Lake Tribune
SALT LAKE CITY, Utah — Prosecutors on Monday charged an eighth person for allegedly flipping and burning a Salt Lake City police car during a protest against police brutality on May 30 that turned violent.
Monico Isidro Romero, 31, of Salt Lake City was charged with criminal mischief, a first-degree felony, and rioting, a third-degree felony.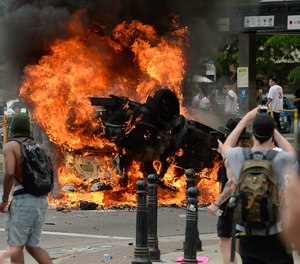 The probable cause statement said a video shows that when the police car was on its side, Romero "repeatedly rammed a yellow flag with wooden handle through the windshield of the patrol car." Detectives said they identified Romero by comparing the video to his driver license photo.
Others who already face charges stemming from the incident include Folau Ofakikolokakal Mafi, 26, of Salt Lake City; Rhys Clementine Wisner, 21, of Midvale; Julie Mariam Yasima, 26, of Murray; Connor Peebles, 21, of Belmont, Mich., and Ian Eric Nightingale, 18, of South Jordan.
Also, Jackson Stuart Tamowski Patton, 26, and Latroi Devons Newbins, 28, have been charged in district and federal court for their alleged part in damaging and setting the car ablaze.
Probable cause statements say an officer was driving her patrol car into work and was stopped by a crowd of protesters near 200 East and 400 South. The crowd surrounded her car and banged on the windows, the statement said. She called for help and was picked up by other officers.
Police say after that at least eight people pushed the car onto its roof. It was later set on fire and destroyed.
McClatchy-Tribune News Service