Minneapolis halts reform talks until police spying accusations are verified
A city attorney says his team hasn't found evidence that officers used social media to spy on Black organizations and leaders
---
By Suzie Ziegler 
MINNEAPOLIS — The Minneapolis City Attorney's Office says it has not found evidence that police used social media to spy on Black leaders, CBS Minnesota reported on Saturday. The spying allegations were made in a recent Minnesota Department of Human Rights (MDHR) probe that said officers "posed as like-minded individuals" online to target Black organizations and leaders. The MDHR said it would work with the city to develop a consent decree based on its findings for the Minneapolis Police Department, according to CBS Minnesota. A consent decree is a list of court-mandated policy changes. 
Now, those reform talks are on hold until the city can verify the spying accusations. In an email sent to Mayor Jacob Frey, Deputy City Attorney Erik Nilsson said his team "did not find any material proving that MPD systematically targeted covert social media to target Black leaders, Black organizations and elected officials without a public safety objective."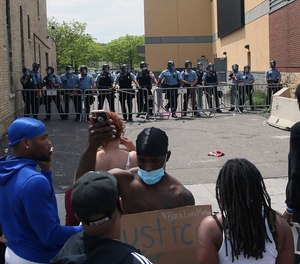 Evidence of the misconduct was compiled in 15,000 pages of documentation, according to CBS Minnesota. But Nilsson says MDHR officials have "repeatedly refused to share this vital information" and that he "cannot go forward" until they do so. 
"Our team was shocked by the allegations in the report regarding covert social media, and if in fact this occurred it needs to be addressed immediately. To adequately advise you (our clients) and fulfill our professional obligations as your legal counsel, we must have accurate and complete information about this issue," Nilsson wrote in the email obtained by CBS Minnesota.  
Meanwhile, MDHR officials and state lawmakers urged consent decree discussions to continue. 
"Any dispute of that one finding is not a reason to halt discussions," the MDHR said in a statement obtained by CBS Minnesota. "The city must take this opportunity to address unlawful discriminatory policing and strengthen public safety."