Ill. sheriff under fire for taking stance against enforcing state's firearms ban
"The sheriff has no authority to determine the constitutionality of a law — that is up to the courts," officials said
---
By Megan Jones
The Courier-News
DUPAGE COUNTY, Ill. — Some DuPage County Board members, local members of the General Assembly, area Democratic members of Congress and residents are speaking out against DuPage County Sheriff James Mendrick's statement that he will not enforce the state's new assault weapons ban.
Mendrick was unable to be reached for comment by The Beacon-News on Thursday about the recent reaction. The Republican sheriff issued a statement Jan. 13 saying he believes the new bill violates Second Amendment rights and that his office won't be checking to ensure that lawful gun owners register their weapons with the state nor arresting or housing anyone charged solely with not complying with the act.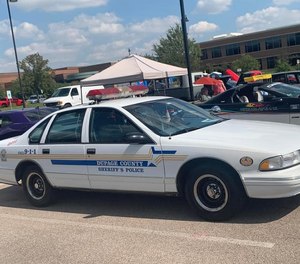 Dozens of sheriffs around Illinois have also declared they will not enforce the new assault weapons ban.
A group of 16 Democratic state legislators who represent portions of DuPage including state Rep. Stephanie Kifowit, D- Oswego; state Rep. Barbara Hernandez, D- Aurora; state Rep. Janet Yang Rohr, D- Naperville; and state Sen. Laura Ellman, D- Naperville; issued a statement this week saying they were dismayed and angered by Mendrick's remarks.
"The sheriff has no authority to determine the constitutionality of a law — that is up to the courts," the statement reads. "Nor can he pick and choose which laws to enforce; he must enforce them all."
U.S. Reps. Sean Casten, D- Downers Grove; Bill Foster, D- Naperville; Raja Krishnamoorthi, D- Schaumburg; and other area Democratic U.S. representatives sent a letter to Mendrick Thursday, asking for him to respond to several questions about his comments by Feb. 3.
During Tuesday's DuPage County Board Judicial and Public Safety Committee meeting, several residents and board members criticized Mendrick's stance. He was not in attendance at the meeting.
"His utter failure to do his job could result in innocent blood on his hands if the next in a long series of mass shootings always with an assault weapon occurs in his jurisdiction," Elmhurst resident Amy Lippert said in an email read during public comment at the meeting. "If he wouldn't uphold his oath and enforce the law, he should resign or be recalled. If he wants to interpret laws, he can try to become a judge."
Several committee members reiterated the county board unanimously voted in October to support state and federal legislation banning the sale of high-powered weapons in DuPage.
Some members called for the sheriff to retract his statement and that if he does not, to examine censuring him. It was unclear if the board has the authority to censure a sheriff. Committee members asked a state's attorney's office representative to research the issue.
"I believe Sheriff Mendrick is letting our constituents know they can pick and choose which laws they follow," DuPage County Board member Dawn DeSart, a Democrat representing District 5, said about the sheriff's comments. "They are irresponsible. He is in the law enforcement business, not the legislative business. Perhaps he should step down as sheriff and run for state senator or legislator."
Board member Grant Eckhoff, a Republican representing District 4, said Mendrick does not have the resources to create a task force of deputy sheriffs to go door to door and start a registration program for the guns.
"It's either handle the 911 calls and do the job that he's been doing or try and go door to door," Eckhoff said. "Unless you want to triple his budget, I don't think it's realistic and the legislation isn't realistic for him to be able to do that."
NEXT: 'I will not let laws strip ... citizens of their constitutional rights and not take a stance': Ill. sheriff won't arrest over banned firearms
___
(c)2023 The Courier-News
Visit The Courier-News (Elgin, Ill.) at www.chicagotribune.com/suburbs/elgin-courier-news/
Distributed by Tribune Content Agency, LLC.
McClatchy-Tribune News Service