RI sets new policy to keep guns from people deemed threat
Rhode Island established a new policy to try to keep guns away from people who show warning signs of violence
---
Associated Press
WARWICK, R.I. — Rhode Island is the first state since a deadly school shooting in Florida to establish a new policy to try to keep guns away from people who show warning signs of violence.
Gov. Gina Raimondo established a "red flag" policy Monday. This month's shooting in Parkland, Florida, renewed the urgency for states to act to prevent gun violence, the Democrat said.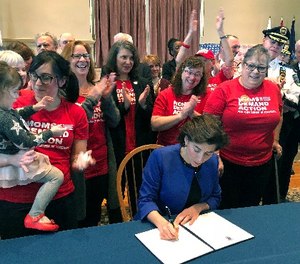 "We have a moment now to come together, to take action to make our communities safer, to make our schools safer, to save lives," she said. "So let's not miss this moment."
Raimondo's executive order directs law enforcement to use all available legal steps to remove firearms from those who pose a threat, such as confiscating guns that were obtained illegally. State law also allows authorities to take away people's guns in domestic violence cases.
The policy doesn't give law enforcement any new authority to take guns away. Rhode Island is considering passing a red flag law to do that.
More than other a dozen states are considering similar bills to require people to surrender their firearms and prohibit them from buying new ones, if a judge determines they pose an imminent danger. California, Connecticut, Indiana, Oregon and Washington already have red flag laws.
"We should no longer wait until another incident happens before we act," said Col. James Mendonca, president of the Rhode Island Police Chiefs' Association.
Supporters of red flag laws, or gun-violence restraining orders, say they can save lives by stopping some shootings and suicides. Gun-rights activists say they can unfairly take away rights from people who have not been convicted of crimes or professionally evaluated for mental illness.
Rhode Island's new policy also launches a public awareness campaign about warning signs of violence and creates a gun safety working group. Jennifer Boylan, from the Rhode Island chapter of Moms Demand Action for Gun Sense in America, hopes other states will follow suit.
"The country is watching," she said. "Our children are watching."
Raimondo said that while she has been focused on gun safety as governor, she felt compelled to do more after her 13-year-old daughter questioned her about Parkland, where 17 people were killed.
Raimondo said the new policy is a precursor to a red flag law, which she urged the legislature to pass quickly.