Book excerpt: Bulletproof Marriage
Every marriage has its own unique elements and challenges, but each marriage requires effective and adequate conversation
---
The following is an excerpt from "Bulletproof Marriage: a 90-Day Devotional" by Adam Davis and Lt. Col. Dave Grossman, which offers a journey of healing, restoration and empowerment to strengthen and support military, law enforcement and first responder families.
The Proper Time for Everything
There is a time for everything, and a season for every activity under the heavens. — Ecclesiastes 3:1
Whether it is working a local municipal patrol beat, running a military operation, or battling another emergency, strategy plays a part in all you do. There's a significant amount of planning that goes into any operation for good reason. You never begin your tour with the intention to fail, as victory is the only acceptable outcome. In the same way, be mindful of the timing when you engage in volatile conversations with your spouse. This isn't a suggestion to be rigid in your approach to talking with each other, but to be mindful and in tune with the events of your spouse's life.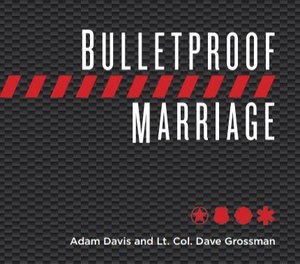 Every marriage has its own unique elements and challenges, but each marriage requires effective and adequate conversation. There's a proper time for everything under the sun, and this applies to the timing of certain conversations with your spouse.
You may be tempted to bombard your spouse with all the things wrong in the home, issues with children, financial turmoil, or other pressing matters when he or she arrives home, but the conversation may yield a more positive outcome if broached at a different time. No matter the topic of discussion, proper timing can mean the difference between a successful resolution or further strife. Make room for the challenges and stress your spouse faces daily, no matter your role in society.
Quick Tip
With unpredictable schedules, it may be difficult to set a specific time to have discussions about difficult topics. But, whenever possible, do so.
Maybe it is before anyone else in the home is awake, or after they are put to bed. Find a time when it is amicable for both of you to engage in the conversation and give your full attention to each other.
You know the value of time, and when you apply that value and appreciation to the time you have with each other, you will see a return on your investment. Commit to communicate in a healthy, loving, effective manner.
Sheepdog
Most of your shift is spent rushing to arrive on the scene of a call or respond to a crisis in the shortest amount of time safely possible, so you know the importance of timing. If your spouse is already overwhelmed with stress from issues in life, don't add to their stress and trigger a potential overload.
Respect the fact that, while they weren't in the trenches as you were, they may have had a stressful day of their own with its own challenges and issues. Don't place your duties when you arrive home as more important or of a higher priority than those of your spouse. Let your spouse know you need to talk and then find a time that works for you both to talk together.
Spouse
We could focus on this timing of the transition from duty to home, but that would be shortsighted. The more time you spend with your spouse, the more intimately you will know him or her. Both of you are valuable and both of you have unique challenges every day. Having respect for each other and offering grace for mistakes is critical. Don't take out your stress hastily on your spouse or children. You know your spouse better than anyone. You know their quirks, habits, and routines – both the good and bad. Find a time that is conducive for conversation and spend time together talking. Talk with your spouse about their thoughts on the timing of conversations.