Book excerpt: Called to Serve: The Inspiring, Untold Stories of America's First Responders
The book details what it is like to manage life and death situations and the toll it takes on cops like Minneapolis officer Donnell Crayton
---
The following is excerpted from "Called to Serve: The Inspiring, Untold Stories of America's First Responders" by Mike Hardwick, Dava Guerin and Sam Royer. The book gives an inside look into the lives of America's law enforcement officers, firefighters and emergency medical professionals both on and off the job, revealing the challenges and triumphs they face while keeping their communities safe. Order on Amazon.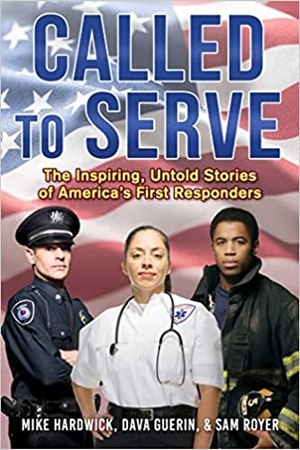 CANINE CONNECTION: DONNELL AND JETT  
"The dog is a gentleman; I hope to go to his heaven, not man's."
—Mark Twain
As a young boy growing up in North Minneapolis, Minnesota, Donnell Crayton learned how to protect himself from the eventual scourge of gunfire. His mother would instruct her five boys to duck under a table or lay down on the floor if they heard any "pop, pop, pop" sounds. His pet dog at the time ran into the other room and hid in fear. Thirty years later, Canine Officer Donnell Crayton is still living in Minneapolis, but this time arresting bad guys along with his eighty-pound German Shepard and loyal best friend, Jett, by his side.
But Donnell's path toward becoming a full-fledged Minneapolis canine officer was a circuitous one, though it was clear even as a teenager that he had the chops.
As the middle child—with two younger brothers and two older ones—the conventional wisdom was that Donnell would be conflicted, misunderstood and not as likely to succeed. Current research defies those stereotypes and in fact, finds that middle children are more likely than their siblings to succeed, and they tend to be more independent, empathetic, and creative. That was certainly the case with Donnell.
But where he grew up would present immense challenges that even the most well-adjusted young black man would have to overcome. "We lived in a primarily black neighborhood, and we were surrounded by crime; mostly gang violence," Donnell said. "It was routine for us to fall to the floor as soon as we heard gunshots. And they happened all the time," said Donnell.
When Donnell was twelve years old, he was emotionally traumatized by the murder of another twelve-year-old, Tyesha Edwards. A gang member, Myron Burrell, who was sixteen at the time, was shooting at another gang member, and a stray bullet struck Tyesha as she sat at her dining room table doing her homework in South Minneapolis. This was in 2002. The shooter was convicted of first-degree murder, but the first trial was postponed because the Court ruled that the statement he made to the police was inadmissible. He eventually was convicted and sent to prison.
"Tyesha's senseless murder affected me terribly because she was around my age, and that could have been me sitting at our house getting shot," Donnell lamented. "Looking back, it might have been the first time I realized that I could do something to make sure this would not happen to any other kid."
Donnell never knew his biological father. He died before Donnell was born, but he never learned that his death resulted from drugs until he was a teenager. His mother wanted to protect Donnell and did the best she could to be both mother and father to her boys. "I was about nineteen or twenty before I asked about my dad. When my mom told me about his drug addiction, it really did not phase me; I just went about my day. You cannot feel for someone you never knew," said Donnell.
Donnell's mother remarried and was divorced after she and her sons had enough of her husband's violent outbursts. Donnell's stepfather was physically and verbally abusive and would punch and kick his mother on a routine basis. He had no concern that his stepsons heard the beatings or were in close proximity to the incidents. "When we were kids, we would hide in the room and it was devastating to me and my brothers," Donnell explained. "But as we grew up, five of us were no match for this creep. One day my brothers and I took a baseball bat, held it to his face and whacked him right on his head. We kicked his ass and the next thing we knew he split."
Soon thereafter his mother got a divorce. "Times were tough, and we had to move to a homeless shelter where we all slept in one room," Donnell recalled. "But the irony was that it was certainly better than the violent relationship we all had to endure. It also has made me more sensitive to homeless people and the need to treat them with respect and dignity."
Though crime continued to plague the neighborhood, it was only committed by a small percentage of the residents as Donnell explains, "they make hell for everyone else." Luckily, Donnell and his brothers were spared any of the bloodshed or participated in gang life. In fact, they thrived.
When Donnell was fourteen years old, he was hired at the Minneapolis Park and Recreation Board working with kids. The organization was created in 1883 and covers more than 6,800 acres of the park system which continually is rated the number one park system in the United States. "Almost everywhere you look there is a park in our city, and I loved tagging along with the park police and watching them do their jobs," Donnell said. "When I was in my senior year in high school, I was dead set on becoming a doctor since I was in advance placement in all my science classes especially chemistry and biology."
Kids growing up in the inner city were taught from an early age that talking to the police was something you should never do. "You did not talk to police; they were the enemy. That is what I was taught until I met Officer Rowland. Even though he was a white guy, he took an interest in me and it was not that long until I realized they were only regular guys," Donnell said. Over the four years, Donnell was volunteering at the Park Board and getting to know and like Officer Rowland, he was surprised one day when he received an intriguing offer from his new-found friend.
"Hey, Donnell, do you want to come with me on a ride along?' he asked. "Man, I do not know but I will ask my mom," Donnell told him. "One more thing, Donnell, are you eighteen yet?" asked Officer Roland. Donnell had just turned eighteen a few weeks before.
After Donnell's mother agreed to let him go with Officer Roland on a ride along, Donnell met him at their headquarters on a Saturday morning in May. "Man, I had the time of my life. We chased a stolen car, stopped, and talked to people in the community, and checked out some drug paraphernalia we found in one of the parks. I asked him, 'Is this what you all do every day?' Man, I am signing up for this," said Donnell.
Donnell realized that his dream of being a doctor was overruled by the excitement he felt during that ride along. He did not want to go to school for another twelve years to become a doctor and instead, decided to explore how to become a Community Services Officer with the Minneapolis Police Department. This was an entry-level position in law enforcement with the goal of training the applicant to eventually become a police officer. The training consisted of rigorous physical fitness tasks, department policy and procedures, law enforcement best practices, squad car maintenance and more. The tuition was free, and if the person succeeded, they would be promoted to a recruit at the police academy. "I was so excited, that I was about to become a police officer," Donnell said.
In 2008 Donnell graduated at the top of his class and was hired by the Minneapolis Police Department. But his jubilation was shattered when the financial crisis occurred and the country was experiencing layoffs and companies were entering into default or bankruptcy. Just as quickly as his law enforcement career began, it was over. Donnell was laid off. Forty of his classmates now needed to regroup and rethink their careers in law enforcement with the Minneapolis Police Department.
Donnell decided to call his friend and mentor, Officer Rowland, to ask if the Park Police might have a park agent entry job available. "Officer Rowland, I just got laid off from the police department and was wondering if you have a job for me? Let me know and I will apply," Donnell asked him, hoping for the best.
"Donnell, I have known you since you were a kid, and you are a fine young man. Go talk to the chief now and I will tell him you are coming," said Officer Rowland. Brad Johnson was the Chief of the Park Police and he also heard about Donnell's work ethic and all-around magnetic personality. "Look, I heard about you since you were fourteen and I know you are a great kid. I understand you have had adversity in your life, but you overcame it and you are a good person. You are hired and you can start on Monday," Brad told Donnell. "Their loss is our gain."
At twenty years old, Donnell became a member of the Park Police, which was an unsworn job and considered pre-law enforcement. (The State of Minnesota requires two years in the criminal justice program where at the end the applicant receives an Associate Degree. One more year of training enables the person to attend the Police Academy.)
Park agents work in the field every day writing citations for parking violations, retrieving drug paraphernalia, and patrolling the parks that were frequently used by drug dealers, drug addicts, gangs, and other criminals. They also write citations for people walking around naked, not having their dogs on leashes and other non-violent offenses. "People think of parks as places where people are happily playing frisbee, or eating a picnic lunch, but here in Minneapolis that is not the case in some of the parks," explained Donnell.
"Drug users occupy park bathrooms, and we had to learn who the offenders are and how to de-escalate a situation if we come across one. As non-sworn police personnel, we do not carry a gun so I had to be more observant and identify what pre-attack indicators are. Then once they are calm, we pat them down search them for weapons or drugs then place them in handcuffs. In intense situations, we call in a sworn officer. They are the only ones who could have a gun in the Park's Department," Donnell explained.
In the two and a half years on the job, Donnell learned how to manage many real-life situations from officers more experienced and willing to help him.
During this time, Donnell, now twenty-one, finished his coursework, and received his associate degree in science and law enforcement; he made his mother proud.
But, unfortunately, no one was hiring police officers when Donnell graduated in 2010. In fact, for every one thousand applicants, there were only one or two jobs available. So, Donnell continued to work for the Park Police, and after two years he began to wonder if law enforcement was the right choice. To supplement his income, a friend he knew from high school suggested he apply for a job as a special education assistant. In that role, he would help teachers with students in kindergarten through eighth grade who had behavior disorders. This was right up Donnell's alley, given his experience working in law enforcement. "There was one time that two kids got in a fight, and one threatened to kill himself and his fellow students. Eventually, he was taken to the hospital for treatment and evaluation. I realized he was serious, and he really did plan to kill other students. Eventually, we found that he had hidden a knife in the bushes. This experience helped me deal with people with mental health issues since they respond better in a less confrontational manner," said Donnell.
Then, to his surprise, in 2012 Donnell got a call back from the City of Minneapolis to return to the Police Department. The budget was reinstated, and they needed community service officers. "I jumped on it," Donnell said. "Of the forty of us that were laid off, they only brought thirteen back. I had to return to the Academy, and in 2013 I graduated and was the first police officer in my family. It broke my heart that only one year later my mom died of Scleroderma, a disease of the autoimmune system. And she was only forty-four," said Donnell.
Donnell dealt with the loss by working hard to become a Minneapolis Police Officer of distinction, meaning he would learn as much as he could, and perform at his personal best. His law enforcement skills would soon be put to the test in a series of high-stress situations, many of which could have been deadly.
Among Donnell's first law enforcement experiences was a hostage situation where he was dispatched because of shots fired. When he arrived on the scene his mind was racing. The shots were coming from a large apartment building on one of the upper floors. As he and his partner entered the building, they could smell gun smoke. On the police radio, Donnell learned that the suspect had a hostage. Then they heard more gunshots in the hallway.
Since he was still in training, Donnell worked with more senior officers and the other law enforcement officers now on the scene. "One of the hostages was released by the suspect. He was injured and the paramedics were there to transport him to the hospital. I decided to jump in the ambulance with him, thinking I could get some intelligence as to whom the shooter was and what was going on that we could not see," Donnell said.
In the meantime, hostage negotiators were trying to communicate with the shooter, to no avail. "I was surprised that the victim gave me the full story and it turned out he had an affair with the woman whose husband came home and found her with another man. The husband shot him in the hallway, then grabbed his wife, took her hostage, and dragged her into a neighbor's apartment," said Donnell.
After eight hours, the shooter released the hostage, and the decision was made to send in a robot in with a camera. It turned out that the shooter had turned the gun on himself and was pronounced dead. "The guy had killed himself. It happened so fast," Donnell recalled. "You have to figure it out on the fly. It was actually scary but at the same time, I was excited knowing I would be doing this all the time. I also learned I have to be prepared and assume all calls could be serious and at times fatal. So, I tried to always have a plan, and if necessary, re-think my tactics in a split second."
Donnell said that new police officers do have constant field training with experienced officers that they can talk to about law enforcement best practices. "Having experienced guys available for you is essential. I could ask them, 'Hey, should I have done it this way? What do I need to do to improve?' They are there to teach you the ropes and grade you," Donnell explained.
There would be three more months of field training, firearms defensive critical incident training, learning how to deal with people with mental health issues, and the use of force. In the summer of 2013, Donnell finished his training and was assigned to a precinct and placed on day shift. Eventually, he would also work the night shift when many of the homicides took place.
"Growing up in the city we had many shooting victims, but I never saw a dead body until that first experience in the apartment building. Even though some of the victims are bad guys, I still feel for them and their families. Even a bad guy is a human being and should not have died the way he did," Donnell explained.
For Donnell, as many of his fellow police officers will attest, emotions are hard to contain, especially when they arrive on the scene and the victims are children or grieving family members. "It was hard for me to find the right words to say to as an officer, especially when I am on the perimeter and the family of the victim arrives. While it is part of our job to process the crime scene, it is equally important to console the loved ones until the chaplain arrives," Donnell explains. "In the meantime, I let them cry on my shoulder and tell them that I am sorry for their loss. That is where people lose sight of who we are as police officers. We are not knuckleheads only interested in bruising and arresting a bad guy. We are there at your worst moments, holding your hands. We are taught in the Police Academy not to be emotional and not let people see you sweat or in pain, but that is not always possible," Donnell said.
Donnell said he can generally leave work behind when he arrives home—but not always.
"When kids die by violence that really affects you. Or when kids are hurt. They have no reason to be hurt. These situations eat at you, no matter how hard you try to suppress your feelings," said Donnell.
Donnell's next career move, before he would be assigned to the prestigious Canine Unit, was in 2015, when the gang unit opened up. At the time, in North Minneapolis, gang shootings were almost a daily occurrence and presented numerous challenges for law enforcement officers.
They needed to create an intel unit to centralize information and help law enforcement learn who the evolving hierarchy of gang members were and where they lived. "I was intrigued by the job and so I applied. I doubted I would get the job but somehow I did," Donnell said. "There were five officers and one sergeant assigned to the unit. I started working with the Intel Unit to identify and track and gang members. To find out who is who and what is what. It felt good to get guns off the street. I believe in the first year we got twenty-five guns off the street and engaged many new informants," Donnell recalled.
Interestingly, Donnell said social media is one of the best ways to track gang members. Why? "Gang members are narcissistic and like to show off and want everyone to look at them. They love to show off their fancy clothes, cars, money, and guns. Once you can identify them you learn who is violent and focus on them," Donnell explained.
During the time Donnell was in the Intel Unit it expanded from five to fifteen officers and one hundred guns were taken off the streets every year. His unit also expanded partnerships with other agencies as well. It was so successful that Donnell and his colleagues would be asked to train officers throughout the state, sharing their tactics of talking to gang members and getting to know who they are and ways to keep their violent acts at bay.
But the hallmark of Donnell's career was about to commence. It would be a life-long passion and intractable relationship with an eighty-pound, majestic, fierce and obedient German-born, German Shepard, Jett.
Dark as night with shiny—almost glistening fur and intense intelligent eyes—Jett became Donnell's constant canine companion in crime fighting as well as his very best friend. "I was always interested in the Canine Unit. It was a highly coveted position normally based on seniority. I had no intention of leaving the Gang Unit but when I saw an email for the job, I decided to throw my name in the hat and apply," Donnell recalled. Donnell was the top candidate and to his surprise, got the job in 2018, the same year he married his fiancé, Kendal. "I was sad to leave the Gang Unit but I always wanted to do something with dogs and this was my chance," he said.
Soon, Donnell was formally introduced to Jett, who was only eleven months old and an empty slate but ready and willing to learn. Jett, as most dogs chosen for the Canine Unit, cost $10,000 and hailed from Germany from a long bloodline of German Shepard that became police dogs.
The bond was instantaneous, and Donnell knew he had found a job he would want for life. At the Canine Academy, Jett and Donnell would work together on Jett's training intensively for four months. Things such as obedience, criminal apprehension, evidence searching, recovering evidence, and learning to track a human scent. Then there was agility, where Jett would learn to jump over a six-foot fence or crawl under small spaces, for example. The goal was for Jett to be certified to work as a police dog by the United States Police Canine Association.
 Jett passed with distinction and his potential for working in the Canine Unit of the Minneapolis Police Department was solidified.
 Training dogs such as Jett is the hardest training program in the department, according to Donnell. "You have a sixty- or ninety-pound dog pulling you and you initially have to fight with them to make them do what you want them to do. But they learn through repetition, and in Jett's case, he is a quick study especially when there are treats as rewards," said Donnell.
 Jett, now four years old, has proven himself to be a professional canine crime fighter and loyal companion. He is also well-mannered and sweet, even letting Donnell's two year old yell at him and pet him—sometimes a little too rough. But do not let this handsome dog deceive. When he is on the job, he is confident and unafraid.
 "Jett in the field is as good of a partner as I could ever have regardless of the fact that I cannot ask him questions or have him answer me back," said Donnell.
 Donnell recalled one time when Jett showed his tough dog training. There was a man that highjacked someone's car and took off with officers in pursuit. Donnell was the only canine officer on the scene at the time. The man crashed the car, ran out of the vehicle, and hid. "Jett knew which way he went and began to track his scent. He tracked the man for two blocks, then Jett pulled me into a bush on the side of someone's house. I made our standard canine announcement: 'I am with the canine police, come out or you will be bit.' Normally a suspect will obey your command and come right out of hiding, since they do not want to be bitten by a ferocious dog like Jett. But this time nothing happened. The next thing I knew Jett dove into the bushes and got something. It turns out it was the suspect," Donnell said.
Jett put his mouth around the man's thigh and pulled him towards Donnell. He was handcuffed and taken to jail.
"Jett's training came all together. It was eye-opening and the most meaningful experience with Jett that is seared in my mind to this day," Donnell said.
Then, in 2019, there was a shooting at 3:00 a.m. in North Minneapolis where shots were fired inside a house and officers learned the father was shooting at his family. The police set up a perimeter and told the suspect inside to come out. It was a chaotic scene. Jett and Donnell were in front of the house. The suspect finally came out of the house with his hands up. He lay on the ground and Donnell and the other officers thought they could cuff him, but he had other plans.
He stood up, turned around and ran back in the house. "The negotiators tried to talk him into coming out again and said they would put the dog away if he did. Instead, rather than coming out peacefully, they heard shots that were fired by the man now brandishing a rifle.
"We had fifteen cops on scene. We heard and saw the rifle so we shot back. I had Jett in one hand and with the other hand, I was shooting at the suspect. He goes down but then sits back up and starts shooting again. We returned fire. Then all the gunshots stopped," Donnell recalled. "We thought, is he going to get back up? I sent Jett in first and he pulled the suspect out of the house so officers would not have to enter the home to render aid and risk their own safety. Unfortunately, the suspect passed away. Despite the fact that he may have killed his entire family, there was a part of me that still felt sad that he died. He was still someone's family member," Donnell lamented.
Jett is just like one of Donnell's children. "We are close at home and on the job and when he is not in kennel he will lay down by the door until I come downstairs," Donnell said. "He is my best friend and I spend more time with him than my family. I can pick up Jett's dog cues and he knows my commands. When he is working nothing can deter him from fulfilling his police duties. When we are at home, he is just one big ball of love."
Jett will work alongside Donnell until he is retired, around eight or nine years old. "We do not want them to have hip issues. We want our dogs to retire and live a decent life. Plus, police dogs are so highly trained that boarding kennels will not accept them because of liability issues. So, when we go on vacation, I can take Jett to the Canine Unit and they will gladly dog sit for me," Donnell added.
For the past decade-plus in law enforcement, Donnell has seen the best and the worst of human nature. He entered law enforcement to make a positive change in someone's life.
But he is dismayed that a few bad cops and politics give police officers like him and many of his colleagues a bad reputation. "We feel the same way about bad cops as anyone does, but it is disheartening when the public lumps us all into one negative category," said Donnell.
"I might make the right decision to use force, but if someone took a video and showed it to thousands of people, that force might appear excessive. The truth is that no force looks good. As a result, we become more hesitant in responding to things and we suffer from racial slurs, hate speech and people treating us like we are the enemy. Believe me, that hurts," Donnell said.
Donnell added that after the 2020 killing of George Floyd that sparked worldwide protests—many resulting in looting and destruction—half of his department quit. He was equally outraged and realized the officer who put his knee on George Floyd's neck, was wrong; he was one of the bad cops. Everyone knew. But because of all the anti-police backlash, some of his fellow officers suffered from Post-Traumatic Stress and other illnesses and felt as if their life's work had no meaning or purpose.
Despite the recent challenges of policing in America, Donnell still works every day to be part of the solution.
"The solution has to come from a loud and boisterous call for change from the community. They have to be behind it because crime is out of control, and they need us. I hope to let them know that we are there for them and we work hard every day to improve our policing practices. And I hope that the general public would see who we really are why we choose to serve. I am still that bright-eyed bushy-tailed kid inside. And I will always be there to stop a bad guy or console a family who lost a loved one to violence. Somebody must be there to help search for bad guys and if we all leave there will no one to stop them. I am sure Jett would agree that we can pray for a better day," Donnell said.