5 things to know about the Backpage.com seizure
Attorney General Jeff Sessions called the site "the dominant marketplace for illicit commercial sex"
---
By Police1 Staff
Popular classifieds website Backpage.com was seized by federal authorities in early April. Attorney General Jeff Sessions called the site "the dominant marketplace for illicit commercial sex, a place where sex traffickers frequently advertised children and adults alike." Coming on the heels of the seizure, FOSTA-SESTA, a new law aimed at battling online sex trafficking, was signed by President Trump. Here are five things to know about the Backpage.com seizure, and why the recent moves by the feds are likely to monumentally change sex trafficking in America.
1. What is Backpage?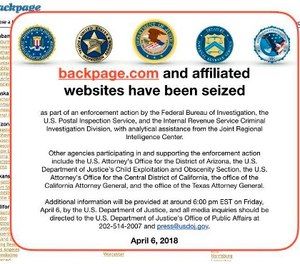 Backpage.com was the second largest classified ad website after Craigslist. It grew enormously in traffic and notoriety in 2010, after Craigslist put an end to its adult services section. Seizing the opportunity, Backpage became – according to law enforcement – the leading resource for sex trafficking ads on the internet. Overall, the site generated over $100 million in revenue per year in 2013 and 2014 alone.
2. How big was the problem?
Dawn Hawkins, executive director of the National Center on Sexual Exploitation (NCOSE), had this to say about the classifieds website:
"Backpage has operated in a fashion akin to the East India Trading Company in the days of the African slave trade—as a willing and knowledgeable promoter and facilitator of egregious sexual exploitation. Reports show that Backpage posted as many as 1 million prostitution ads a day, and in 2012-2013, generated 82.3% (at least $39 million) of its revenue from online advertising of prostitution. According to 51 state Attorneys General (including Guam and American Samoa) many cases of sexual trafficking are directly related to the posting of these ads. There can be no doubt that Backpage's entire business model is built on sexual exploitation, and that as such, Backpage's CEO and founders represent America's top pimps."
According to a report by the Permanent Subcommittee on Investigations about Backpage, led by Sen. Rob Portman, R-Ohio, the website was involved in 73 percent of all child trafficking reports that the National Center for Missing and Exploited Children (NCMEC) received from the general public, not including reports made by Backpage itself.
In fact, one of the cases that helped shut down the website was out of Texas, revolving around the trafficking of a 15-year-old girl using Backpage listings.
Cook County Sheriff Tom Dart, who's made headlines over the years for his long legal battle with the website, said in 2017 that his agency had made over 1,000 arrests tied to Backpage ads.
3. Multiple Backpage officials are facing charges.
Backpage CEO Carl Ferrer has pleaded guilty to charges of money laundering and conspiracy to facilitate prostitution, and is cooperating with authorities. Seven other Backpage officials were arrested in a 93-count indictment for similar offenses. Ferrer admitted the site knowingly looked for ways to "facilitate the state-law prostitution crimes being committed by Backpage's customers."
4. FOSTA-SESTA and the ripple effects of the seizure
As sex work moved from the streets to the internet, web services were protected under the Communications Decency Act, which shielded companies from liability for user-generated content on their sites.
The Backpage problem was a major driver of legislation that targeted CDA's protection of websites that are gathering places for sex workers. Signed into law last week by President Trump, the Fight Online Sex Trafficking Act (FOSTA) and the Stop Enabling Sex Traffickers Act (SESTA), are designed to crack down on online sex trafficking by making it "a federal crime to own, manage, or operate a website with the intent to promote or facilitate prostitution."
Prior to Trump signing the bill, companies like Craigslist and Reddit preemptively took down "personals" and sex-related sections of their websites. And many more web companies are likely to follow suit in the coming weeks.
5. Unintended consequences?
The seizure of Backpage and the passing of FOSTA-SESTA have been viewed by officials as a major win in the fight against sex trafficking. But some critics have warned about unintended consequences.
Some open internet advocates believe the bill is overly broad, undermines internet freedoms and puts web companies at unfair risk of litigation.  
Sex workers and sex work advocates argue that it takes the power away from sex workers – forcing them back on the streets and leading to more exploitation and risk.
Learn more
While it's too early to know the full impact of these new enforcement efforts, there's no question that sex trafficking is a huge problem in the U.S. – nearly 5,600 cases were reported to the National Human Trafficking Hotline in 2016. To learn more, take a look at the following collection of articles and videos by our experts. And if you'd like to expand your knowledge even further, check out the Police1 Academy, which features multiple online courses on human trafficking. You can schedule a free P1A demo here.  
How police can identify, respond to victims of human trafficking
How police can fight human trafficking on its own cyber-turf
The role of technology in human trafficking and sexual exploitation
Video: Human trafficking terms and resources