Book excerpt: Echoes in Eternity – Street Cop Stories
A veteran cop who spent over 30 years policing Metropolitan Detroit writes about complex investigations into human trafficking enforcement, sting operations and homicide cases
---
The following is excerpted from "Echoes in Eternity: Street Cop Stories" by James Disser, a true crime book with tales from the life of an author who spent over 30 years policing the streets of Metropolitan Detroit. Learn the inside story of complex investigations into human trafficking enforcement, sting operations and homicide cases that demanded the best efforts of skilled detectives. Order a copy on Amazon and at www.EchoesBook.com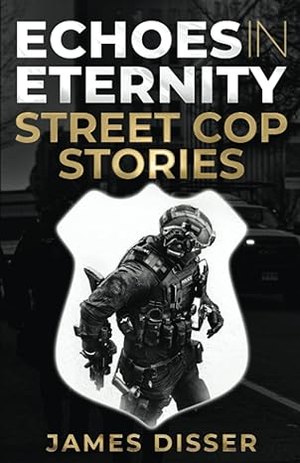 Mariah
Mariah came to my attention the way most of the girls did at the Major Crimes Unit (MCU), via an online advertisement for prostitution. This particular ad was placed on Backpage, a website notorious for facilitating prostitution and human trafficking, just a month or two before it was shut down by the federal government. Using special software that records texts, images and voice calls and saves them as digital evidence, I contacted the number in her advertisement.
We texted and exchanged photos and eventually agreed on a price for her services, which is to say sexual intercourse. This is critical because the price and the act to be performed must be stated by the suspect before an arrest can be made. The police are not allowed to entrap people, and MCU was always careful to never do so.
Once a prostitution arrest was made, we immediately tried to determine if the prostitute was conducting her business because of the force, fraud, or coercion of someone else. In other words, was she being trafficked? If she was, we never prosecuted her for the crime of prostitution. The charges were simply not filed, and we tried to get her to a safe place where she could receive any help she needed. That would prove to be the case in our contact with Mariah.
We agreed to meet at a seedy roadside motel called the El Rancho, where Mariah had rented a room. Prior to my arrival, my MCU teammates established a perimeter around the motel and conducted surveillance. Mariah asked me to pick up some Crown Royal and Newports for her, so I did that as part of the undercover operation. Upon my arrival, I walked up to Room One and knocked. When Mariah opened the door, I could immediately see that she was the same girl whose photo appeared in the advertisement. Mariah was a brown-eyed blonde whose body had not yet suffered the ravages of her drug abuse, unlike many of the girls we encounter.
"Hey, baby," she said.
"What's up, kid?" I replied, handing her the whiskey and smokes.
"Nothing much, come inside," she replied.
She locked the door as she closed it behind me, but I unlocked it as she walked toward the bed. When I did so, my teammate Grafton Sharp immediately entered, in accordance with our tactical plan. Sharp was one of the best street cops with whom I'd ever worked. He combined intelligence and experience with common sense and old-school instincts. We told Mariah she was under arrest and to sit on the bed. She was calm and cooperative as we quickly checked the room for anyone hiding; clearly, she'd dealt with police before.
A few more MCU team members came in while a couple of them maintained surveillance outside. I noticed that Mariah's iPhone was blowing up, so I asked her permission to examine it. She agreed and I saw that another customer who had answered her advertisement was texting her, wanting to come to the motel room. I saw on the text string that they had agreed to a price and sex act so, posing as Mariah, I told him to come over.
I alerted the MCU cops outside, and they stopped a man who drove into the motel lot and parked near the room. Upon being contacted the man was extremely nervous. I went outside and joined my teammate who was speaking with him. MCU Detective Erik Krikorian, a veteran cop with a wealth of experience and a sharp eye, pointed out to me that there were two $100 bills sitting in the center console. I knew from seeing the text string that the price they had agreed to was $200. I asked the man what his cellular phone number was, and it was the same as the phone number in the text string. At that point, Krikorian and I arrested him for Accosting and soliciting an Act of Prostitution.
When we impounded his car, I saw that there was a baby's car seat in the back. I learned later from an agent at Child Protective Services that the man had left his 5-year-old in charge of an infant so that he could go have sex with a prostitute while his wife was at work.
Mariah was transported to the police department for an interview. Prior to speaking with her, I did a "workup" which included a request for her computerized criminal history and inquiries into other databases. I found a report from a police department in metropolitan Detroit that listed Mariah as an acquaintance of a man named Andre who was suspected of being a human trafficker.
During the interview, I asked Mariah about Andre. I must have caught her at the right moment because she gave me the whole story on him. In fact, she was angry at Andre because he had recently beaten her. The man, who had four to six prostitutes under his control at any given time, had become enraged when Mariah purchased a used BMW with money she had earned on the side.
Andre had an associate call Mariah's number and pose as a customer willing to pay for sex. When she arrived at a house in Detroit to meet him, Andre appeared from a hiding place. He snatched her out of the car, punched her to the ground and kicked her, then took the keys and drove away in the car. Andre later forged Mariah's signature on the title and registered the BMW in his own name. She never got the car back.
I learned a lot about Mariah's life, including how she had been trafficked as a prostitute since the age of 15 (she was 27 at this time). She was a wild child and ran away from home a few times. On one of those occasions, she met a man who drove her to a house in Detroit. When they arrived the man told her that if she had sex with his friend, that person would provide them with marijuana, and they could have a party. Mariah did have sex with that man in exchange for the weed, and that was her first time being trafficked as a prostitute. She was in the game from that day forward.
Mariah was released without criminal charges and Andre, the man who had most recently trafficked her and stolen her car, became the focus of our investigation. I called my friend Kellen O'Boyle, an FBI Special Agent at the Detroit Field Office. O'Boyle had been an ordnance disposal expert in the US Army and served in Afghanistan. I was fortunate to have worked a bank robbery case with O'Boyle the year before and knew that he would help us any way that he could. It was quickly determined that our suspect was already the target of a federal investigation by the FBI human trafficking task force in Detroit.
O'Boyle hooked me up with an investigator on that task force, who called me a few days later. He told me that they had identified a 15-year-old female trafficking victim who was featured in a prostitution advertisement placed online by the suspect. The task force had geo-located Andre's phone using the number in the advertisement and had a general area of the suspect's house but couldn't determine the exact address. The investigator wondered if my informant, Mariah, would know the address.
I contacted Mariah and then quickly called the federal investigator back with the address she provided. They then called the number provided in the advertisement, set up a date with the juvenile victim, and sent an Uber driver to the house to pick her up. Of course, the Uber driver was actually an FBI agent. After rescuing that young girl, they executed a search warrant at the house and arrested Andre.
Inside the house, they rescued four other young women who, while not juveniles, were also victims of human trafficking at the hand of the same suspect. Andre was charged and convicted in federal court of numerous human trafficking charges and sent to prison. During the trial, his victims testified to his horrific physical abuse and the fact that he forcefully injected heroin into the neck of one girl, in order to create an addict whom he could then control.
Several months later, Mariah went to a drug rehabilitation center and got clean and sober. Tragically, she relapsed and died within a year from an overdose of heroin laced with fentanyl. Although she led a troubled life, Mariah made an enormous impact on the lives of others by helping us apprehend a brutal human trafficker.
---
About the author
James Disser is a lifelong Michigan resident who served as a sworn police officer for 31 years. During that time, he learned to be a police officer in the diverse, fast-paced environment that is Metropolitan Detroit, eventually promoting to the ranks of sergeant, lieutenant and acting chief of police. Disser spent many years as a Task Force Officer in special units including the County of Macomb Enforcement Team (COMET), the Macomb County SWAT Team, and the Port Huron Major Crimes Unit. Disser received numerous citations for meritorious service from local, state, and federal law enforcement agencies, along with civilian groups and individual citizens.