IACP Quick Take: How cops can build resiliency before mass casualty incidents
The mental toll taken on a police department after a mass casualty incident can be catastrophic, which is why its important to prepare prior to an incident
---

The mental toll taken on a police department after a mass casualty incident can be catastrophic. At the 122nd annual International Association of Chiefs of Police Conference (IACP 2015), a panel discussed the importance of preparing prior to an incident.
Participants:
Sam Cochran - Retired Major, Memphis Crisis Intervention Team coordinator (Panel Leader)
Michael Kehoe - Newtown (Conn.) Chief of Police
John Nicoletti - Police Psychologist, Crisis Intervention Specialist
Daniel Oates - Miami Beach (Fla.) Chief of Police, formerly Aurora (Colo.) Chief
Laura Usher - NAMI Project Manager, Crisis Intervention Specialist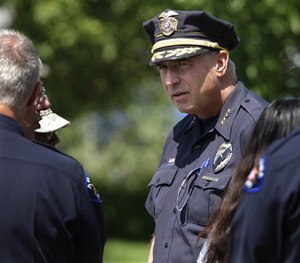 Quick Summary:
The National Alliance on Mental Illness (NAMI) is currently working on a guide for police chiefs outlining what they can do to preserve the mental health of cops involved in the response to a tragedy. After a mass casualty incident, there is little-to-no time to plan for psychological services to maintain the mental health of officers on the scene. It is far more advantageous for police departments to develop resiliency beforehand.
3 Key Takeaways:
1. Agencies must develop relationships with mental health professionals and crisis intervention teams before tragedy strikes. Chief Dan Oates, who managed the response to the Aurora theater shooting, emphasized how vital it was that his PD already had a deep relationship with John Nicoletti and his psychological services team before the massacre. As a result, Nicoletti and his team  were on-site within a few hours of the incident to aid officers.
2. It's important to vet who you decide to work with. Those employed for psychological services in a department need to have an understanding of law enforcement and law enforcement culture.
"What we found way back during Columbine [was] a lot of the people deployed for mental health had no idea what they were doing," Nicoletti said. An agency's police officers need to know and trust those who have been tasked with aiding them through mental trauma. Otherwise, they may be reluctant to receive help.
3. Have an internal workgroup in your agency - made up of officers, police psychologists, and command staff - to build a wellness program within the department. This helps bridge the gap between LEOs and mental health professionals and gets the department talking about mental health issues.
Memorable Quotes:
Dan Oates: "We have to take the approach now in this business that this kind of event is inevitable."
Michael Kehoe: "We give our officers all of these tools to put on their belts...shouldn't we give them the tool of resiliency?"
Other Observations:
The panel spoke of the varying length of time that mental health services may be required for cops who have responded to a mass casualty incident. Chief Kehoe told the IACP attendees that the sight or mention of satellite trucks was a major trigger of post-traumatic stress in officers on his force in the wake of the Newtown massacre. Many expressed a desire to leave town on the eve of the six month and one year anniversaries of the shooting in order to avoid the reappearance of the trucks.
Mandatory interventions are also an option that police departments should weigh in their policy planning. When one officer is more deeply affected by an event than another officer, they may hesitate to seek help. Mandatory intervention could combat the issue.
NAMI's guide is expected to be released in Spring 2016. For agencies that would like updates on the project, visit www.nami.org/cit.