How FirstNet will make mobile officer programs a reality
Mobile officer initiative can improve police officer safety and better equip officers to make life-saving decisions with technology and tools
---
The Philadelphia Police Department, among other agencies, has invested significant resources to develop its own mobile officer programs that include the development of applications for use on devices provided to every officer. Bill Schrier, formerly CIO at the Seattle Police Department and now a member of FirstNet, spoke at the 124th International Association of Chiefs of Police Annual Conference in Philadelphia on how police departments can get access to mobile officer investments.
By Jeff King
The use of technology is not new to the average law enforcement officer on the street. From the first hand-held radios to today's mobile data terminals, police officers have relied on technology for years to help with a wide range of policing activities -- from investigations and arrests to large-scale incident responses and community policing – making technology a mainstay for law enforcement.
While technology has helped officers become more efficient and effective in protecting communities from harm, the full potential of broadband technology without mission critical data limits the ability of law enforcement and others working in public safety to do their jobs.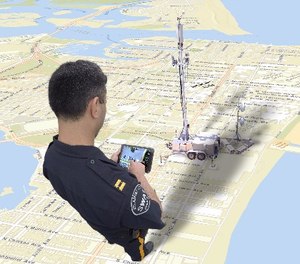 Now with FirstNet, the first nationwide broadband wireless network for public safety, law enforcement will have mission critical broadband access making it possible for communities across the nation to implement mobile officer programs that are revolutionizing how we serve and protect our communities.
To further discuss the advantages and feasibility of implementing mobile officer programs, the International Chiefs of Police hosted a panel discussion entitled, "How to Get Free Access to Philadelphia's Mobile Officer Investments," at its 124th Annual Conference and Exposition. Bill Schrier, formerly CIO at the Seattle Police Department and now a member of FirstNet, discussed how the FirstNet network is paramount to the success of these mobile officer programs.
The Governor's Decision
The FirstNet network - built by public safety and for public safety - is ready to be deployed and operated through a public-private partnership with AT&T.
In June, FirstNet delivered customized state plans to states and territories that outlined a unique network solution addressing their communications gaps and challenges. The governor of each state and territory has until December 28 to decide whether to:
Adopt the FirstNet plan to build the network in his or her state or territory ("opt in"); or
Elect to build, operate, maintain and improve the state or territory's own RAN ("opt out").  
Once a governor opts in, the benefits are immediate – with FirstNet and AT&T starting to deliver services and provide network access to agencies on day one.
Each week more states and territories are choosing to opt in to the FirstNet network. Most have cited low risk, expanded coverage, increased network capacity and immediate access to mission-critical capabilities as key drivers behind their opt-in decisions.  
The FirstNet Solution and Mobile Officer Initiatives
Currently, mobile officer programs have been initiated across the nation in both large and small public safety agencies. By leveraging existing technologies, the mobile officer initiative has improved officer safety and better equipped officers to make life-saving decisions with technology and tools that collect more information in many areas including:
Community policing – Community-based apps, alerts, social media sites, dispatch voice notifications, email or texting.
Reporting and documentation – Voice-to-text or annotated video, geolocation tracking and recording, tag sourcing, witness statements, digital fingerprinting or photo stories.
Large-scale incident responses – Applications, sensors and alerts that generate real-time officer feeds, building and response plans, secure messaging with attachment capability, resource mapping, equipment or K-9 movement tracking.
Calls for service, stops or other incidents – Applications, sensors or alerts that access crime records (previous 911 calls, parolees or sex offenders, code violations, outstanding warrants, gun information, etc.), equipment use or tracking or community warning systems.
Investigations – Applications and devices that access criminal records or intelligence, witness statements, case files, social media alerts, 911 recordings, facial recognition capabilities and AVL with automatic links to criminal records and other data systems (bank records, speed cameras and toll roads).
Making Technology Affordable for Mobile Officer Initiatives
By building an advanced communications infrastructure, FirstNet will not only give these technologies a reliable and resilient platform to run on, but the network will also help make these technologies more affordable and accessible for police departments considering the adoption of mobile officer programs.
Once deployed, FirstNet will deliver the best and most unique network solution for public safety, keeping law enforcement connected at all times with access to:
A dedicated IP core;
More capacity, priority and preemption;
Enhanced rural coverage;
Dedicated access to deployables;
Secure devices and an application ecosystem;
Enhanced cybersecurity;
Dedicated 24/7 customer support.
At the same time, FirstNet will ensure that these connected devices will have local control, which is important for mobile policing in local communities.
Additionally, many of the technologies used in mobile officer programs will be interconnected by FirstNet's reliable, high-speed network giving officers the flexibility to carry ONE device and to run applications that track, collect and share aggregate data between devices and between agencies.
FirstNet Labs: Driving Innovation to Generate Cost-Savings  
FirstNet's Innovation and Test Laboratory in Colorado will help make technologies more affordable for mobile officer initiatives.
With its commitment to putting public safety tools into the hands of first responders without delay, FirstNet's Lab will test public safety functionality and features and more readily address the issues faced in the field, with real-time, useful data.
By gathering public safety's input on technology demonstrations and through user evaluations, the time it takes to test, vet and deploy applications on the FirstNet network will be reduced thereby making these technologies more affordable for mobile officer programs across the country.
With an abundance of public safety applications available to FirstNet subscribers, agencies with mobile officer programs will have the flexibility to select from a wide range of mostly free of charge or low-cost applications and products creating even more cost-savings.
As a result of the network's interoperable capabilities and commitment to driving innovation, FirstNet will generate immediate cost-savings for law enforcement agencies and make mobile officer programs a reality in many communities.
Conclusion
As mobile officer programs take root across the country, the FirstNet network solution will deliver access to a next-generation, mission critical network that will connect law enforcement to life-saving tools and technologies.
The FirstNet network can mean all the difference in reducing interoperability challenges and also increasing situational awareness for law enforcement agencies with mobile policing initiatives.
---
About the author
Jeff King is FirstNet area lead and a reserve police officer for the Metropolitan Police Department of the District of Columbia.