IACP Quick Take: Why local beats viral when building a social media strategy
If you want your social media presence to serve your community, focus on the content not chasing the fans
---
PHILADELPHIA — Generating local and relevant content that engages your community is the key to a successful police social media program.
During their session at the 124th annual International Association of Chiefs of Police Conference, Parker (Colo.) Police Department Professional Standards Commander Chris Peters and PIO Josh Hans reviewed how to develop a social media communication strategy where the emphasis is on local connections rather than on going viral.
Memorable quotes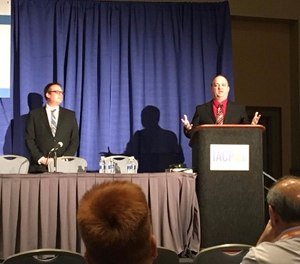 Here are some of the most memorable quotes from the presentation:
"Our Chief's vision is that marketing what our police department does is as important as what we do." – Chris Peters
"Pick the number of social media channels you have time to properly manage. Don't be active on six different platforms if you can't be responsive." – Josh Hans
"The media only covers bad news. People have no idea how many great programs police departments have. They know you write tickets, but they need to know the many good things you are doing." – Josh Hans
"Response time is as important for social media as it is for police calls." – John Hans
3 key take-ways
The presenters shared lots of helpful information during the session. Here's a summary of their key points.  
1. Focus on building an online presence that serves your community
The first step toward a successful campaign is selecting those social media channels your community already uses. The Parker Police Department is active on Facebook, Twitter and Nextdoor.
"We picked three channels because we knew we only had the capacity to properly manage that many. As Parker is a suburban community, Nextdoor is a good fit as those followers are generally more active in our community. For example, about 40 percent of the registrants for classes we offer come from Nextdoor," Hans said. "If a department is located in a university town, I would recommend Snapchat and Instagram. It is important to understand your community and the social media platforms they already use in their daily life."
Once you select the platforms, you need to proactively engage key influencers within those social media channels.
"Facebook changes algorithms all the times," Hans said, "so your police department page - which functions as a business page - may not get the level of engagement personal Facebook pages receive. Some estimates say that only about 14 percent of your followers see your posts, whereas people see posts from their friends all the time. Facebook is actively prioritizing personal pages over business pages."
The first step to combatting this is to identify the "tastemakers" in your community.
"Reach out to these people ahead of time to start a conversation with them," Hans said. "Invite them to your agency to show them all the programs you are involved with. For example, Parker's mayor is very influential on social media and he shares our posts."
Local community groups can also become advocates of your social media pages and share content. "The Free in Parker Community Group on Facebook is very active and shares our posts on a regular basis," Hans said
2.  Use social media as a two-way source of information
Social media isn't just about promoting the good things your officers do in the community. It can also be an important source for police departments to receive information from the community.
"When you are searching for a suspect, people in your community are going to help you get your message out," Hans said. "For example, with missing persons where time is critical, you can use social media to quickly get information out to people."
The Parker Police Department also uses its social media channel to provide general information for residents about things like closures of larger roads and other events that could impact public safety.
For this to be successful though, notes Hans, you must respond to any questions the community posts on your pages.
3. Become the source of news
Today many of us consume our news through social media. And fake news can fly fast on the internet. If a police department has an active social media presence it can handle rumor abatement and take control of the dialogue.
"When an incident happens, you want to get information out right away on your social media platforms to calm the fears of your community. This reinforces to them that you are the source for information when something big happens," Hans said. He cites the success of the Boston Police Department during the marathon bombing when the agency's social media activity made it the news source for the world.
3 Police Social Media Tips
These tips will help you develop a successful social media strategy.  
How do you want your agency and officers to be perceived by your community? The Parker Police Department came up with 10 inspirational words it wanted the community to associate with its officers and then uses those words within social media posts.
Don't focus on the numbers. Chasing Facebook fans or Twitter followers is not as important as finding the right people to engage with. Focus on the conversation and the connections with follow. As more than 75 percent of the fans of the Parker Police Department's Facebook page are locals, the department is reaching those individuals who are impacted by community events. At the same time, engaging posts will always be shared and reach the larger social media community.
Transparency pays off. After sharing a post about an excessive speeding campaign, even Hans was surprised by the 80-plus comments the agency received - all positive - showing how the community appreciated the police for all their efforts to keep them safe. "To receive positive comments like that is proof of performance. We did two days of speed traps and the community thanked us!" Hans said.
Learn more
4 ways social media can help police departments
Thinking outside the box: Police use of social media to catch criminals
When the PD social media policy meets the First Amendment
8 tips for controlling obscenities and trolls on your PD's Facebook
How to boost engagement on your agency's Facebook page