IACP Quick Take: Social work and law enforcement: A crucial collaboration
The Raleigh Police Department shares how LE agencies can team with social workers to benefit both cops and communities
---
The Raleigh Police Department has historically sought out social work professionals to develop programming and strategies to ensure a healthy and resilient workforce. Considering the events of the past year, police departments and social workers stand on the verge of a new era of policing and must examine how to best serve communities through leadership, coalition building with advocacy groups and stakeholders, and creating and implementing equitable policies.
During an online panel discussion at IACP 2021, Raleigh Police Department (RPD) personnel discussed how collaboration between social workers and law enforcement is crucial to shaping ethical and equitable policies and how the integration of social workers in the policy-making process impacts relationships and dialog with community stakeholders.
The members of the panel were: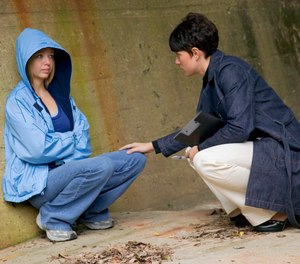 MEMORABLE QUOTES 
The presenters for the virtual session shared lots of information about the value of collaboration between law enforcement and social workers. Here are five memorable quotes:
"Historical research of the police and social worker relationship illustrates that for over a century, social service has been considered a part of policing." — Jason Borneo
"Social work/police partnerships are the next logical step in the evolution of community policing." — Jason Borneo
"Offering nontraditional internships such as social work shines a light on how law enforcement functions can be enhanced." — Renae Lockhart
"When people think of social workers they think of professionals who work with child protective services or have similar jobs. While many social workers do work with children, we all specialize in the ability to connect with different groups of people and understand their needs. As a social worker, I knew that connecting with agencies to understand what they want and need would be essential to build trust and support for this unit." — Paige Moore
"The real challenge began after George Floyd was murdered in May 2020. At the time, tensions were high between officers and those living in the community, and while getting people in the community to sit down and have conversations with officers may have been a challenge before this, it became even more difficult in the months following his death." — Paige Moore 
TOP TAKEAWAYS on police collaboration with social workers
The presenters covered a lot of material during the panel presentation. Make sure to register for IACP 2020 to view the full archived presentation. Meanwhile, here are four top takeaways from the presentation.  
1. The value of social worker internships
The Raleigh Police Department has offered its internship since 2009. Undergraduate level social work students complete internships in specialized units such as the Family Violence Intervention Unit and the Youth Services Unit. These units provide victim-centered care by assisting members in the community: the family unit focuses on follow-up services for domestic violence calls while the Youth Services Unit connects with youth in the community. Social work students work alongside officers, detectives and civilian staff assigned to the units assisting with components of case management and client center practice that coincides with their course work.
Once RPD and the School of Social Work were comfortable with the arrangements, RPD began to offer internships to graduate students enrolled in the master's in social work (MSW) program. Starting in 2013, the MSW interns initially conduct more thorough follow-up investigations into domestic violence calls. After becoming familiar with the internal operations of the department and appropriate follow-up procedures, students are challenged to apply the skills learned in the classroom while working with the Crash Reconstruction Unit and Detective Division. As police personnel conducted their investigations, the student follows up with witnesses of traffic crashes and family members of suicide victims. 
As part of the internship, students also meet and interact with RPD's police psychologists to connect psychology and sociology aspects in a law enforcement setting, as well as receive assistance and guidance from the department's non-sworn personnel such as crisis counselors, victim advocates and gang outreach coordinators.
2. How specialized social worker projects benefit communities 
Paige Moore is a former MSW intern with the RPD. Moore joined the Research and Planning Unit as a specialized intern research analyst and special project consultant. The initial induction phase required Moore to learn and understand policing while those that were to work alongside her would learn the nuances of social work. Moore noted that in a hierarchical organization such as a police department, it took time to build rapport and trust with the individual officers she worked with while advocating for the diverse communities that RPD serves.
Moore worked on two main projects:
Research best practices from around the country to develop a unit of social workers and officers that would assist individuals in the RPD community, specifically those experiencing homelessness, living with mental illnesses and living with substance use disorder.
Creating a policy for officers interacting with individuals belonging to the LGBTW community.
Moore was able to successfully conduct research into similar units across the country and see how they conducted their missions and tasks such as types of vehicles used and uniform or attire worn while engaging the community, as well as engaging in candid conversations with officers and social workers about lessons learned, challenges and anticipated roadblocks.
3. The steps to creating a permanent team
Sergeant Renae Lockhart described the formation and tasks of RPD's ACORNS team. ACORNS stands for Addressing Crisis through Outreach, Referrals, Networking and Service. The team is the culmination of the internships, relationships created and deep understanding by all involved of the need for such a unit and the benefits it brings.  
ACORNS' mission is to connect with individuals in crisis and provide them with the resources needed to meet their individual goals. This is achieved via outreach, education, case management, field services, intervention and investigation. Referrals and calls for services are responded to by a social worker and an officer where they employ a "care and safety first, enforcement last" approach.
When the team receives a call for service, it responds, and social workers connect with individuals to assist with identifying long-term goals. This is followed by connecting individuals in need with appropriate community resources such as access to housing, counseling services and medical care. The team then conducts follow-ups to see if the referred services met all their needs, and additional referrals are made if necessary.
Lockheart noted that ACORNS team members understand the need to foster relationships and that by applying this approach, the team assists individuals by "growing together, standing strong and weathering the storm."
4. Developing an LBGTQ policy
The assistance of social workers also enabled the creation and development of LBGTQ policies. Components of the policy include definitions; commitment to understanding and the lived experiences of the community; use of names, titles and pronouns; stops, searches and arrests; transportation; and restroom use. All sections of the policy were vetted by members of the LGBTQ community.
SUMMARY
Borneo, Lockhart and Moore provided a superb overview of how to integrate social workers into a police department, stand up a unit and serve the community. To achieve program success requires champions and enthusiasts who will provide support, encouragement and reassurance that a department is on the right track and for the right reasons.