Trump thanks chiefs, officers for their service at IACP 2019
President Trump addresses 2019 IACP attendees, criticizing decision of Chicago Police Superintendent Eddie Johnson to not attend
---
CHICAGO — President Donald J. Trump addressed attendees at the 2019 International Association of Chiefs of Police (IACP) in Chicago on Monday morning with a mix of appreciation for law enforcement, sharp critique of Chicago Police Department Superintendent Eddie Johnson, prepared remarks about the administration's efforts to reduce violent crime and stem the flow of illegal immigration, and campaign-proven applause and laugh lines.  
President Trump began his talk with admiration for law enforcement. "You do an incredible job," Trump said. "The people of this country love you. Every day of my presidency I will be your greatest and most loyal champion." 
The president received the most appreciation from the audience when he gave recognition to specific law enforcement agencies, police chiefs and police officers.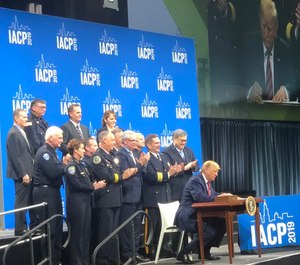 Trump asked Chief Richard S. Biehl, Dayton (Ohio) Police Department, to come on stage and to describe the actions of his department's leaders and officers, who were recognized with the Medal of Valor for their actions in stopping an active shooter in August.  
President Trump, early in his remarks, had very strong words for Chicago Police Department Superintendent Eddie Johnson, including his decision to not attend the address, and the number of homicides and shootings in Chicago. 
"I've done more for the police than any other president has done for the police," Trump added.  
President Trump also invited Johnson and the Chicago Police Department to request assistance from the administration and Department of Justice.  
"The best way to reduce gun violence is to put criminals with firearms behind bars," Trump said. 
Near the end of his remarks, Trump asked the officers nominated for the IACP Police Officer of the Year Award to come on stage to say a few words about the incidents that led to their nomination. "Each of these heroes represent the selfless service of officers around the country," Trump said.  
Police chiefs, officers, their families, including young children, as well as exhibitors, other dignitaries and local and national media began to fill the hall nearly 3.5 hours before the president's arrival. Attendees used this time to network with colleagues from around the world. 
The president also invited onto the stage administration officials from the Drug Enforcement Administration (DEA), Immigration and Customs Enforcement (ICE) and Customs and Border Patrol to share their appreciation with law enforcement and reiterate the importance of federal and local law enforcement collaboration.  
Trump concluded his speech at IACP as he began it – with commendation of police officers for their service to their communities. "You have no idea how much the people of this country love you and respect you," Trump said.  
Before leaving, the president signed an executive order in support of law enforcement. The order establishes a new executive Commission on Law Enforcement and the Administration of Justice, a longtime priority of the IACP. The Commission will study key issues facing law enforcement – like substance abuse, homelessness, and mental illness – and also look at best practices for recruiting, training and supporting law enforcement officers. 
President Trump joined by the IACP executive board signs the executive order establishing the National Commission on Criminal Justice and the Administration of Justice a long time IACP Priority pic.twitter.com/s3C5oFn6x0

— The IACP (@TheIACP) October 28, 2019
Watch a video of Trump's full address to 2019 IACP: