Dallas officer shot in 2016 ambush sues Facebook, Twitter, Google
The officer is suing the social media giants claiming their platforms knowingly supported terrorist groups
---
Dana Branham
The Dallas Morning News
DALLAS — A Dallas Area Rapid Transit (DART) officer who was wounded in the July 7, 2016, police ambush in downtown Dallas has sued Facebook, Twitter and Google, saying their platforms knowingly support terrorist groups.
Officer Jesus Retana, 34, and his husband, Andrew Moss, filed the lawsuit in federal court Wednesday. Retana, who began working for Dallas Area Rapid Transit police in 2006, was shot in the arm during the ambush.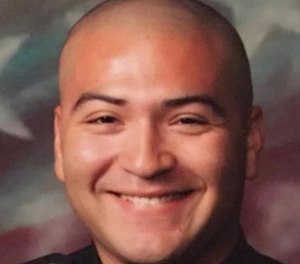 The lawsuit says Micah Johnson, the gunman who killed five police officers in the attack, was radicalized in part by the terrorist group Hamas' use of Facebook, Twitter and Google.
The companies knowingly provided Hamas "with accounts to use its social networks as a tool for spreading extremist propaganda, raising funds, and attracting new recruits," Retana and Moss say.
A spokesman for Twitter declined to comment on the lawsuit. Representatives for Facebook and Google did not respond to requests for comment. 
Keith Altman, an attorney representing Retana and Moss, said the lawsuit is one of several he has filed against the tech giants in an attempt to hold them responsible for terrorists using their platforms. Altman has also sued on behalf of victims of the San Bernardino killings, the Pulse nightclub shooting and a 2015 Islamic State attack in Paris, among others. The cases have so far been unsuccessful, he said.
In January 2017, Dallas police Sgt. Demetrick Pennie — also represented by Altman — sued the three tech companies in a case that was later dismissed. A federal judge ruled that the plaintiffs did not "plausibly allege a connection between Hamas and the Dallas shooting."
Altman said the companies can't claim they don't know terrorists are using their websites to spread propaganda and attract recruits.
"They absolutely know that the terrorists are using their sites," he said. "This is not the dark web."
The lawsuit says Retana and Moss' claims don't have to do with the social-media content posted by Hamas, but rather the "infrastructure" of support the websites provide to Hamas.
The lawsuit also accuses Facebook and Twitter of profiting from displaying ads alongside Hamas' posts.
While Altman acknowledged that Johnson was not radicalized directly by Hamas, the lawsuit draws parallels between the terrorist group and black radical groups. 
It notes that Johnson "liked" the Facebook pages of the New Black Panther Party, the Nation of Islam and the Black Riders Liberation Army, which are designated as hate groups by the Southern Poverty Law Center.
Altman said the lawsuit's intent is not to target black radical groups. It's focused on asking Facebook, Twitter and Google to "act reasonably" and holding them accountable for terrorist content on their platforms, he said.
"I don't care what group you are," he said. "It is not cool to call for the killing of police officers."
Altman said Retana and Moss are still hurting in the aftermath of the 2016 ambush and "will never be the same."
All they want to get out of the lawsuit, which seeks unspecified damages, is "no more funerals," he said.
"Nobody should lose a loved one, a friend, a family member because of a terrorist attack," Altman said.
———
©2019 The Dallas Morning News
McClatchy-Tribune News Service