Denver police investigate dispatch, 911 response time after killing
Police officials said internal investigation will focus on the time it took officers to respond to the home, and whether dispatchers properly prioritized call
---
By Sadie Gurman
Associated Press
DENVER — Authorities were investigating Wednesday whether Denver police responded quickly enough to a woman who was fatally shot at least 12 minutes into a 911 call in which she said her husband was hallucinating and asking her to shoot him.
Police officials said their internal investigation will focus on the time it took officers to respond to the home of 44-year-old Kristine Kirk on Monday night, and whether dispatchers properly prioritized her call.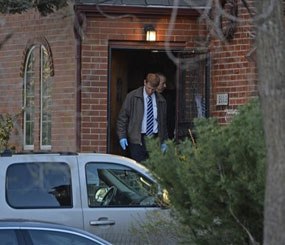 Denver police have struggled with slowing response times in recent months as department ranks have decreased due to retirements, departures and budget cuts that have kept the department from hiring for five years.
Officials have said they expect improvements as recruits from several recent police academy classes begin to hit the streets.
Disagreement exists about the reasons for the delays. The police union has said staffing changes and sweeping reorganization of the department by Chief Robert White have worsened the problem.
Complaints from residents and police officers prompted the Denver auditor's office to investigate the issue. A report is expected later this year.
Homicide detective Troy Bisgard, who listened to the 911 call from Kirk, said in court documents that he heard her scream and then the sound of gunfire. Officers arrived just after the shooting and found her dead from a gunshot wound to the head.
Police say her husband, Richard Kirk, 47, confessed to the killing after he was placed in the back of a patrol car.
Kirk has been charged with first-degree murder and showed no emotion Wednesday during his first court appearance. He was held without bond.
Kirk is being represented by a public defender, who declined to comment.
Kristine Kirk told a dispatcher that her husband was "talking about the end of the world," and wanted her to shoot him, court documents state. She said he was hallucinating and scaring the couple's three young boys.
She also told a dispatcher there was a gun in the house in a safe. Kirk was asked a series of questions about her husband's medical history and possible drug use.
As the call continued, Kirk reported that her husband retrieved the weapon and she began to scream, according to the documents. Police said she was shot about 12 to 13 minutes into the call.
Officials have refused to release the 911 call or dispatch records, citing the open investigation.
"Any time a person dies while communicating with Denver's emergency services we examine the circumstances to ensure that the incident was handled properly and we look for areas to improve upon," Sonny Jackson, a department spokesman, said in a statement.
He also said detectives were investigating whether Richard Kirk used marijuana before the shooting based on evidence found at the scene.
His father, also named Richard Kirk, said the family was shocked because the couple had shown no signs of marital distress. He visited the family in January and said he was unaware of any possible drug use by his son.
"It was a great family," he said after the court hearing. "He seemed very happy."
Copyright 2014 The Associated Press