FBI joins manhunt for UConn student wanted in killings
Peter Manfredonia is connected with two homicides, a kidnapping and a home invasion in the last four days
---
By Josh LaBella and Tara O'Neill
Connecticut Post
BRIDGEPORT, Conn. — The FBI has joined the search for a University of Connecticut student who police say is connected with two homicides, a kidnapping and a home invasion in the last four days.
Connecticut State Police said Peter Manfredonia, a 23-year-old UConn student, was last seen Sunday in Pennsylvania.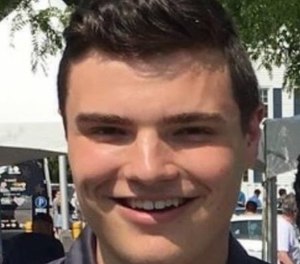 Pennsylvania State Police Trooper Anthony Petroski said Sunday that Manfredonia was last seen Sunday afternoon in East Stroudsburg, in Monroe County, Pa.
Manfredonia was described as a white male, 6-foot-3-inches tall and weighing 240 pounds, with black "disheveled hair." Petroski said Manfredonia was last seen wearing dark colored shorts and a white T-shirt. He was carrying a large duffel bag.
Petroski stressed that Manfredonia is "armed and dangerous" and that any sightings should immediately be phoned in to 911.
To dispel rumors, Connecticut State Police clarified shortly before 1 p.m. Sunday that Manfredonia "HAS NOT been captured in New Jersey."
"CSP and law enforcement partners are still actively searching for the suspect," Connecticut State Police said.
Connecticut, Pennsylvania and New Jersey law enforcement agencies, joined Monday by FBI agents, continue to search for Manfredonia.
On Sunday, police swarmed Osbornedale State Park in Derby, looking for Manfredonia. That morning police found the body of 23-year-old Nicholas J. Eisele, a resident of that city and an acquaintance of Manfredonia, according to state police.
Authorities said Mafredonia was seen in eastern Pennsylvania after the Volkswagen Jetta he allegedly stole from Eisele's Roosevelt Drive home was found in New Jersey, near the Pennsylvania border.
Police said a female victim who Manfredonia abducted from the Derby home was also found safe in Paterson, New Jersey. They said she identified Manfredonia as her captor and that she was unharmed and transported back to Connecticut.
Despite state police saying that an autopsy would determine Eisele's cause and manner of death, Derby police classified the incident as a homicide in a statement Monday.
Derby police further clarified some details about what happened in their city.
"Eisele's girlfriend and her 2016 black Volkswagen Jetta were located by the New Jersey State Police at a rest stop," Derby police said. "She is physically unharmed despite being taken from the Roosevelt Drive residence against her will."
State police said the woman identified Manfredonia as the person who took her against her will from the Derby home.
"The individual did positively identify the captor as Peter Manfredonia," state police said Sunday. "We are purposely not releasing any information of the individual to protect the safety of any potential witnesses and the integrity of the investigation."
It's unclear whether Eisele's girlfriend and the Jetta were found in the same location. State police indicated Sunday that the Jetta was found in New Jersey near the Pennsylvania border, but clarified Monday that the woman was found in Paterson, N.J., which is in the northeast part of the state and not near the border with Pennsylvania.
Police in Allentown, P.A., on Sunday night confirmed to Hearst Connecticut Media that the department got a tip that Manfredonia had possibly gotten into an Uber and asked to be driven to Allentown before he got back out of the vehicle. Allentown police said the information was unfounded.
Derby police said Manfredonia remains the "primary suspect in the Derby homicide and kidnapping." Police also reiterated a point made by state police Sunday: Eisele was an acquaintance of Manfredonia.
Although the department said there is "no indication" Manfredonia will return to the Valley, "residents and anyone coming into contact with Manfredonia should use extreme caution. Do not approach him as he is believed to be armed with at least a handgun and is considered dangerous."
Manfredonia, a Newtown High School graduate and University of Connecticut student, was already sought by police in connection with an assault in Willington that left one man dead and another injured Friday morning.
"The Connecticut State Police is working aggressively to bring this individual to justice," the agency said in a statement Sunday night.
Law enforcement first caught wind of Manfredonia in Derby after he allegedly crashed the vehicle he took from the victim of the home invasion in Willington near Osbornedale State Park.
"Evidence suggests that the truck became lodged on an elevated embankment at which time he abandoned it," Derby police said.
Video surveillance in the area showed Manfredonia walking "directly" toward the "Roosevelt Drive homicide scene" Sunday morning, between 5 and 6 a.m., Derby police said. The Roosevelt Drive residence is about 1 mile from the spot where the truck was abandoned.
Around 9 a.m. Sunday, Seymour police said Manfredonia was "possibly seen on Tomlinson Road a short time ago." On Monday, Derby police said sightings of Manfredonia in "the neighboring Seymour jurisdiction were false." And Derby police said that while there were helicopters hovering over several Shelton neighborhoods — across the river from the Roosevelt Drive crime scene — there "was no direct evidence that Manfredonia was ever in Shelton."
Derby police said Derby and Ansonia detectives, Connecticut State Police Central District Major Crime Squad and the FBI continue to process evidence from the Derby homicide scene, including interviews and neighborhood canvasses.
"This is obviously an active and ongoing investigation spanning several states," Derby police said. "We, along with the Connecticut and neighboring state police agencies, will post information as it becomes available."
In Newtown, police there stepped up patrols and increased manpower as a precaution since Manfredonia has "very strong ties" to the town. Newtown police referred to Manfredonia as a "very dangerous individual."
Police began looking for Manfredonia after a deadly assault on Mirtl Road in Willington around 9 a.m. Friday. There troopers found two victims suffering from injuries "after an assault with an edged weapon," state police said. One of the victims, 62-year-old Willington resident Theodore DeMers, later died from his injuries.
His wife, Cynthia DeMers, told the Hartford Courant that her husband had offered to help a young man he saw walking on the road wearing a motorcycle helmet and leather jacket. He offered the man a ride on his four-wheel ATV, down the road to where the man said he left his motorcycle.
She said about five minutes after she saw her husband drive away, a neighbor drove up to the house, beeping a car horn and telling her there had been some kind of accident.
She told the Courant she found her husband lying on the ground with obvious injuries. She said she spoke with her husband of 42 years one last time before the ambulance took him away. He didn't respond.
"It could have been anybody who offered him a ride," she told the Courant. "It could have been any of my neighbors' husbands. It just happened to be mine."
Cynthia DeMers declined to speak to Hearst Connecticut Media on Monday.
"Once again we extend our sympathies to all of the families involved," Connecticut State Police reiterated Monday. "The Connecticut State Police is working aggressively to bring this individual to justice."
Anyone with any information is asked to call Derby police at 203-735-7811, state police at 860-896-3200 or the FBI at 1-800-CALLFBI. Any sightings of Manfredonia should be called in to 911 immediately.
McClatchy-Tribune News Service