How 2 Texas detectives made arrest in cold case murder 46 years later
In January, Detectives Wagner and Bennett reopened the 1974 case that had stumped law enforcement for decades
---
By Mark Dent
Fort Worth Star-Telegram
FORT WORTH, Texas — For decades, Fort Worth police had been looking in the right places to find the person they suspected killed Carla Walker: They had found men connected to purchases of .22 Rugers, the weapon involved in the abduction of Walker from a Ridglea Avenue bowling alley's parking lot. They had tested her clothing for DNA multiple times. They had even interviewed the man taken into custody Monday for the capital murder charge of Walker, Glen McCurley, less than two months after she was killed.
Yet none of that information had brought the police department close enough to making an arrest. How did they finally make a breakthrough on the grisly murder case of a 17-year-old that has roiled Walker's family and Fort Worth since 1974? It is all about advancements in DNA testing. An extraction of DNA tested from Walker's bra this year revealed more data than the police had ever recovered.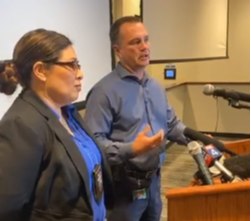 "When we tested before you don't always get a full profile. This time we got a full profile," said detective Leah Wagner. "And that allowed us more options to seek who this could be."
Wagner and detective Jay Bennett reopened the Walker case for active investigation in February. They started by sifting through what Wagner referred to as "a mound of paperwork" and conducting interviews with witnesses and previous suspects.
The person who killed Walker had left behind several details for police to follow: Walker had morphine in her system when she died, and a .22 Ruger magazine was found next to her purse in the bowling alley parking lot. Her boyfriend, Rodney McCoy, who was in the car with Walker when she was abducted, said the killer was a white man standing about 5-10 and weighing about 175 pounds. He said that the killer had brown hair, cropped in a military cut fashion, and had been wearing a brown cowboy hat. He may have been driving a light-colored Camaro.
Throughout late winter and spring in 1974, during the initial investigation, police interviewed witnesses and persons of interest. A detective at the time remarked that more people were working on the case than any he had ever seen.
McCurley was one of the early suspects, according to the arrest affidavit filed Monday. Police identified him as someone who had recently purchased a new magazine for a .22 Ruger, and three detectives interviewed him on April 3. They found that he was a truck driver who had previously spent time in prison for car theft. For two years, he had been living in the 7100 block of Willis Avenue, which was less than two miles from the bowling alley. The interviewers reported that McCurley said he was not working the night of the kidnapping or the next day and that his wife had been out of town in West Texas. As for the Ruger, he told police it had been stolen six weeks earlier — about the same time Walker was killed — while he was fishing. He said he did not report the theft because he was an ex-convict, according to the affidavit.
After the interview, the police did not look at him again for the next 46 years.
"He was suspicious because of the weapon he had and proximity of where he lived," Wagner said. "They just didn't have enough."
The missing component ended up being DNA. As part of their investigation, Bennett and Wagner sent Walker's clothing for DNA testing. According to the arrest affidavit, a male DNA profile was found on her bra. Wagner noted that testing has been around since the 1980s, but continuous advancements in extraction and testing methods returned better information this time. "It was newer processes that led us to be able to extract a full profile," Wagner said.
In March, police uploaded the DNA to a database called CODIS, and no matches were returned. They also sent the DNA to a freely accessible genealogical database known as GEDmatch, the same tool California police used to identify the Golden State Killer. On GEDmatch, Fort Worth police got a match: The detectives reported that they narrowed the suspects to a family of three brothers with the last name McCurley.
From there, the investigation into McCurley began. In July, according to the affidavit, police officers collected trash from a bin on the street outside his house; Wagner received confirmation that DNA from the trash matched the DNA from Walker's bra on Sept. 4.
She and Bennett interviewed him about a week later. They reported that during the interview McCurley again said his Ruger had been stolen. He also told them, they reported, that he did not kill anyone and didn't know Walker. He consented to providing a DNA sample through two mouth swabs. On Sept. 16, according to the affidavit, Wagner discovered the DNA from McCurley's mouth was also a match for the DNA from the bra.
Upon seeing the DNA matches, Wagner recalled feeling "a little bit of shock, excitement, a little bit of fear because 'wow this is really happening here.' It's one thing to work toward a goal, and it's another to achieve it. And this was a huge goal. It was a really big win for us and the Walker family."
Jim Walker, Carla's brother, felt similar emotions. He had spent decades praying and hoping for this breakthrough.
"I feel like God," he said, "put the right two detectives on the case."
©2020 the Fort Worth Star-Telegram
McClatchy-Tribune News Service