How behavioral threat assessment concepts can benefit criminal investigations
They can help investigators develop clearer pictures of what drives suspects
---
By Sergeant Glenn Albin
In its 2017 publication "Making Prevention a Reality: Identifying, Assessing, and Managing the Threat of Targeted Attacks," the Federal Bureau of Investigation (FBI) defined "targeted violence" to be "an incident of violence where an assailant chooses a particular target prior to a violent act." [1] (See report in full below.) When I teach this concept, I often simplify this definition to an act of violence, usually motivated by a grievance or ideology, toward a specific and/or identified person, place, or thing.
Regardless of the definition, targeted violence can manifest in a variety of ways during a criminal investigation. Whether a law enforcement professional is investigating a homicide, stalking, domestic violence, gang-related assault, or mass-casualty event, practicing the concepts of the behavioral threat assessment and management (BTAM) investigation will significantly enhance their efforts. Furthermore, it may reveal motives and reasoning previously unnoticed.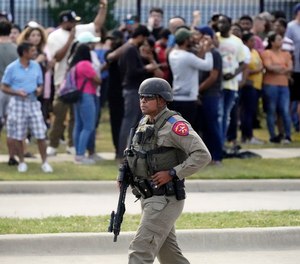 Why incorporate BTAM concepts?
If I'd known BTAM concepts while assigned to the San Jose (California) Police Department's homicide unit, my investigations would have looked significantly different. The outcomes may have been the same, but my investigative lens and fact-finding questions would have been significantly altered when investigating acts of targeted violence. Let me explain.
Every good investigator (regardless of the crime) will refer to legal statutes for guidance as they investigate and prepare for interviews. For instance, jury instructions for first-degree murder in California are governed by §189 of the California Penal Code. These instructions provide the corpus delicti (meaning the body or elements of the crime) used by prosecutors to prepare for criminal trials. [2] As an investigator, it is your responsibility to review these instructions to ensure you are asking the right questions to prove, or disprove, innocence.
Any investigator who has navigated a first-degree murder trial in California understands that proving someone guilty of homicide is not the only factor that will be deliberated. Premeditation, willfulness, and deliberate intent to cause pain and/or death will also need to be examined and explained. As an investigator, the questions you ask, and the information gleaned from your subject's responses, will likely determine the strength of your case.
When investigating an act of targeted violence, an experienced BTAM practitioner knows there is often a triggering issue and/or grievance that often drives a person's fixation. [3] A BTAM practitioner also understands that a person on a pathway toward violence will often ebb and flow through various pathway stages. [4] Therefore, investigators versed in BTAM concepts will likely expand their line of questioning to witnesses, accomplices, family members and the suspect to include questions like:
"Are there any major issues of concern this person has expressed publicly over the last several months?"
"Has the person exhibited any recent sudden, unexpected or unexplained behavioral changes in recent months?"
"Does the person feel violence is the only course of action to solve his/her grievance(s)?"
"Has the person attempted to contact and/or communicate with [name of target] over the past several months?"
While the above questions may seem elementary in nature, their beauty lies in the answers and analyses that follow. If the answer to the first question is yes, then that practitioner would further expand upon identifying fixation behaviors. If the answer to the fourth question is yes, then the practitioner may identify this behavior as "approach" behavior – attempting to get close to the target – and explore that concept further.
Though the above BTAM concepts merely scratch the surface of behavioral analysis, it is the deep dive into the answers that tends to uncover the motive, reasoning and intent that drive action toward violence.
Conclusion
By incorporating a BTAM lens into every targeted violence-related criminal investigation, you can develop a clearer picture. When a suspect is accused of committing a crime, confessions and admissions of guilt may be limited. Therefore, the prosecution will rely heavily on the facts and information developed during the initial investigation. A deeper analysis of the case from a BTAM view will often provide clarity and perspective into the origins of the acts of violence, while also assisting with the determination of guilt and innocence. The examination of these concepts in criminal investigations often supports and enhances arrest/search warrant probable cause by using peer-reviewed studies vetted by certified professionals, clinicians and practitioners within the BTAM profession.
As a 26-year veteran of law enforcement, I've often been criticized for "writing too much" in my reports by friends and colleagues. Objectively, I probably was a little wordy. However, over the last decade, all my targeted threat investigative reports have incorporated a component of BTAM. The reports have become longer, and my explanations more thorough, but I have yet to come across a prosecutor, judge or jury who did not appreciate the scrupulousness of my report.
Just something to consider.
References
1. Amman M, Bowlin M, Buckles L, et al. Making Prevention a Reality: Identifying, Assessing, and Managing the Threat of Targeted Attacks. Behavioral Analysis Unit. Federal Bureau of Investigation, National Center for the Analysis of Violent Crime.  
2. Corpus delecti. Cornell Law School, Legal Information Institute. February 2022.
3. Meloy JR, Hoffmann J, Bibeau L, Guldimann A. Warning Behaviors. In: International Handbook of Threat Assessment, 2nd ed. Oxford University Press, April 2021.
4. Calhoun FS, Weston SW. Rethinking the Path to Intended Violence. In: International Handbook of Threat Assessment, 2nd ed. Oxford University Press, April 2021.
---
About the author
San Jose Police Sergeant Glenn Albin is a 26-year veteran of law enforcement. He has extensive experience in behavioral threat assessment and management and has spent the majority of his career working in investigative units. Glenn teaches a variety of classes for Third Degree Communications Inc. including Interview and Interrogation, and Behavioral Threat Assessment. Glenn completed the California Peace Officer Standards and Training (POST) Master Instructor Program in 2017 and became a POST Master Instructor while developing one of California's first law enforcement-specific three-day behavioral threat assessment and management courses. He currently works as a threat assessment advisor and trainer for the San Jose (California) Police Department and is the Founder and CEO of GA Solutions. 
Making Prevention a Reality: Identifying, Assessing, and Managing the Threat of Targeted Attacks by epraetorian on Scribd