Put NCIC at your fingertips with new app for cops
Having NCIC information at your fingertips is not only crucial for patrol officers' safety, but it can prove incredibly useful for those street cops to apprehend criminals who are under active investigation
---
Every cop in America has chuckled at the adage, "In God we trust… All others we run through NCIC." It's funny because it's true. Well, mostly true. There are a number of officers on patrol whose access to NCIC is not as immediate as those who have got MDTs in their squad car, or even a direct line to dispatch.
Those LEOs include Park Rangers and Department of Fish and Wildlife Officers, as well as detectives, narcotics officers, and other specialty groups who sometimes operate without radios or handheld terminals for information access. Furthermore, even when NCIC is immediately available in your squad, breaking contact with the suspect vehicle to access that information gives a suspect an opportunity to prepare an attack. 
A wireless solutions provider called Intellicheck Mobilisa seeks to bridge that gap with the release of a new mobile application for law enforcement that puts NCIC at your fingertips.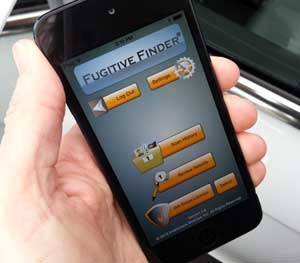 Fugitive Finder App for Law Enforcement
Fugitive Finder allows law enforcement officers to use iPhones to scan the barcode on a driver's license (or other government-issued ID), electronically submit the information to the FBI's National Crime Information Center (NCIC), and obtain immediate, handheld access to information such as criminal history, fugitives, stolen properties, stolen vehicles, missing persons lists, and other LE-only databases.
"Fugitive Finder is a smart tool that enhances your ability to do your job more safely and easily," according to the company website.
Some of the benefits are: 
•    Communication: Improves contact with occupants of vehicles pulled over for traffic violations by eliminating the need to walk back to your vehicle
•    Speed & accuracy: Instantly scanning an ID instead of manual typing increases accurate positive matches to NCIC databases and other lists and the speed at which you get this vital information
•    Safety: Vehicle occupants are never out of view while checking IDs
•    No bulky equipment: Using a smartphone app means there's no heavy equipment on your belt
•    Photo display: Suspect's photo is displayed when returned from an NCIC query
•    Vehicle license plate lookup: Officer may enter plate number for vehicle information
Having such information at your fingertips is not only crucial for patrol officers' safety, but it can prove incredibly useful for those street cops to apprehend criminals who are under active investigation. 
Detective Ryan Menday of the Jefferson County (Wash.) Sheriff's Office used Fugitive Finder during the beta testing phase of the product's development. 
Detective Menday said in a statement, "The Fugitive Finder app makes our job easier by giving us the ability to have quick access to databases in the field where most policing takes place. We don't have to go back to the (patrol) car. Furthermore, the app can return results much more quickly than calling in to dispatch. I believe in the benefits of the product."
"We've seen active use by detectives, patrol officers, and users at the Washington State capitol campus patrol using Fugitive Finder to check both personal information during encounters as well as license plate lookups," said Nelson Ludlow, CEO of Intellicheck Mobilisa. 
"The data available using Fugitive Finder is the same data that is available using their in car terminals and their radios," Ludlow added. "The public should feel safer knowing that their ID is being scanned right in front of them instead of requiring the officer to take their license their patrol car or retain their license until they get information back over the radio."
Released in May 2014, Fugitive Finder is now available to credentialed law enforcement officers for a $49 monthly subscription. It is currently only available for iPhone, and while no specific date for release of an Android version is known, a company spokesperson confirms that plans are in the works and it'll happen soon.