Suspect held in deadly Calif. shooting spree
A suspect in a series of shootings that killed 3 and injured 4 within an hour in the LA area was taken into custody after a daylong search Sunday
---
By Gillian Flaccus
Associated Press
LOS ANGELES — A man who was detained late Sunday as a person of interest in a series of apparently random shootings that claimed three lives in suburban Los Angeles was booked on animal-cruelty charges Monday as detectives worked to link him to the three homicides, a police spokesman said.
Alexander Hernandez, 34, of Sylmar, was being held on $1 million bail on the animal-cruelty case, but he has not been charged with the shootings that killed two women and one man on Sunday and injured four others, Los Angeles police spokesman Bruce Borihanh said.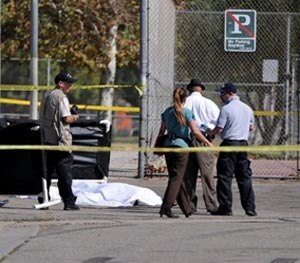 The dogs were killed Saturday, and the person who shot them drove a vehicle similar to the one witnesses described at two of the three crime scenes on Sunday, a tan or gold-colored SUV with tinted windows. The weapon used — a shotgun — was also the same, police Commander Andrew Smith said.
Police are not seeking a second suspect, despite statements Sunday that they were seeking two Hispanic men in the case, Smith said. It's not clear if Hernandez has retained an attorney.
Detectives continue to look for a motive, but there appears to be no connection between the shooter in Sunday's incidents and the victims or any connection between the victims, Smith said.
"It's completely senseless. We have no idea why someone would, on a Sunday morning, go out and kill three people with a shotgun for no reason. I just don't know. I just can't explain some human behavior," he said.
The case broke open when animal-cruelty detectives working the Saturday dog shootings noticed that the vehicle, weapon and manner of the shootings were similar and contacted the detectives working the homicides, Smith said.
The attacks on people began Sunday when a family of five was struck by gunfire at 5:50 a.m. in San Fernando as they drove to Santa Rosa de Lima Catholic Church in San Fernando.
The family had pulled over after noticing the suspect driving erratically when they were shot, Preciado said.
A woman in her 20s was killed, her mother and father were critically wounded and two children suffered minor injuries from either bullet fragments or broken glass, police Sgt. Frank Preciado said.
About 40 minutes later, a man was fatally shot at a Sylmar park as he was collecting recyclables at a community center.
Then 15 minutes later and less than 5 miles away, a woman in her late 50s was shot in the head as she sat in a parked car by a church.
Police have not released the victims' names because next of kin are still being notified.
The family in the first incident has been active in their parish for 20 years, and the father is a Eucharistic minister, said Monica Valencia, a spokeswoman for the Los Angeles Archdiocese.
The woman killed in the third incident is also active in her Roman Catholic parish, the Guardian Angel Catholic Church in Pacoima, she said.
Smith, the police spokesman, said the victims' connections to church appeared to be a coincidence.
Investigators are also looking into whether Sunday's attacks were related to at least two shootings earlier in the week, including one near an exit ramp on Interstate 5 and another in Pacoima where a man was found shot dead in his truck with the engine still running.
"Our detectives have been working literally around the clock to put the case together on these three homicides," Smith said. "What the detectives are going to do now is go back and look at any crimes that are similar in nature."
Copyright 2014 The Associated Press