Va. police arrest 30 accused child predators in online sting
"Operation COVID Crackdown" led to the arrests of men ages 20 to 74 who took advantage of children's increased online presence to attempt to exploit them
---
Nelson Oliveira
New York Daily News
FAIRFAX, Va. — Not even a pandemic and a widespread lockdown could stop these suspected sex predators from trying to exploit children.
In an undercover sting dubbed "Operation COVID Crackdown," police in Virginia busted 30 perverts who were taking advantage of children's increased online presence in recent weeks to try to set up sexual encounters with them, authorities announced Tuesday.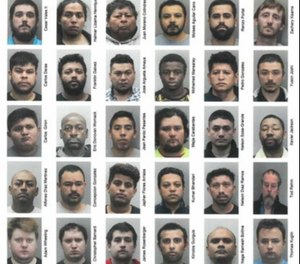 The men, ages 20 to 74, used different online platforms to engage in sexually explicit conversations and solicit sex from people they thought were minors, according to the Fairfax County Police Department, which set up the operation earlier this month.
In fact, the suspects were talking with police detectives who were pretending to be boys and girls, the same undercover strategy used in the TV series "To Catch a Predator."
Each of those 30 men was taken into custody as soon as they showed up at a location where they planned to sexually abuse a minor, police said.
Most of them were charged with solicitation of a minor and attempted indecent liberties. At least three suspects were also charged with soliciting a minor for prostitution.
Fairfax County police said the ongoing school closures and the implementation of online learning have increased the time kids spend on the internet and "inadvertently placed them at higher risk of exploitation."
"Our detectives have remained vigilant and they recognized the increased threat posed by online predators in recent weeks," Fairfax County Police Major Ed O'Carroll said in a statement. "I commend their ability to adapt during this unprecedented public health pandemic and to do so in the interest of protecting our children and bringing justice to those who commit these repugnant crimes."
Authorities urged parents to closely monitor their children's online activities and use security settings to prevent them from accessing inappropriate websites and platforms. The department also encouraged children to report any person engaging in inappropriate conversations or trying to coerce them into providing sexually explicit images of themselves.
McClatchy-Tribune News Service