Rapid Response: The Manhattan truck attack and terrorism's new normal
The NYC attack is a horrible reminder that the United States continues to face the ongoing threat of terrorism from both ideological organizations and lone individuals
---
By Ashton Packe, P1 Contributor
What happened 
A man drove a pick-up truck several blocks down a bike path in lower Manhattan, mowing down pedestrians and bicyclists before colliding with a school bus.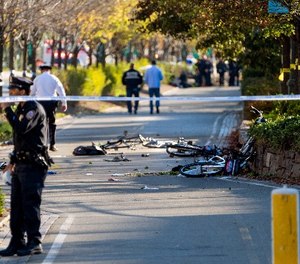 The suspect, 29-year-old Sayfullo Saipov, then exited the vehicle, carrying a paintball gun and pellet gun and shouting, "Allahu akbar," before he was shot in the abdomen by NYPD officer Ryan Nash. The suspect remained in critical condition on Tuesday evening.
Eight people were killed and 11 injured. Saipov, who is from Uzbekistan, came to the United States legally in 2010; he had no record of violent crime.
Why it's significant
This terrorist attack in New York City, just blocks from one of our most hallowed grounds at the 9-11 memorial site, is a horrible reminder that the United States continues to face the ongoing threat of terrorism from both ideological organizations and lone individuals.
Notes in Arabic claiming the attack on behalf of Islamic State (ISIS) were recovered from the scene. While Al Qaeda lies in wait as the shadow organization it has become in the years since 9-11, ISIS is in the process of losing massive amounts of territory at the hands of various military groups, including the U.S. Armed Forces. With that comes the choking off of a cash flow derived from illegal oil sales, theft and forced taxes on the communities within Syria and Iraq that it formerly controlled.
With the Islamic State's shrinking territory and cash sources stretched, U.S. federal, state and local law enforcement must be prepared to respond to the group's last-ditch effort attacks that they are now incentivized to launch in the homeland.
Top takeaways
We have seen several terrorist attacks this year where vehicles were used to murder innocent members of the public. In August 2017, 13 people were killed and 100 injured in Barcelona after a van mowed down pedestrians in a busy tourist district, and Londoners were attacked in March and June killing a total of 13 people and injuring close to 100. Similar attacks also occurred in Stockholm, Sweden, and Edmonton, Canada.
While we will learn much more about the NYC truck attack in the days to come, here are three takeaways U.S. law enforcement should immediately consider:
1. Why low-tech attacks are on the rise
These types of low-tech attacks are the primary threat when dealing with homegrown violent extremists who are either self-radicalized or pushed into the radicalization process by terrorist organizations. Vehicle attacks into crowds of unsuspecting victims are an easy and inexpensive method for terrorists to utilize, and we only need look to recent attacks throughout Europe as evidence.
A stolen truck or rented box van is virtually impossible to identify as suspicious activity early on in the planning stages of an attack. This method may even be a source of pride to terrorists who can simply spend $50 to attack American citizens with a rented truck, while those same citizens spends billions of dollars in tax money to try to prevent such attacks.
Other low-tech attacks may include legally purchased rifles or pistols used against popular and crowded targets (sports events, concerts, festivals, casinos, travel hubs), as well as the use of edged weapons in crowded areas.
2. How law enforcement can protect soft targets
Soft targets – especially tourist destinations, shopping centers and holiday gatherings – are tempting to attackers. Areas of critical concern are locations with heavy pedestrian and foot traffic. These attacks are basically an ambush on civilians, many of which have no formal combat or medical training or have never considered what to do during a critical incident.
Local governments and private sector businesses must collaborate to harden and reinforce softer targets without creating a sense of fear. Traffic pillars capable of stopping a speeding truck will become the norm within American society over the next few years, and must be considered now to reinforce pedestrian areas.
Uniformed law enforcement continues to be the tip of the spear in regard to terrorist attacks and spree killers of any nature throughout our country. Attacks are stopped immediately with the arrival of equal firepower and superior American police tactics. The use of uniformed and plainclothes police at special events – even in an overtime capacity – must be implemented within police departments across our country if not already done.
3. What we can learn from the attacker's profile
The profile of the attacker will likely include a radicalization process via the internet and the darknet. Look to access of terrorist publications such as the ISIS-created "Dabiq" and "Inspire" magazines, which first solidify the radicalization infection and then provide meticulous directions on carrying out attacks.    
While many of these publications are loaded with malware and tracked via the web, it is impossible for the U.S. intelligence community to track every person who access or possess these writings. However, every police officer in America should have a general understanding of these publications, and know what to do if they are found on an individual or their electronic device.
Many of these individuals are suffering from mental illness issues that are compounded by the delusion of ideology and the self-fulfilling end-time prophecy inherent in their religious beliefs.
While the attacker will likely be a single individual, if there is more than one, it will usually be familial in nature, like the brothers who perpetrated the Boston Marathon bombing. Closely tied attackers are difficult to detect via human intelligence operations, as our human nature to protect blood relatives proves often impenetrable by outside informants and undercover operatives that exist within domestic counter-terrorism operations and FBI Joint Terrorism Task Force groups across the country.
The recent backlash by criminal defense attorney groups against undercover operations that target these radicalized and predisposed terrorist individuals is challenging for federal law enforcement bureaucrats and assistant U.S. attorneys.
What's next
A multi-tiered approach by US law enforcement will help mitigate and manage the threat posed by radicalized ideological individuals and groups.
Civilian education and preparation campaigns like the National Suspicious Activity Reporting Initiative through local DHS Fusion Centers – along with the well-intentioned but rarely defined or properly taught "See Something, Say Something" campaign – are only one slice of the pie to stop terrorism in the Homeland.
Undercover investigations of violent terrorist actors and criminals must be at the forefront of counter-terrorism operations, as well as human intelligence operations and source/informant development units that actively seek out suspicious and criminal activity.
Community engagement and outreach programs operating within many police departments and law enforcement organizations across the nation are of equal importance. These often uniformed units must operate separately from intelligence gathering components of law enforcement, and seek to serve the needs of the unique communities that reside within our jurisdictions.
Whether this means meeting with the local mosque or Muslim community center, Sikh or Jewish temple, LBGTQ center or immigrant resource centers, these communities – the vast majority of which are comprised of law-abiding U.S. citizens – deserve equal protection under the law, and will appreciate having a strong bond with their local law enforcement organization. Once the bridge is built and bonds created, they will be the first to notify law enforcement that there is an individual going down the radicalization rabbit hole and engaging in criminal activity.
Learn more
Here are additional articles on terrorism preparedness and response:
How cops can defend against vehicular attacks
Why cops should focus on the lone-actor domestic terrorist
What the post-9/11 evolution of Islamic terror means for police
Policing Matters Podcast: Should cops shoot at moving vehicles?
10 lessons learned from the 2012 Sikh temple terror attack
What police departments can learn from the San Bernardino terror attack
Cop shares gunfight lessons from ISIS-inspired 'Draw the Prophet' terrorist attack
Training police in counterintelligence to combat domestic terrorism
Why police must enlist citizens to help spot the warning signs of violence
---
About the author
Ashton Packe is a police sergeant and 19-year law enforcement veteran. He has worked many assignments, including uniformed patrol, investigations and counter-terrorism/intelligence. He spent 2½ years on the FBI Joint Terrorism Task Force and worked with the Department of Homeland Security at the National Operations Center in Washington DC. He has trained and taught hundreds of law enforcement officers across the United States in the field of international and domestic terrorism. He resides in Las Vegas, Nevada, with his wife and children.