Lawyers give 2 versions of deadly NM standoff in day 1 of trial
A frame-by-frame breakdown of police helmet video from the March 2014 shooting was shown to jurors Monday on the first day of the trial
---
By Mary Hudetz
Associated Press
ALBUQUERQUE, N.M. — The chaotic, final seconds of the Albuquerque Police Department's deadly standoff with a homeless man unfolded as a K-9 handler and police service dog came within feet of the man and his pocket knives, and two officers made the "split-second" decision to shoot him, a defense attorney said.
A frame-by-frame breakdown of police helmet video from the March 2014 shooting was shown to jurors Monday on the first day of the trial of now-retired Detective Keith Sandy and former Officer Dominique Perez. Both are charged with second-degree murder in the death of James Boyd, who was diagnosed with schizophrenia and told officers he was on a special mission for the U.S. Defense Department.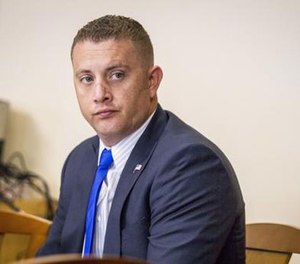 Police video released after the shooting led to a wave of protests in Albuquerque amid growing tensions over local shootings by police. The unrest preceded a broader national debate on use of force by law enforcement that has largely focused on race but also raised questions about deadly conflicts with people suffering from mental illness.
During opening statements, the prosecutor and lawyers for the former officers presented two vastly different portraits of Boyd and two versions of the chain of events that led to his death.
Officers were initially called to the foothills by a nearby resident reporting the illegal campsite where Boyd was staying.
Special prosecutor Randi McGinn described Boyd as a man who suffered from mental illness and feared for his life as nearly 20 officers surrounded him during the course of the standoff with rifles, bean-bag shotguns, mace and dogs. Boyd drew his knives before Perez and Sandy opened fire to defend himself, she said.
"Mr. Boyd brought a knife to a gunfight," McGinn told jurors.
Video showed officers could have avoided the encounter's deadly outcome, even in the final seconds of the standoff, by creating distance between themselves and Boyd, but they didn't, she said.
Defense lawyers argued Boyd was a dangerous suspect who shouted death threats at officers before he drew his knives, prompting Sandy and Perez to shoot Boyd because he was threatening the life of the K-9 handler.
Jurors must decide whether Perez and Sandy justifiably perceived that Boyd posed a life-threatening danger to officers.
"Without question, the evidence in this case will show Boyd posed a threat," said attorney Luis Robles, who represents Perez.
Robles told jurors while presenting the frame-by-frame analysis of the video from Perez's helmet camera that the images made clear that Perez's decision to place his finger on the trigger of his rifle came when he saw Boyd with his knives out and facing the K-9 handler.
Perez's bullet hit Boyd in the back, while two rounds fired by Sandy struck Boyd in the arms.
Sandy's attorney said he was assigned to protect the K-9 officer, who was unarmed, and obligated to shoot.
"The government wants you to believe it's murder. It's the furthest thing from murder," said attorney Sam Bregman, who is representing Sandy. "The evidence you will hear and you will see with your own eyes is this is justifiable homicide by police officers who were doing their job."
A month after Boyd's death, the Justice Department released findings from a more than yearlong investigation into Albuquerque police that faulted them for using unreasonable force with the mentally ill and others who could not comply with officers' commands.
Copyright 2016 The Associated Press