Ariz. cop suspended for 20 hours after K-9 left in hot car dies
The officer left K-9 Ike with the engine running, but returned over 90 minutes later to find the car had shut off
---
By Suzie Ziegler 
MARICOPA, Ariz. — A police officer in Arizona was given a 20-hour, unpaid suspension for a June incident that resulted in the death of his K-9 partner. 
K-9 Ike died of heatstroke complications after Officer Craig Curry left the dog in a hot car, reported ABC 15 on Wednesday. The high temperature that day was about 108 degrees.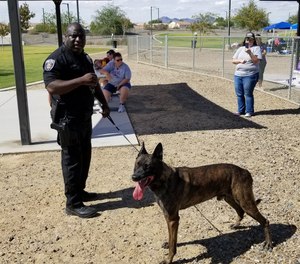 Curry left Ike inside his patrol car with the engine running for a 3 p.m. meeting on June 26, 2020, says a report from the Department of Public Safety. Curry returned to his car at 4:40 p.m. and discovered the engine had turned off. Ike was in the K-9 kennel in the back of the vehicle and was panting heavily from the heat, according to ABC 15. 
Curry tried to start the car several times but it wouldn't turn on, the report says. Curry got help from other officers to try to cool down Ike and take the dog to a veterinarian. Due to his condition, Ike had to be transported by ambulance to a second veterinarian for treatment, reports ABC 15. The next morning, officials decided to euthanize Ike because of heatstroke complications. 
According to ABC 15, investigators learned Curry had a K-9 heat alarm device in his vehicle that would alert him if the vehicle became unsafe for the dog. However, the pager had been left inside the car at the time of the incident. Curry told investigators he wasn't wearing the pager because he had been trying out a new body camera that took up space on his vest, the report said. 
Another officer had criticized the pager technology in 2016, saying it should instead be linked to your cellphone. 
"While the system comes with a 'pager' the pager itself is useless and rarely works correctly or at all," the officer wrote in an internal memo obtained by ABC 15. "My pager does not even tell me when the alarm is going off. Therefore the pagers are not used or carried by the handlers." 
An internal investigation by Maricopa Police found that Curry failed to notice broken equipment related to the heat alarm. The report also says Curry "had the ability to bring his K9 inside the building, or had the ability to repeatedly check on K9 Ike throughout his meeting." The investigation also showed that requests to upgrade the heat detection system had previously been approved but were never implemented, according to ABC 15.