Ky. PD changes no-knock policy after fatal shooting sparks outcry
A woman was killed when plainclothes officers entered her home with a no-knock warrant and her boyfriend, believing them to be intruders, opened fire on them
---
Lauren Theisen
New York Daily News
LOUISVILLE, Ky. — Two months after 26-year-old Breonna Taylor was shot to death in her home by Louisville cops, the city's police department has announced a change in their no-knock warrant policy, requiring approval for warrants from the chief of police and forcing officers to wear body cameras when serving them.
Taylor, who was helping fight the coronavirus pandemic by working as an EMT at two local hospitals' emergency rooms, was killed when three plainclothes officers entered her home late at night with a no-knock warrant, looking for illegal drugs. Believing the cops to be intruders, Taylor's boyfriend shot at them and, when the officers returned fire, Taylor was hit eight times.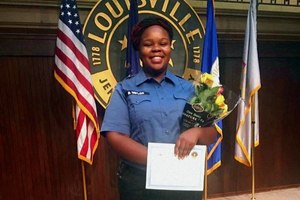 Neither Taylor nor her boyfriend, Kenneth Walker, has any criminal history related to drugs or violence, and no drugs were found in their home. Walker, who shot an officer in the leg, has been charged with first-degree assault and attempted murder of a police officer.
Taylor's family has filed a wrongful death lawsuit against the officers, who have since been placed on administrative reassignment amid an internal investigation.
"Breonna loves life and she loved to help people and she loved her family. She didn't deserve what they did to her," her mother, Tamika Palmer, told CBS. "I was more concerned for her washing her hands than her dying at home."
McClatchy-Tribune News Service