NH governor issues executive order to implement police reforms
The 20 reforms include more recruitment of minorities, additional body cameras and expanded police training
---
By Mark Hayward
The New Hampshire Union Leader, Manchester
CONCORD, N.H. — Gov. Chris Sununu issued an executive order Wednesday to implement 20 reforms in police operations and training, everything from body cameras for state police troopers to recruitment of minorities into police ranks.
Sununu said the recommendations come from his New Hampshire Commission on Law Enforcement Accountability, Community, and Transparency, which issued its recommendations at the end of August.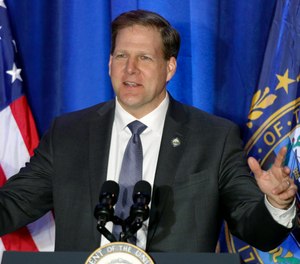 "These recommendations represent the most transformative changes New Hampshire has ever made to our law enforcement system," Sununu said.
A Black Lives Matter leader said the actions are essential for police reform in New Hampshire.
"However, these recommendations are the floor — not the ceiling. There is still so much work to be done and we will continue to push for racial justice through meaningful legislation," wrote Ronelle Tshiela, a co-founder of Black Lives Matter Manchester and a member of Sununu's commission.
The order calls for state officials to:
Train recruits on implicit bias, ethics and de-escalation; encourage training for existing officers.
Re-institute the ethics block in the police academy.
Train recruits and in-service officers on the Georgetown University approach about the duty to intervene and active bystander training.
Adopt police training to reflect the New Hampshire Supreme Court case of State v Jones, where the justices ruled that minorities may not feel as free as Whites to refuse to cooperate with police.
Consider whether the police academy should be expanded beyond 16 weeks.
Research a robust data-base system to track an officer's career, including training, sustained misconduct, movement to another agency and decertification.
Create policy guidelines for use of force, duty to intervene, code of conduct, duty to report, chokehold prohibition and prevention of asphyxia.
Expand background checks to include any instances of bias against minority groups.
Establish a Public Integrity Unit within the Department of Justice to investigate crimes committed by government officials, including police.
Train prosecutors and public defenders about implicit bias and racial profiling.
Take steps to outfit State Police troopers with body cameras, either within the existing budget or through funding in the next biennium.
Standardize community policing and train officers in the practice.
Mandate certification of all school resource officers and mandatory training.
Develop a comprehensive plan to recruit and retain minorities for all state law enforcement agencies.
Reach out to gender non-conforming and deaf and hard-of-hearing communities.
Implement mental health training for all state law enforcement agencies and consider psychological screenings of police officers similar to existing physical training.
In his order, Sununu said he wants monthly reports from Attorney General Gordon MacDonald, Safety Commissioner Robert Quinn, Judicial Council Director Sarah Blodgett, and Police Standards and Training Council Director John Scippa about the implementation of the recommendations.
All must be in place by July 1, 2021, unless he grants an extension.
©2020 The New Hampshire Union Leader (Manchester, N.H.)
McClatchy-Tribune News Service