NY police unit that pairs cops and social workers to begin in October
A grant-funded behavioral health team will consist of 8 Buffalo Police officers and 4 social workers
---
By Maki Becker
The Buffalo News, N.Y.
BUFFALO, N.Y. — Mayor Byron W. Brown said Monday that a new Buffalo police "behavioral health team" would begin next month.
His announcement came months after first announcing the formation of the new police unit that will team police officers trained in crisis intervention with behavioral health clinicians.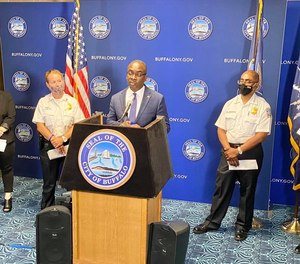 The announcement also came two days after a Buffalo police officer shot a bat-wielding, homeless man who has a history of mental illness.
"As we have seen over this past weekend, training, or good intentions, may not always result in an outcome anyone thinks is the right one," Brown told reporters at an afternoon news conference in his City Hall office. The new team "is a plan and a strategy to learn from the situation and help ensure that our response is better the next time. What happened demonstrates that even when people intend to help, bad outcomes can still occur."
Advocates for police reform in Buffalo and across the country have called for new strategies for responding to emergency situations involving people who are having a mental health crisis, including pairing police with mental health professionals.
The new team will be made up of six police officers and two lieutenants from the Buffalo Police Department and three clinicians and a program supervisor from Endeavor Health Services. The program is funded through a $300,000 grant to Endeavor. It will be headed by Capt. Amber Beyer, who is in charge of crisis intervention training for the department. The team will be available Monday through Friday from 8 a.m. to 6 p.m. "or as needed," a statement from the mayor said.
The team was supposed to get started mid-summer, but was delayed by union negotiations with the Buffalo Police Benevolent Association, Brown said. The agreement was ironed out on Friday, the day before the shooting incident.
"It delayed this for months," Brown said. "I'm not happy about that. But I am appreciative now that the union did finally sign off on this Friday afternoon. And because the union signed on Friday afternoon, it gave us the ability to move forward with the process of actually creating this unit."
Buffalo PBA President John Evans said that the union wanted to negotiate terms of policies regarding body cameras – in particular the use of footage to assist in prosecution of false claims made against police officers – before moving on to other matters.
Evans said the union hopes the new unit "will make things safer for officers and the public at large."
Currently, 911 call takers identify potential mental health crisis situations and send those to Buffalo police dispatchers who are able to identify officers on duty who have had crisis intervention training and try to send those officers to the scene.
The new behavioral health team will be dispatched when officers identify potential mental health crises and ask for its help. Brown said the police will be mandated to alert the team about such cases.
Beyer said there's no way to know whether the team would have been able to change what happened Saturday. A police officer shot a homeless man in the abdomen after the man, according to prosecutors, swung an aluminum baseball bat and twice struck another police officer within a few blocks of the City Mission.
The homeless man, Willie N. Henley, 60, was upgraded to stable condition Sunday. The shooting prompted dozens of protesters to march through downtown Sunday night.
Henley was arraigned Monday before a City Court judge on one count of second-degree assault and one count of third-degree criminal possession of a weapon.
Erie County District Attorney John J. Flynn said both charges are felonies.
"The fact that Mr. Henley allegedly used the baseball bat in an unlawful manner, and the fact that he has a prior conviction, that is what elevated that (weapons) charge to a felony, as well," Flynn said.
Henley was remanded without bail pending the completion of two forensic exams. He is scheduled to return to court Sept. 30.
If convicted on all charges, Henley faces a maximum of 7 years in prison.
Beyer said it will be part of her job to evaluate what happened Saturday and determine if there's anything that could have been done better.
"I think everybody can try to analyze what somebody should have done," she said. "I wasn't in that officer's shoes at the time. It is unfortunate that it wasn't in existence on Saturday," she said of the team. "Would that have played a role and made a difference in how the outcome took place? I'm not sure."
Next: Outcomes improve when law enforcement and mental health services combine forces
©2020 The Buffalo News (Buffalo, N.Y.)
McClatchy-Tribune News Service