Rochester mayor to pull crisis intervention services from police
The city's department of youth and recreation will take over crisis intervention services, Mayor Lovely Warren announced Sunday
---
By Theresa Braine
New York Daily News
ROCHESTER, N.Y. — Rochester will move crisis intervention out of the police force, Mayor Lovely Warren announced Sunday as protests raged over the death of a Black man with mental health issues while in police custody.
Prude suffocated in March after cops covered his head with a spit hood and restrained him. A video was released last week.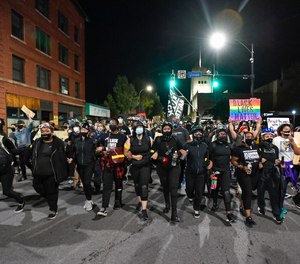 The city's department of youth and recreation will take over crisis intervention services, Warren said in a press conference Sunday.
"We had a human being in a need of help, in need of compassion. In that moment we had an opportunity to protect him, to keep him warm, to bring him to safety, to begin the process of healing him and lifting him up," Warren said, according to NBC News. "We have to own the fact that in the moment we did not do that."
Warren had already suspended all seven of the officers involved in Prude's death the day after the family released the shocking police bodycam footage of his arrest.
The police union said the cops were adhering to their training when they placed a "spit hood" over Prude's head and then restrained him by shoving his face into the pavement and holding it there for two minutes.
He suffocated to death.
Police had discovered Prude sitting naked in the middle of the street, and his family said he suffered from mental health issues. At first calm, he later grew agitated, which prompted the restraints. Police also said Prude had told them he had COVID-19, which is why they used the spit hood, according to NBC News.
While critics have said the city kept quiet until the video became public and there was an outcry, state Attorney General Letitia James said Saturday there will be a grand jury investigation.
©2020 New York Daily News
McClatchy-Tribune News Service