Iowa police chief sues mayor, city for discrimination
The police chief is "hopeful this lawsuit will help lead to meaningful change in the community" and "awareness of the importance of power dynamics and consent"
---
Matthew Rezab
Globe Gazette, Mason City, Iowa
(TNS)
BRITT, Iowa — Britt's police chief has filed a lawsuit against the city of Britt and Mayor Ryan Arndorfer for allegedly sending sexually harassing messages, videos and images.
Police Chief Mark Anderson filed complaints with the Iowa Civil Rights Commission and the Equal Employment Opportunity Commission on Dec. 2, 2021. The ICRC issued a right-to-sue letter on Feb. 21, and Anderson filed suit May 12.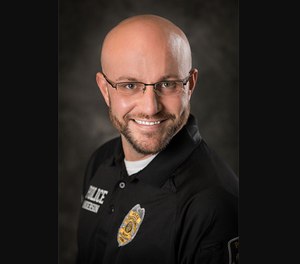 The lawsuit, filed May 12, claims after Anderson was hired in September 2017, Anderson was added to a group chat which included Arndorfer and former Councilman Chad Luecht, who according to the council minutes resigned in April. The petition states all involved are homosexual, and Anderson was using the group as support because he was going through a divorce.
The petition claims that in late 2017 and early 2018, Luecht and Andorfer began treating Anderson differently, sending him inappropriate and sexually graphic messages via the text group and Snapchat. Anderson allegedly told them he was not comfortable with the messages, but they did not stop.
Anderson married his husband, Austin, in September 2020. The suit alleges Arndorfer pressured Anderson to send him nude photos of the couple and told him, "We'd take Austin's nudes, but we'd rather have yours."
The mayor also allegedly suggested creating a nude calendar for the police department and wanted to include a photo of Austin. Arndorfer allegedly threatened to publicly reveal the contents of the group messages if Anderson did not comply. The petition claims Arndorfer also threatened to withhold resources from the police department if Anderson did not send nude photos.
On Jan. 13, 2020, Anderson told City Council Administrator Deb Sawyer about the group chat and what was going on. She then told Luecht to stop, which he did, but Arndorfer allegedly did not stop sending inappropriate messages via Snapchat after Sawyer told him to stop as well.
Anderson allegedly received another explicit message July 1, 2021. He did not respond to Arndorfer's message. Later in July, Anderson received a 1.5% pay raise, while other members of the department received 6% raises.
The petition states at the Jan. 3, 2023, council meeting, Luecht chastised the police department and said he had no confidence in Anderson's ability as chief — a position Anderson had served in since October 2018.
Anderson's lawyer Madison Fielder-Carlson responded to an inquiry from the Globe Gazette with a statement:
"Mark is proud of his service in our armed services and as a police officer for the City of Britt. He is hopeful this lawsuit will help lead to meaningful change in the community and better awareness of the importance of power dynamics and consent."
The petition alleges two violations of the Iowa Civil Rights Act for discrimination based on sex and sexual orientation and one violation of the Iowa Civil Rights Act for retaliation.
Andorfer was not available at city hall and had not returned an email as of print deadline on Wednesday. Contact information for Luecht was not immediately available.
No court or trial dates have been set as of Thursday.
___
(c)2023 Globe Gazette, Mason City, Iowa
Visit Globe Gazette, Mason City, Iowa at www.globegazette.com
Distributed by Tribune Content Agency, LLC.
McClatchy-Tribune News Service