Slain Pa. officer's family sues suspect and parents, saying shooting 'could and should have been prevented'
"This lawsuit will hold Pfeffer's family legally responsible for the negligence and enablement that contributed to Sgt. Fitzgerald's tragic death"
---
By Oona Goodin-Smith
The Philadelphia Inquirer
PHILADELPHIA — The family of a slain Temple University police officer has sued Miles Pfeffer, the Bucks County 18-year-old charged with his death, and his parents, asserting that the February shooting "could and should have been prevented" by those closest to Pfeffer.
Calling Christopher Fitzgerald's death "a horrific and tragic act of barbarism," the lawsuit, filed Wednesday in the Philadelphia Court of Common Pleas, seeks damages against Pfeffer for wrongful death and assault and battery. The suit also alleges that Pfeffer's mother, Jill Petruska; her longtime boyfriend, George Shaw; and Pfeffer's father, Marc Pfeffer, exhibited negligence by allowing the 18-year-old access to firearms despite a history of "severe mental illness" and propensity for violence, including making bomb and shooting threats at his Bucks County high school.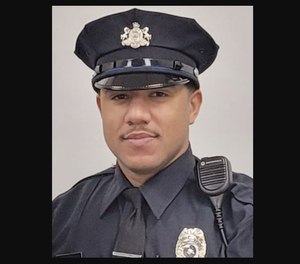 By allowing Pfeffer to possess firearms and failing to properly secure guns and ammunition in their homes, the lawsuit alleges, Pfeffer's parents "failed to take the necessary steps to avoid catastrophe."
Philadelphia attorney Joseph Marrone filed the complaint on behalf of Fitzgerald's wife, Marissa, and his parents, Joel and Pauline, who are both former Philadelphia police officers. It seeks a jury trial and unspecified damages awarded to Fitzgerald's estate, including his wife, parents, and five children.
The Defender Association of Philadelphia, who is representing Pfeffer in his criminal proceedings, declined to comment on the lawsuit. Reached via phone, Petruska also declined to comment. Attempts to reach Shaw and Pfeffer's father were unsuccessful, and no attorneys were listed in court records for any of the defendants.
"This lawsuit will hold Pfeffer's family legally responsible for the negligence and enablement that contributed to Sgt. Fitzgerald's tragic death," Marrone said in a statement. "His senseless death has left a deep void in the lives of his family, friends, and fellow officers."
Pfeffer is charged with first-degree murder in the shooting death of Fitzgerald, a 31-year-old officer who had been with Temple University's police force since 2021. Fitzgerald was patrolling near Temple's campus on Feb. 18 when he stopped Pfeffer, his brother, and another teen in black clothing and masks following reports of carjackings and robberies in the area.
Police said Pfeffer then attempted to run away. Fitzgerald pursued him, and eventually caught up. After a brief struggle, police said the 18-year-old drew a gun and shot the officer.
According to the lawsuit, the force of being shot knocked Fitzgerald to the ground, where Pfeffer allegedly proceeded to shoot him three more times in the face and head. Security footage shows Pfeffer beginning to walk away, the lawsuit asserts, before returning to Fitzgerald's body and attempting to take his weapon and other personal items. He failed, ran away, and then allegedly stole a man's Infinity Q60 at gunpoint. Police said he told the owner: "Give me the car or I'll kill you."
Pfeffer drove away and parked the stolen car near his father's house in North Philadelphia on Ridge Avenue. According to the lawsuit, Pfeffer had "ready access" to the house, where he often operated without supervision when his father wasn't home.
The night of the shooting, Pfeffer and his brother were dropped off in the city by their mother while she and her boyfriend attended "a social event in Center City," the lawsuit said. The siblings then made their way to North Philadelphia. After the shooting, Pfeffer's mother picked him up from the Ridge Avenue home and drove him to their bucolic Buckingham Township farm property, authorities said. It is not clear what, if anything, Pfeffer told her.
At some point in the evening, the gun Pfeffer used to shoot Fitzgerald was disposed of, the lawsuit said. The shell casings at the scene matched ammunition found at the Bucks County farm.
Pfeffer was arrested the next morning using Fitzgerald's handcuffs, and is being held in the Curran-Fromhold Correctional Facility without bail. In addition to first-degree murder, he faces charges of murder of a law enforcement official, robbery, and carjacking. He is scheduled to appear next in court in July.
The death of Fitzgerald, the first Temple police officer to be killed on duty, sent shock waves through the city and law enforcement community. Hundreds from across the country attended his funeral at the Cathedral Basilica of SS. Peter and Paul, where he was remembered for his infectious laugh and smile, love of Philadelphia sports and running, and devotion to his family. He was posthumously promoted to sergeant by Temple police and the Philadelphia Sheriff's Office, where he previously worked.
Temple University paid for Fitzgerald's funeral and promised free tuition for his children, and the school's board of trustees pledged to donate more than $450,000 to a fund for his family.
___
(c)2023 The Philadelphia Inquirer
Visit The Philadelphia Inquirer at www.inquirer.com
Distributed by Tribune Content Agency, LLC.
McClatchy-Tribune News Service