18 of 19 Austin officers indicted over 2020 protests have bonded out
Austin's police chief has said that he is "extremely disappointed" by the indictments
---
By Suzie Ziegler 
AUSTIN, Texas — Last week, a grand jury indicted 19 Austin police officers on charges related to conduct during civil unrest in May 2020. Since then, 18 of those officers have turned themselves in and bonded out of jail, KXAN reported on Monday. 
All 19 officers were charged with aggravated assault by a public servant, according to the report. Of the 18 officers who bonded out, 13 of them paid a $1 bond. Some legal experts speculate the judge may have been trying to make a statement by deciding on a $1 bond, KXAN reported. In Travis County, $1 bonds are available for those who would be eligible for a personal bond, according to FOX 7. Five officers paid a $5,000 bond.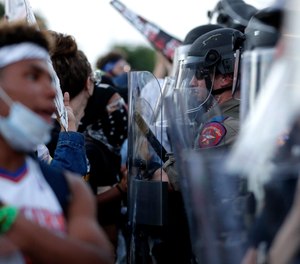 Attorney Doug O'Connell, who represents eight of the indicted officers, says most of the charges are related to an incident where officers used less lethal means to clear protesters, according to FOX 7. O'Connell also told KXAN that his clients were cleared by internal affairs. 
The punishment for these assaults varies widely, said Attorney Ken Ervin, who works with O'Connell. 
"This is normally a second-degree felony, but if committed in the course of their duties as law enforcement, it becomes a first-degree felony punishable by five to 99 years or life in prison," Ervin said.  
Austin Police Chief Joseph Chacon has said that he is "extremely disappointed" by the indictments. 
"There were significant portions of times that the crowds were riotous and violent," Chacon said in a press conference last week. "I am not aware of any conduct that, given the circumstances, these officers were working under would rise to the level of a criminal violation by these officers."  
The officers have been placed on administrative leave, according to KXAN.