Calif. judge rejects man's bid to be resentenced for his role in off-duty deputy's death
The judge found the man knew Maria Rosa was a deputy with the Los Angeles County Sheriff's Department when she was killed while heading into work
---
By Sarah Roebuck
Police1
LONG BEACH, Calif. — A judge on Thursday rejected a man's request to be resentenced for his role in an off-duty deputy's death, the Long Beach Post reports. 
Justin Ashley Flint would have been eligible to be released from prison if he was resentenced in the case, but Long Beach Superior Court Judge Daniel J. Lowenthal denied his request.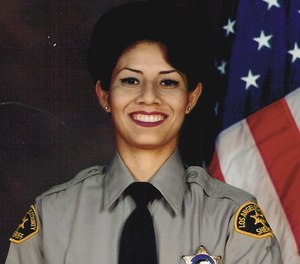 Maria Rosa was a deputy with the Los Angeles County Sheriff's Department when she was robbed and killed in March 2006.
Flint submitted a request for resentencing under California's new law, SB 1437, on December 27, 2018. This law impacts the convictions and penalties of defendants in certain murder cases. Prior to the enactment of SB 1437, an individual could be accused of murder even if they were neither the actual perpetrator nor a main participant in the crime. However, SB 1437 has put a stop to this, with the only exception being the killing of a peace officer.
The judge stated he found that although Flint was not the gunman, Flint knew Rosa was a peace officer and his petition was denied because he was a "major participant who acted with reckless indifference to human life," according to court records.
"If it was anyone else, if it was a civilian, they would have been robbed. It would have been traumatic, but they would have been home that night having dinner with their loved ones," Lowenthal said.
Rosa was killed outside a fellow deputy's Long Beach home in the early morning hours as she was getting into her car to go to work at the Twin Towers jail in downtown Los Angeles. 
The sheriff's department said Flint was with another man, identified as Frank Gonzalez, when Rosa was approached. 
During the original trial, prosecutors showed the jury video clips of Flint in jail, singing Bob Marley's "I Shot the Sheriff" and calling Rosa, 30, a "bitch." The clips, which were made during an elaborate undercover investigation in which deputies posed as inmates and socialized with Flint, made the case especially emotional, said Deputy Dist. Atty. Karen Thorp, one of the prosecutors in the case.
Flint was convicted of first-degree murder and attempted robbery in 2007. He was sentenced to 29 years in prison.
Gonzalez was also convicted of the same offenses. However, he was given a death sentence following the jury's affirmation of the special circumstance allegation of murder during an attempted theft, and the claim that he used a firearm to end Rosa's life.