Calif. jury urges death for officer's killer
Riverside Police Officer Ryan Bonaminio was murdered in 2010
---
By Richard K. De Atley and John Asbury
Press Enterprise

RIVERSIDE, Calif. — Jurors recommended death on Tuesday, June 5, for Earl Ellis Green for the 2010 murder of Riverside police Officer Ryan Bonaminio.
Green, a 46-year-old parolee, looked straight ahead as the verdict was read, but then turned and grinned at cameras moments after the jurors left the room.
Wearing a gray jacket and tie, Green also tried joking with a court deputy before being taken away in shackles.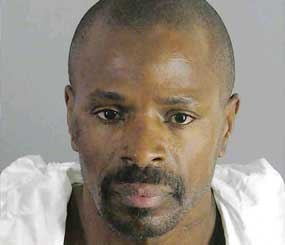 "He's not in the dirt yet," the slain police officer's father, Joe Bonaminio, said later at a news conference outside court. "What's going through his mind, I don't know. I don't think he has anything to smile about."
His comments revealed an underlying anger in the family over their loss of Ryan Bonaminio. The officer's sister called for Green to suffer a fate similar to her brother's.
Green will be formally sentenced June 25. Riverside County Superior Court Judge Jean Leonard said Green wanted no delays.
Members of Bonaminio's family sat in the courtroom packed with police officers and Riverside Police Chief Sergio Diaz. They adhered to Leonard's orders to keep their emotions in check.
"Justice is done," Diaz said at a news conference afterward in the district attorney's offices, a couple of blocks from court. "We couldn't ask anything more from the justice system," the chief said, but added, "Ultimately we can't bring Ryan back."
Diaz said Green "enjoyed a vigorous and very able defense, as it should be." Green's defense attorneys declined comment.
Deputy District Attorney John Aki said at the news conference that the material put together by Riverside police detectives led by Detective Ron Sanfilippo "was probably one of the best cases I had ever seen.
"There was no doubt in our mind exactly what happened, who did it, and what the outcome would be. We were very confident in the case," Aki said.
Members of the eight-man, four-woman panel were invited to speak at a post-verdict news conference, but none were present.
Aki said jurors told him in a meeting after the verdict that they "indicated several of them would look over to Mr. Green and see what his reaction was to the evidence; they found his reactions simply to be strange."
"They thought Mr. Green might have been looking at them very angrily," Aki elaborated.
Jurors deliberated for about four hours between June 4 and June 5. Aki said they cut their talks short about 50 minutes on June 4 so one of them could deal with a personal emergency, then reconvened June 5 at 9 a.m.
He said the jurors took only one unanimous vote, but that came after a lot of discussion about the death penalty. "Despite the strength of the evidence, they wanted to make sure that they looked at all the evidence and render a just and fair verdict," Aki said.
Deputy District Attorney Michael Hestrin, the lead prosecutor in the case, was not in court for the verdict on June 5. He was in Phoenix, where he said his mother successfully underwent emergency open-heart surgery earlier in the day.
Hestrin took a few moments to talk by phone about the police officer and Army veteran who lost his life to Green in a church parking lot near Riverside's Fairmount Park in late 2010.
"Ryan was an amazing person. It was more than just his two tours in Iraq; it was the way he was with his fellow soldiers and fellow police officers. He was just an all-American kid. It was tough to lose him, just a tough loss."
He said Bonaminio's murder "really ripped a hole in the fabric of our community. It was a tough case."
And it has left a mark on Bonaminio's family.
Nikki Bonaminio, Ryan's 27-year-old sister, whose height just barely allowed her to look over the microphone-laden speaker's stand at the news conference, described her brother as "a true warrior. Even after having his skull cracked, he still got up and fought for his life.
"Earl Green does not deserve to be on death row. He deserves to have his skull cracked just like my brother's was. He also deserves to be executed just like he did to my brother … in an empty parking lot, just like he did to Ryan," she said.
Asked if he expected to hear anything from Green about the killing of his son, Joe Bonaminio said. "Not in the least. … I don't really particularly care to hear what he has to say. He had every opportunity in the world to walk away" instead of killing his son, Bonaminio said.
District Attorney Paul Zellerbach said at the news conference that Green's case "is a perfect example of why we should have a death penalty in the state of California."
"California needs to wake up, it really does," Joe Bonaminio said when asked about California's absence of executions since 2006 while death penalty procedures are under federal court review, and the approximately 720 inmates now on death row.
"Putting this guy on death row right now, it's not going to send a message to anybody. … Big deal, he's on death row. He's going to get three squares a day," Bonaminio said.
Green was convicted of killing Ryan Bonaminio, 27, after a foot pursuit along the edge of Fairmount Park late on the night of Nov. 7, 2010, after a traffic stop. Green jumped from the big-rig cab he was driving and Bonaminio chased him. The officer did not know the rig was stolen.
Bonaminio slipped and fell while chasing Green, who then attacked Bonaminio with a solid metal dumbbell bar and beat him on the head, causing severe injuries. Green then gained control of the officer's gun and shot him in the head.
A witness said despite his head injuries, Bonaminio managed to stand and tell Green twice, "Don't do it" as Green closed in on him, firing two shots and missing before hitting the officer with a final shot to the head at a range of about 18 inches.
Green's attorneys conceded during opening statements of the guilt phase that their client had murdered Bonaminio, but they asked jurors to consider a second-degree murder conviction. The panel returned a first-degree conviction after a little less than three hours' deliberation.
Bonaminio was a graduate of Riverside's Ramona High School and an Army veteran of two deployments to Iraq.
Copyright 2012 The Press Enterprise, Inc.