Conn. news photographer sues police over drone incident
A local television news photographer whose use of a drone at a fatal car accident came under question has filed a civil rights lawsuit against police
---
By Hilda Muñoz
The Hartford Courant
HARTFORD, Conn. — A local television news photographer whose use of a drone at a fatal car accident came under question recently filed a civil rights lawsuit against the Hartford Police Department on Tuesday.
The lawsuit says Pedro Rivera was not breaking any state or federal laws when his flew his drone, a remote-controlled aircraft, over the crash site in Hartford on Feb. 1. But Hartford police officers detained him and demanded he stop what he was doing and that he leave the area, the lawsuit says.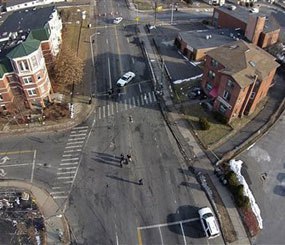 The police department's actions violated Pedro Rivera's Fourth Amendment right to be free from unreasonable seizures and his First Amendment right to free speech, the lawsuit alleges.
Lt. Brian Foley, commander of the department's major crimes division, then called Rivera's employer and requested that he be disciplined, the lawsuit alleges. Rivera was suspended for a week without pay as a result and suffered economic loss.
Foley and Sgt. Edward Yergeau are named as defendants in the lawsuit.
A police report of the incident says, officers and supervisors at the scene of the crash on the 2000 block of Main Street noticed the drone, which was equipped with a camera, hovering over the site.
Rivera, 29, told the officers he works for WFSB, but that he was not working that day and that the drone was his personal property.
He also said that he feeds video back to WFSB as part of his work for the station, the report says.
Yergeau, who wrote the report, expressed concern that flying a drone over the scene might compromise the integrity of the scene and the "privacy of the victim's body."
"The body was covered by a blanket and not readily visible in this case, but that may not always be the case," Yergeau wrote in the report. Rivera is employed as a photographer and an editor at WFSB, but was not working the day of the crash.
The police report of the incident doesn't accuse Rivera, who said he was not working that day, of breaking the rules, and no charges were filed.
But the report says that the presence of a drone at a crime scene for journalistic purposes violates FAA regulations.
The Federal Aviation Administration, which does not allow the commercail use of unmanned aircraft, is investigating the incident, said FAA spokesman Jim Peters.

Copyright 2014 The Hartford Courant
McClatchy-Tribune News Service