Feds threaten funds to NYC, Seattle, Portland over unrest
Attorney General William Barr accused the cities of being "anarchist" and "permitting violence"
---
By Dave Goldiner
New York Daily News
WASHINGTON — NYC was named an "anarchist" city Monday by Attorney General William Barr as President Trump's lieutenant moved to lay the groundwork for cutting federal funding amid bitter disputes over racial justice protests.
The Big Apple was accused along with Portland and Seattle with "permitting violence and destruction of private property," the Justice Department said in a harsh statement.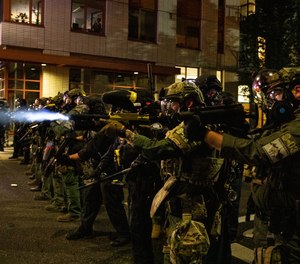 "We cannot allow federal tax dollars to be wasted when the safety of the citizenry hangs in the balance," Barr said in a statement.
It's not immediately clear which funding might be impacted by the move, one that is certain to be challenged in court and elsewhere. New York City gets billions from the feds every year but it also contributes more than that in tax revenue.
"When state and local leaders impede their own law enforcement officers and agencies from doing their jobs, it endangers innocent citizens who deserve to be protected, including those who are trying to peacefully assemble and protest," Barr said.
Barr vowed to add more cities or states to the blacklist as he sees fit.
Trump had ordered budget officials to identify ways to financially punish Democratic-led cities and states that he believes have coddled protesters.
He has bitterly criticized Mayor Bill de Blasio and Gov. Cuomo for failing to crack down hard enough on protests, which have largely petered out for now in recent weeks in New York City.
Protests have continued to rage in Portland, where demonstrations have occasionally turned violent. Seattle irked Trump by permitting protesters to set up a now-disbanded police-free downtown "autonomous zone."
Three people, including two racial justice protesters in Kenosha, Wisc., and one Trump supporter in Portland have been killed in recent weeks.
©2020 New York Daily News
McClatchy-Tribune News Service