Fla. governor calls for new election police force
Gov. Ron DeSantis' proposal would create an "Office of Election Crimes and Security"
---
By Suzie Ziegler 
TALLAHASSEE, Fla. — On Wednesday, Florida Gov. Ron DeSantis called on lawmakers to create a statewide law enforcement agency tasked with cracking down on election-related crimes, according to WFLA. The move comes as part of the governor's push to tighten election security, although DeSantis had previously praised recent Florida elections as smooth. 
DeSantis said the police force would investigate election crimes, clean voter rolls, prohibit "unsecure, haphazard" dropbox locations and increase the penalty for violating restrictions on collecting mail-in ballots, the report says. The governor did not specify any examples of past election fraud or issues at ballot drop boxes, according to the Associated Press.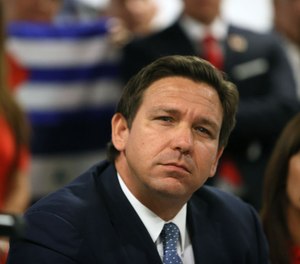 "If someone is ballot-harvesting, you report it to these people and this is their sole job," Gov. DeSantis told reporters. "We'll have sworn law enforcement officers as part of this, we'll have investigators." 
According to Politico, the governor's proposal would create an "Office of Election Crimes and Security" comprised of sworn law enforcement officers. The new agency would cost $5.7 million its first year and have 52 employees, according to the report.