Judge drops most serious charges against Md. cops accused of assault
Two police officers on trial for allegedly beating up a University of Maryland student
---
The Capital

UPPER MARLBORO, Md. — A judge has dismissed first-degree assault charges against two police officers on trial for allegedly beating up a University of Maryland student.
The two Prince George's County police officers still face charges of second-degree assault and misconduct in office.
Circuit Court Judge Beverly Woodard made the ruling Wednesday. She's presiding over the trial of officers James Harrison and Reginald Baker, who are accused of assaulting John McKenna during a rowdy student celebration that followed the Maryland basketball team's win over Duke two years ago.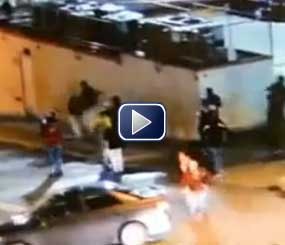 The trial began Monday with opening statements. Prosecutors say the officers abused their power when they struck McKenna with batons. Defense lawyers say their clients were trying to control a riot.
An image made from a March 3, 2010 videotape taken by a student from a dorm room window and provided by Roberts and Wood Law Firm shows Prince Georges County, Md., police allegedly beating University of Maryland student John McKenna.
Two police officers were indicted Tuesday in the beating of a University of Maryland student during a rowdy celebration that was caught on video after the school's basketball win over Duke last year, prosecutors said.
Copyright 2012 Capital Gazette Communications, Inc.