Judge rejects 3rd-degree murder charge in Floyd case
Chauvin's attorney argued that the charge did not fit his client's actions
---
By Chao Xiong
Star Tribune
MINNEAPOLIS — A judge has rejected prosecutors' request to file a third-degree murder charge against four former Minneapolis police officers charged in George Floyd's death.
Attorney General Keith Ellison's office filed a motion on the matter last week based on a Minnesota Court of Appeals ruling earlier in the week that upheld a third-degree murder conviction against former Minneapolis police Officer Mohamed Noor in the 2017 fatal shooting of Justine Ruszczyk Damond.
Prosecutors sought to reinstate the count in the case against Derek Chauvin, who knelt on Floyd's neck for more than nine minutes, and to add an aiding and abetting third-degree murder count for the first time against J. Alexander Kueng, Thomas Lane and Tou Thao.
Hennepin County District Judge Peter Cahill denied the requests Thursday, noting that the Court of Appeals decision wouldn't become legal precedent until after a deadline for Noor's attorneys to petition the Minnesota Supreme Court to review the ruling.
It would also become precedent if Noor's attorneys petitioned the state Supreme Court and the court, which has 60 days to decide, declined to review it.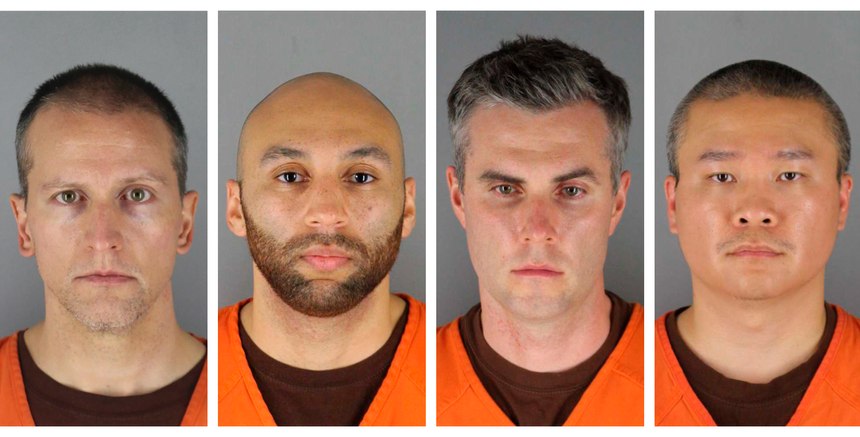 The two scenarios push the precedent date to March 3 and well after Chauvin's March 8 trial date, respectively, Cahill wrote.
Chauvin is scheduled to stand trial next month on charges of second-degree murder and manslaughter in Floyd's death last May. A count of third-degree murder had been charged against Chauvin but was dismissed by Cahill in October.
In a filing Monday, Chauvin's attorney, Eric Nelson, first laid out the arguments echoed by Cahill. Nelson argued that the third-degree murder charge could not be added because of the precedent issue.
Noor's attorney, Thomas Plunkett, has said he will petition the Supreme Court to review the Court of Appeals' decision. Plunkett also represents Kueng.
Kueng, Lane and Thao are scheduled to be tried together in one trial Aug. 23 on charges of aiding and abetting murder and manslaughter. Their attorneys did not respond to the prosecution's motion to add aiding and abetting third-degree murder.
Nelson also argued that the third-degree murder charge did not fit his client's case since Chauvin's actions were specifically directed at Floyd alone, while the charge criminalizes "reckless or wanton" behavior that endangers others. Noor fired his gun in a squad car across his partner's body at a dark silhouette outside the squad car and in the direction of residential homes, Nelson noted.
Cahill also addressed the issue in his ruling, writing that he had considered the definition of the crime, the circumstances of Floyd's death and several state Supreme Court decisions when he dismissed the third-degree murder count last year.
" ... The Court declines to adopt the Noor majority opinion' holding that a Murder in the Third Degree charge may be submitted to a jury ... in which the death-causing act was solely directed at a single person and was not eminently dangerous to others, as is the case here ...," Cahill wrote.
The judge said he agreed with the sole dissenter in the Court of Appeals 2-1 decision in Noor's case.
Judge Michelle Larkin wrote in the Court of Appeals decision that third-degree murder could apply when conduct is directed at a single person. Dissenter Judge Matthew Johnson wrote that Noor fired at a silhouette to protect his partner and then rendered aid to Ruszczyk, and that his actions didn't meet the legal definition for acting without regard for human life.
All four former officers, who were fired, are out on bond.
©2021 StarTribune. Visit at startribune.com. Distributed by Tribune Content Agency, LLC.
McClatchy-Tribune News Service