Lawmakers to call for stiffer penalties to stop 'swatting'
The calls tie up resources ranging from dispatchers, patrol officers, helicopters, detectives and cyber-crime specialists
---
By Anthony McCartney
Associated Press
LOS ANGELES — Celebrities have long contended with the occasional downsides of stardom — tabloid scandals, stalkers, box office bombs, the paparazzi. Now, add "swatting" to the list — a prank that sends police charging to the gates of stars' homes on false reports of gunmen, hostages or other crimes in progress.
Instead of bad guys, responding officers, police dogs, helicopters and sometimes SWAT teams have found only stunned domestic and security staff unaware of any trouble — because there wasn't any.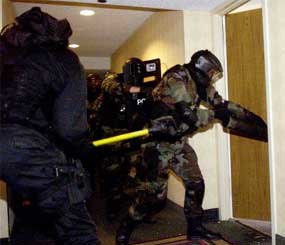 The recent hoax 911 calls to the homes of Tom Cruise, Justin Bieber, Ashton Kutcher, Chris Brown and other stars are leading authorities to eye some 911 calls with extra suspicion and lawmakers to call for stiffer penalties for the pranksters.
"This is a very vexing problem that needs to be fixed at the early stages," said California State Sen. Ted Lieu, who is proposing tough consequences, including hefty fines, for those caught swatting. "If this isn't resolved, this will result in a tragic situation."
Swatting is the rare trend that actually didn't start in Hollywood. Authorities in Dallas, Washington state, Alabama and elsewhere have arrested teens and young men for bogus 911 calls that have drawn large police responses and in some cases, resulted in innocent people being detained by police.
The term comes from the pranksters' desire to have heavily armed special weapons teams dispatched to their calls. That doesn't always happen, but the calls tie up resources ranging from dispatchers, patrol officers, helicopters, detectives and cyber-crime specialists.
The Beverly Hills Police Department estimated more than half of its emergency resources were occupied with the Cruise swatting call on Jan. 17. It was just one of a rash of calls aimed at celebrities over the next several days, including a false claim there was a domestic violence incident at Brown's home.
"We're getting much better at deciphering what is real and what is not," said Steve Whitmore, a spokesman for the Los Angeles County Sheriff's Department. The agency has handled calls at Bieber's home and a former Kardashian family home.
Patrol units will check out every call but will hold off calling in the big guns until signs of an actual crime emerge, he said.
Authorities in the Los Angeles area are concerned that the high-profile calls against stars are inspiring copycats who perhaps notice the immediate attention swatting incidents command on tabloid news sites.
Los Angeles police Cmdr. Andrew Smith said the department has seen an increase in the number of swatting calls since last year, when stars such as Kutcher, Bieber and Cyrus were targeted.
"People are jumping on the bandwagon thinking it's funny or a clever or interesting," Smith said. The calls aren't just tying up patrol officers, but also investigators probing the pranks who could be assigned to larger crimes.
"The last thing we want to have our detectives do is spend a bunch of time on a foolish prank like this," he said. "We want our detective handling robberies, burglaries and other crimes."
Police arrested a 12-year-old boy in December who is suspected of placing swatting calls at numerous homes, including Kutcher's. That call brought out many heavily-armed officers and prompted the actor to leave the set of "Two and a Half Men" to make sure his home and workers were safe.
Prosecutors are still evaluating potential charges against the boy.
"If we catch you, and we're going to catch you, you're going to be prosecuted," Smith said. "We've got some pretty clever detectives in this department. They'll find out who did these things."
There are also concerns that swatting will lead officers to treat certain 911 calls differently.
"At some point, we don't want law enforcement to feel like this is another cry-wolf situation," Lieu said.
Smith said that's a possibility, but he said officers are being told to treat all 911 calls with caution, even if they know they're traveling to a celebrity's home and the call has the traits of a prank.
The California bill, which is also being proposed by Assemblyman Mike Gatto, would increase the penalties for convicted swatters to up to three years in jail if someone was hurt as a result of their call, and also make them responsible for the costs of the emergency response.
Whitmore and Smith said they did not have precise estimates for how much swatting calls cost, and it does not appear any agency is tracking the phenomenon nationwide.
The term swatting was coined by the Dallas FBI office a few years ago after its agents busted a group responsible for 60 hoax calls around the nation. The group's leader was sentenced to more than five years in prison and ordered to pay more than $75,000 in fines, although most swatting calls are handled by local authorities.
Hoaxers often use a computer and programs available online to trick 911 systems into thinking the distress calls are coming from the address where officers are dispatched, even though the prankster may be miles, or several states, away.
Although the use of Internet phone providers can make it harder to track the callers, "nothing on the internet is ever terribly secret," Smith said. "There's always going to be a trail,"
Spoofing a phone number is legal and used for many legitimate business purposes, but it has become a favorite technique of pranksters to harass strangers or send pizza deliverymen or locksmiths to unwitting targets' homes.
Dr. John Grohol, a research psychologist who studies internet behavior and founded the online community PsychCentral.com, said the motivation for celebrity swatting may be rooted in the hoaxers desire to impact the stars' lives and gain notoriety for themselves in online communities.
"You have to kind of look at it from the perspective that most people don't have a lot of opportunity to affect a celebrity's life directly," Grohol said. "This is a way that a person can feel empowered."
Copyright 2013 Associated Press