Lawyer: Cops charged in man's death didn't use enough force
The officers were forced to call for backup because they could not subdue an out-of-control Thomas, the lawyer argued
---
By Adolfo Flores and Paloma Esquivel
Los Angeles Times
ORANGE COUNTY, Calif. — As the trial of two former Fullerton police officers charged in the death of Kelly Thomas began Monday, attorneys painted two strikingly different portraits of the videotaped beating that left the mentally ill homeless man in a coma and dead five days later.
Orange County Dist. Atty. Tony Rackauckas led off the opening day of the much-anticipated trial with a blow-by-blow account of the beating, using photos and at one point a wooden police baton to underscore his account.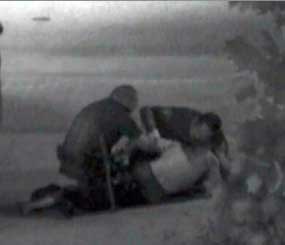 "The conduct of these two officers on trial here went far beyond anything acceptable in a free society," said Rackauckas, who is trying the case.
On trial is Manuel Ramos, 39, and Jay Cicinelli, 41, two former police officers. Ramos is charged with second-degree murder and involuntary manslaughter, Cicinelli with involuntary manslaughter and use of excessive force.
Ramos' attorney, however, told jurors that the officers who beat Thomas on a summer night in 2011 not only didn't use excessive force in the incident, they "weren't using enough force."
The officers were forced to call for backup because they could not subdue an out-of-control Thomas, John Barnett said. "They're losing the fight," Barnett said.
Barnett said Ramos "was a good cop, was a patient cop," who managed on repeated encounters with Thomas on the streets of Fullerton to deal with the homeless man without resorting to violence. Cicinelli's attorney is expected to present his opening statements Monday afternoon.
"This case is not about a homeless, helpless, harmless mentally ill guy, this case is about a man who made choices in his life, bad choices that led to his tragic death," Barnett said.
A video of the encounter, a 33-minute tape from the bus depot synced with audio from the officers' recorders, will be a key piece of evidence in the trial. Without the footage, Rackauckas said before the trial began, it was unlikely the district attorney's office would've filed charges against the two officers.
Even though defense attorneys for the two men are expected to explore Thomas' criminal history and a 1995 report of chronic drug use, Rackauckas reminded jurors that it is not Thomas who is on trial.
"He never threatened or was violent to police the night of July 5, 2011," Rackauckas said to the jury of eight women and four men. "He posed no threat at all to the police or anyone else and that's the night that you're here to judge."
Ramos was the first to approach Thomas at a Fullerton bus station after someone made a 911 call to report that someone was trying to break into cars. After some prompting, Thomas confirmed his name to Ramos, who seconds later asked him to identify himself again, the district attorney said.
The former police officer said he had forgotten, to which Thomas replied he had as well; Rackauckas said this happened even though Ramos had had numerous encounters with Thomas in the past
While another officer searched Thomas' backpack, Ramos told the homeless man to sit on the ground with his feet out in front of him with his hands on his knees and his ankles crossed -- instructions Thomas didn't fully comply with.
"His behavior wasn't the best, but it was not threatening," Rackauckas said.
But the situation deteriorated, the district attorney said, when Ramos pulled on a pair of white latex gloves and told 37-year-old Thomas, "Now you see my fists? ... They're getting ready to f— you up."
Then without even telling Thomas to stand, Rackauckas said, Ramos pulled his upper arm, prompting him to start moving away from the officer. Ramos, wielding a police baton, ordered Thomas to get on the ground, the prosecutor said.
Rackauckas held a wooden baton with both of his hands to re-create the scene for jurors. At one point Thomas unsuccessfully attempted to run away from Ramos and a third officer, Joseph Wolfe, who faces involuntary manslaughter charges and will be tried separately.
At that point, the officers dog-piled on Thomas even as he told them he couldn't breathe, Rackauckas said.
Then "Cicinelli decided to use his Taser as an impact weapon," Rackauckas said, with a photo of the bloodied yellow Taser projected behind him. "Cicinelli pummeled Kelly in the face without mercy; in his own words he said that he 'smashed his face to hell.'"
Copyright 2013 Los Angeles Times
McClatchy-Tribune News Service